My Best Photos of 2015
When a new year rolls around, I always intend to go through the previous year's photos and choose my favorites. I always fail.
In 2015, however, I shot fewer photos than I have in probably a decade: about ten thousand. This made it much easier to narrow it down to my favorite hundred, and from there, I chose fourteen photos to represent the year.
My relationship with photography is complicated. I have the experience to critically deconstruct my images to a nauseating degree, but my ability to make images that I'm happy with is lagging. Many times I simply lack the patience or discipline to make the photo that I know I should make. I feel this isn't going to get better until I can wrestle the impatient part of me that always wants to keep moving.
I traveled a good deal last year, and sometimes I simply left the DSLR behind. A third of these photos are from my iPhone. Only 4 are from Springfield. One third are from sessions where I went out with the intention of taking photos. The rest are just from life moments where I happened to have a camera handy.
Enough chit chat. Here are my best photos from last year, in chronological order.
It was a bleak, cold January day, and I set out with my camera for a little photo walk around downtown. I noticed the Capitol peeking out above some nondescript office buildings past Madison Street. There was something I liked, so I stopped. The street lights were a problem. But as I shifted my perspective slightly, I realized I might be able to fit one right between the two buildings. It kind of works, and I like the balance with the other two lights. I also like how this photo could have been taken thirty years ago.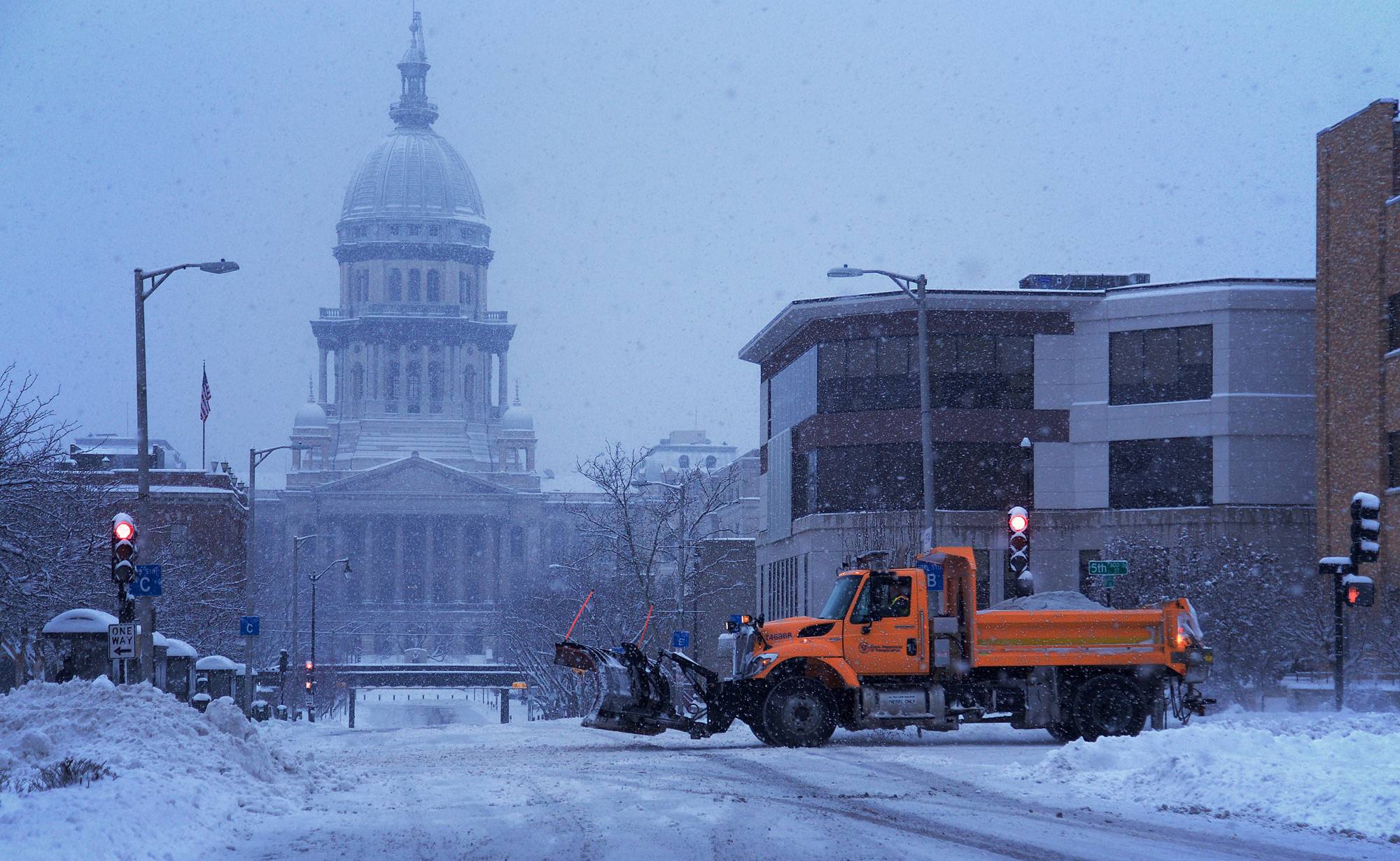 In late February, I woke up to a heavy snowfall. I grabbed the camera and headed out the door on foot. I was immediately struck by the way the Capitol almost disappeared into the distant sky. To photograph this, I figured it would help to have a strong foreground element (something usually totally lacking in my photos). So I headed to Capitol Avenue, hoping to catch a snowplow as it made its way down 5th Street. I found my angle, set focus, set exposure and waited. After maybe 10 minutes (which felt like 30), I got this image. This is probably the most calculated image in this set. Sometimes it pays to be patient.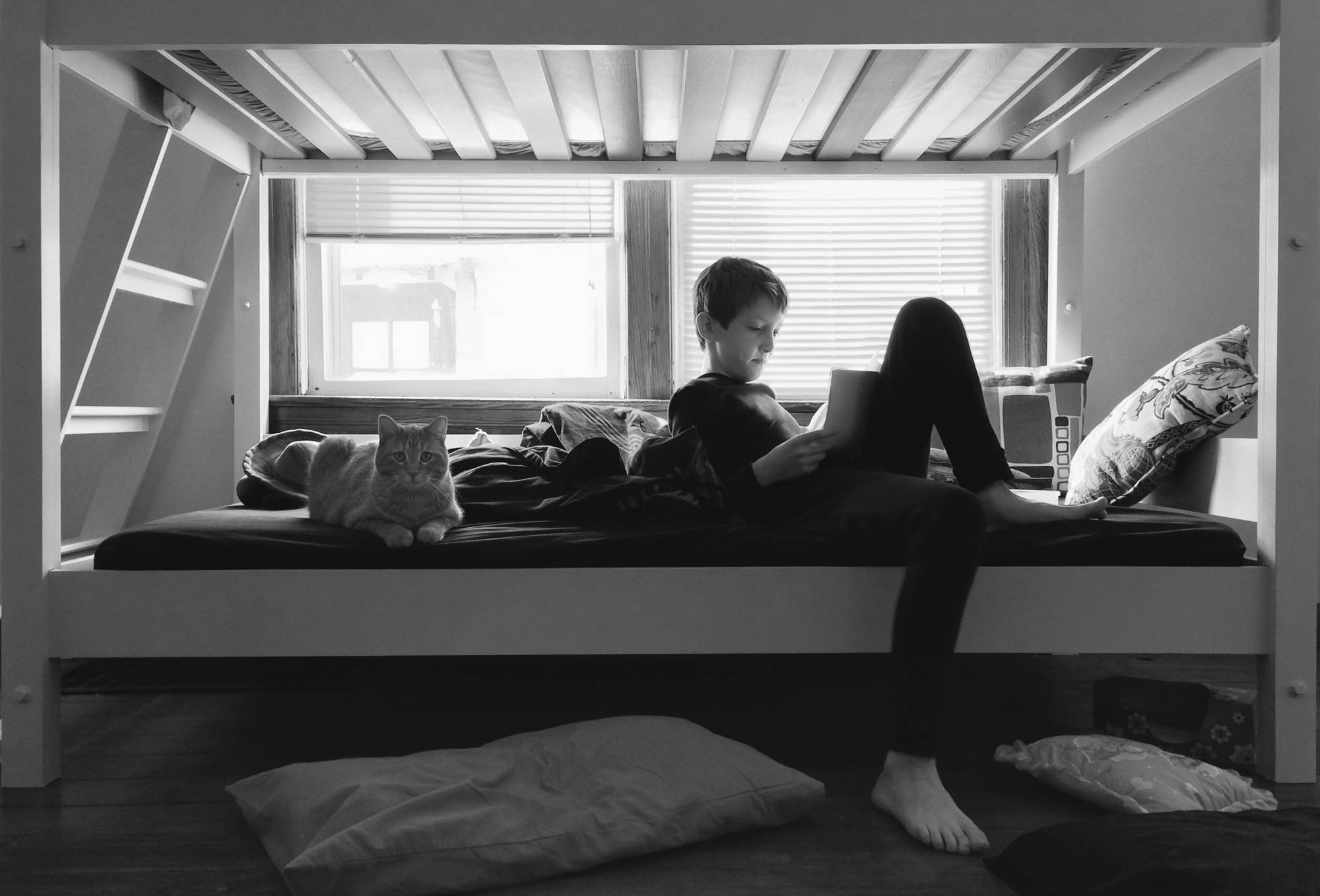 This is the first iPhone photo in the set. As I was walking past the kids' room, I noticed this lovely little moment. So I grabbed the phone, kneeled down and fired some shots. I struggled to find a good exposure that balanced the bright window with the shadows in the room (I used the camera's HDR mode to help). I didn't have to tell Ethan anything. The kids are used to this by now.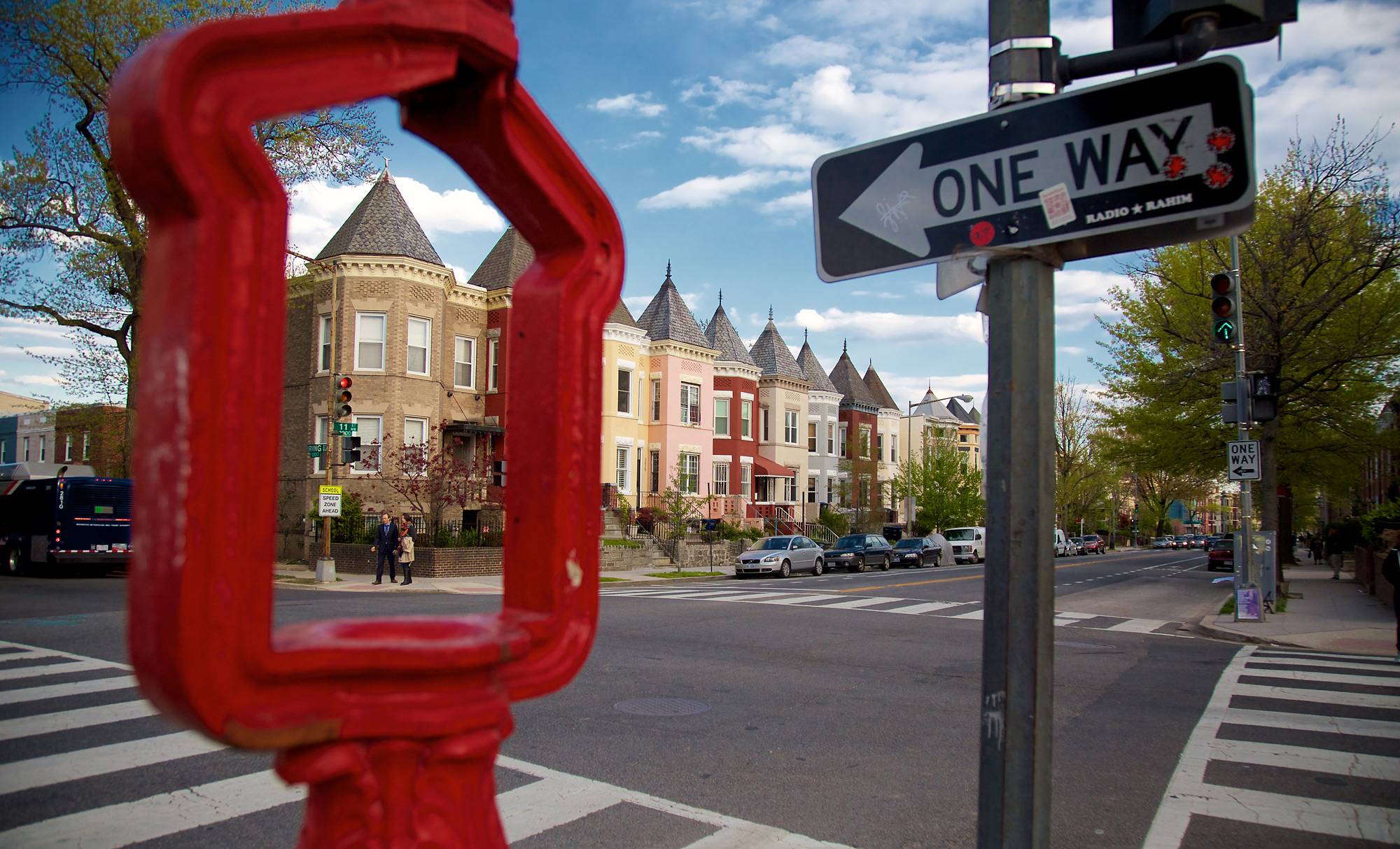 I was in Washington, D.C. for work, and a colleague and I were walking to a restaurant for dinner. We had been finding locations used in the intro to House of Cards. Waiting for the light to change, I noticed this empty red shape on a pole and knew I had to shoot something through it. The view straight down the sidewalk was lacking, so I turned and found this angle. I like how it frames the building and pedestrians. I don't like the One Way sign or the bus at far left. Now that I'm looking at it again, it might make a better vertical photo, cropping evenly around the red sign.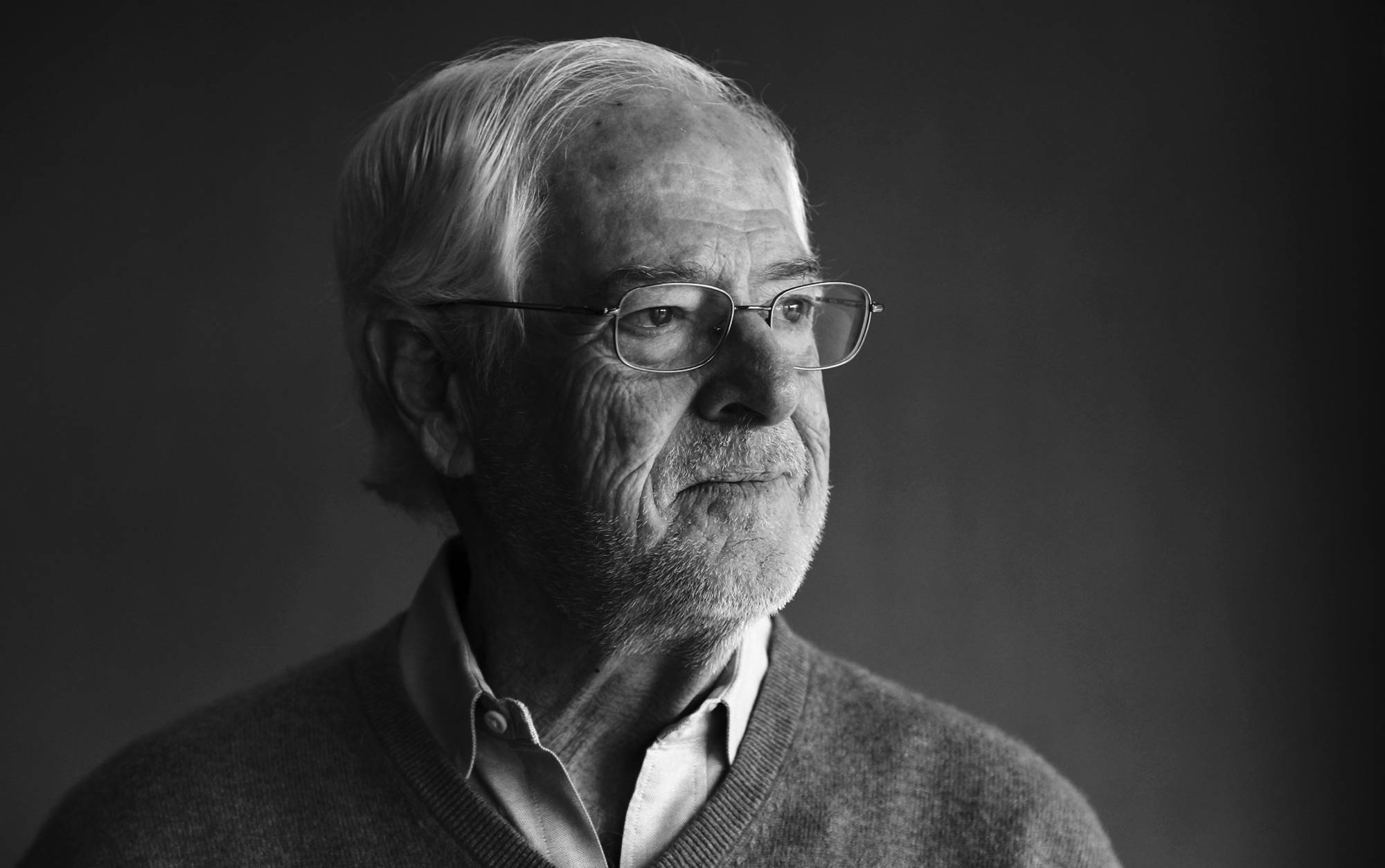 This is the only deliberate portrait in this set. I was at a conference for work, and in the back of my mind I had been trying to find a good time to take a portrait of Dr. Patrick Dolan, who frequently speaks at our conferences. After bringing in some video gear from my car, I noticed some great lighting coming through a bank of glass doors in the entryway to the conference center. This was shot very quickly using only available light.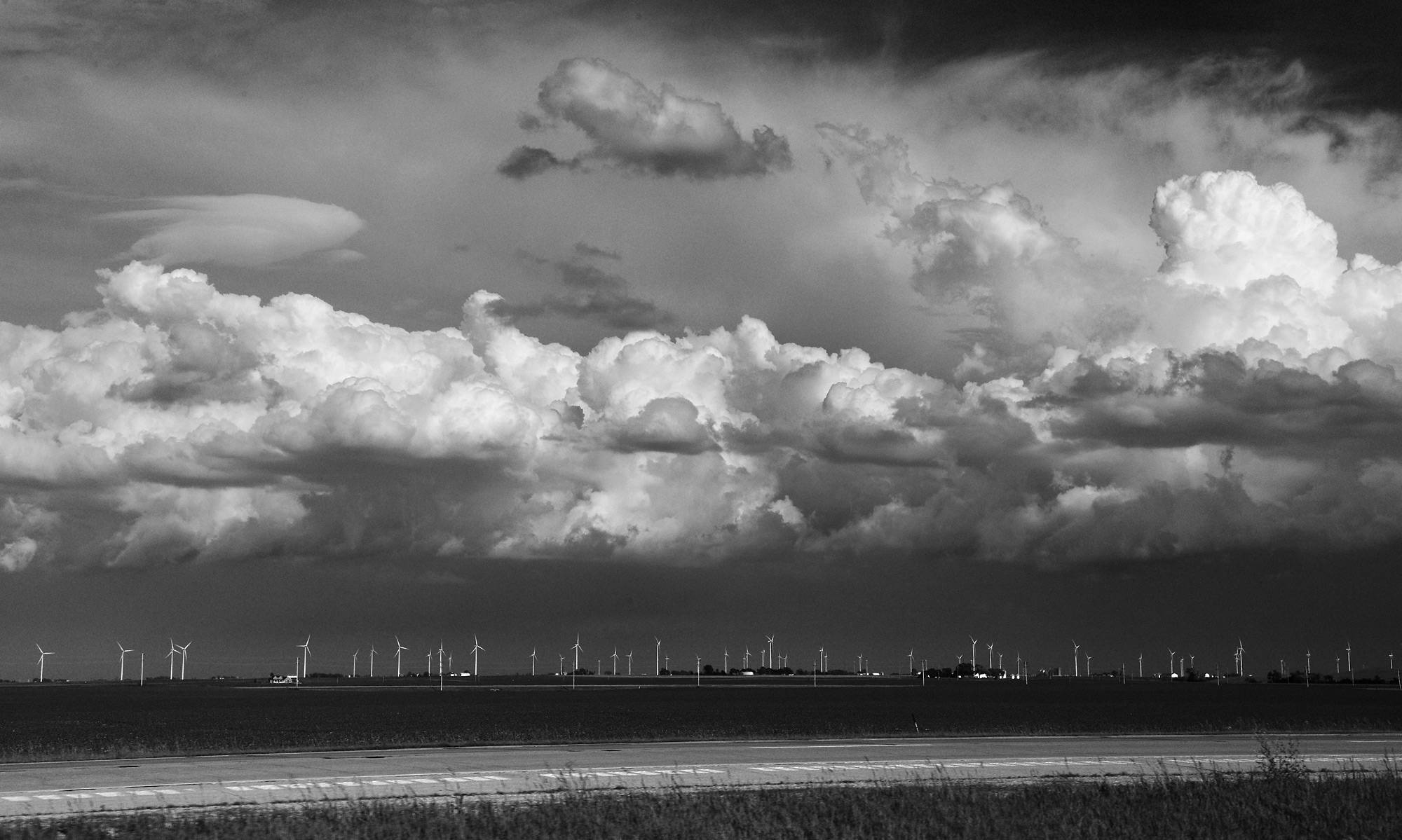 Surprisingly, this is the only photo in the set taken from my car. I was coming home from Chicago when I noticed an approaching thunderstorm. I like how the scale of the clouds completely dwarfs the wind turbines, which individually are very large. I made this into black and white partly to emphasize the contrast in the sky, but also because the color didn't really add anything to the photo. I usually default to black and white unless color plays an important role.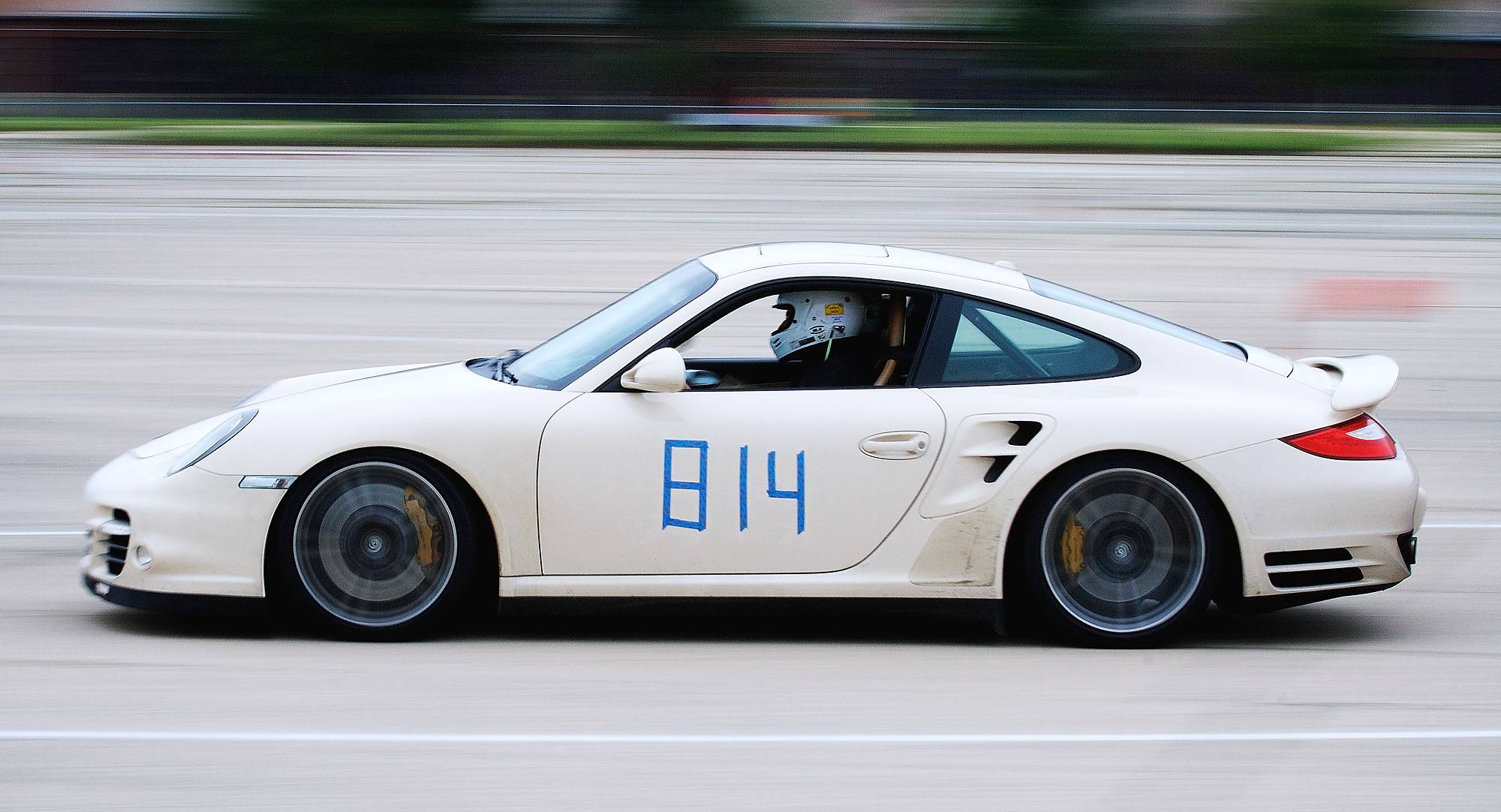 I participated in my first autocross in 2015, and it was a blast. When I wasn't racing, I photographed the rest of the field. One challenge of photographing motor sports is that you want to use a relatively slow shutter speed while tracking the car. This blurs the background (and wheels) while (hopefully) keeping the car in focus. Otherwise it just looks like a parked car. This Porsche was my favorite car of the day, and I was happy to get this shot. It would have undoubtedly been a better photo if I was kneeling though.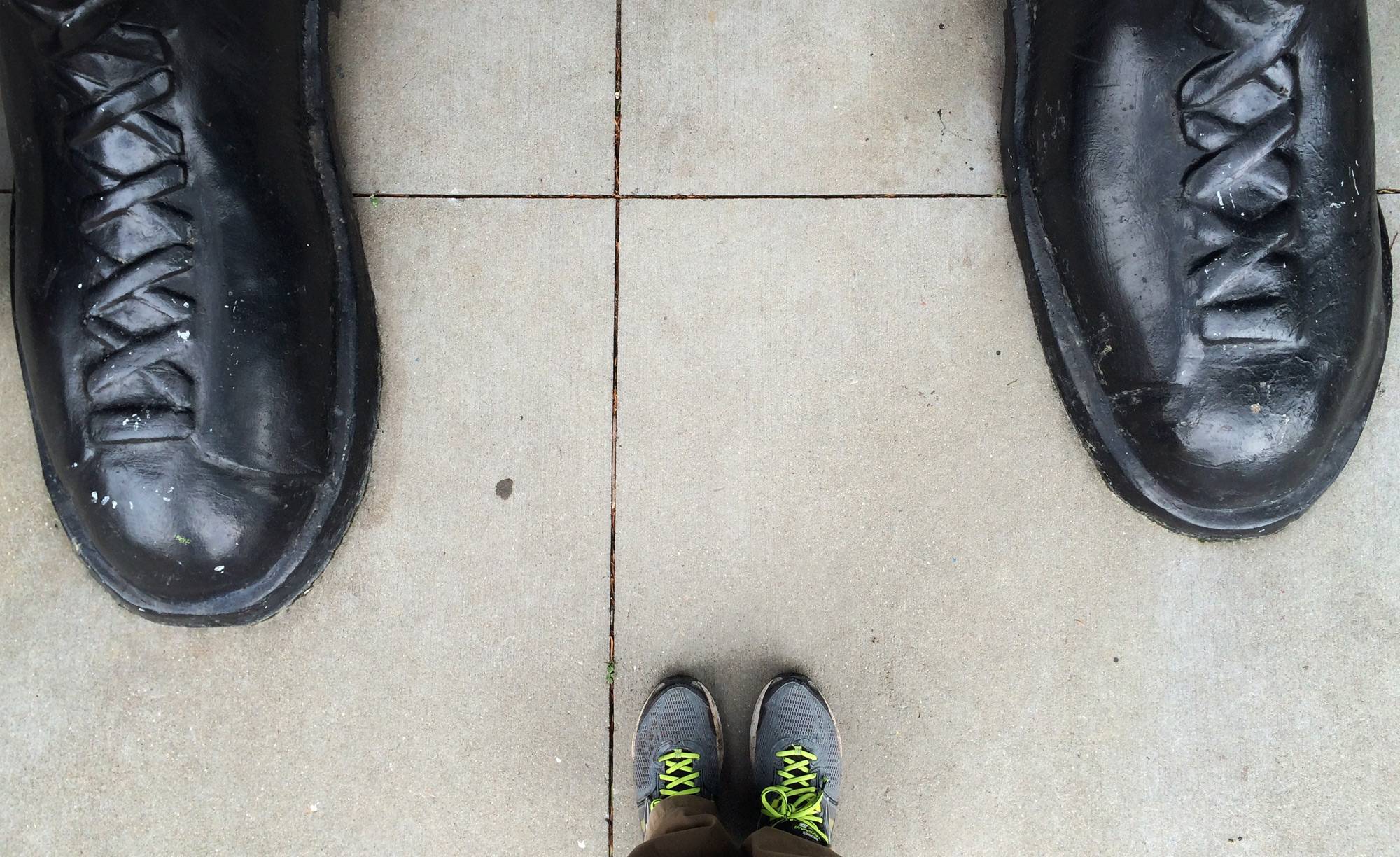 This is another contribution to my long-running "camera-straight-down-at-my-feet" series. These are the feet of the "hot dog dude" on Route 66. Unfortunately, the statue is not placed evenly over the crack in the sidewalk, nor is it pointing perfectly straight. It's a tough composition to get right, but I think I could do better if I get another chance.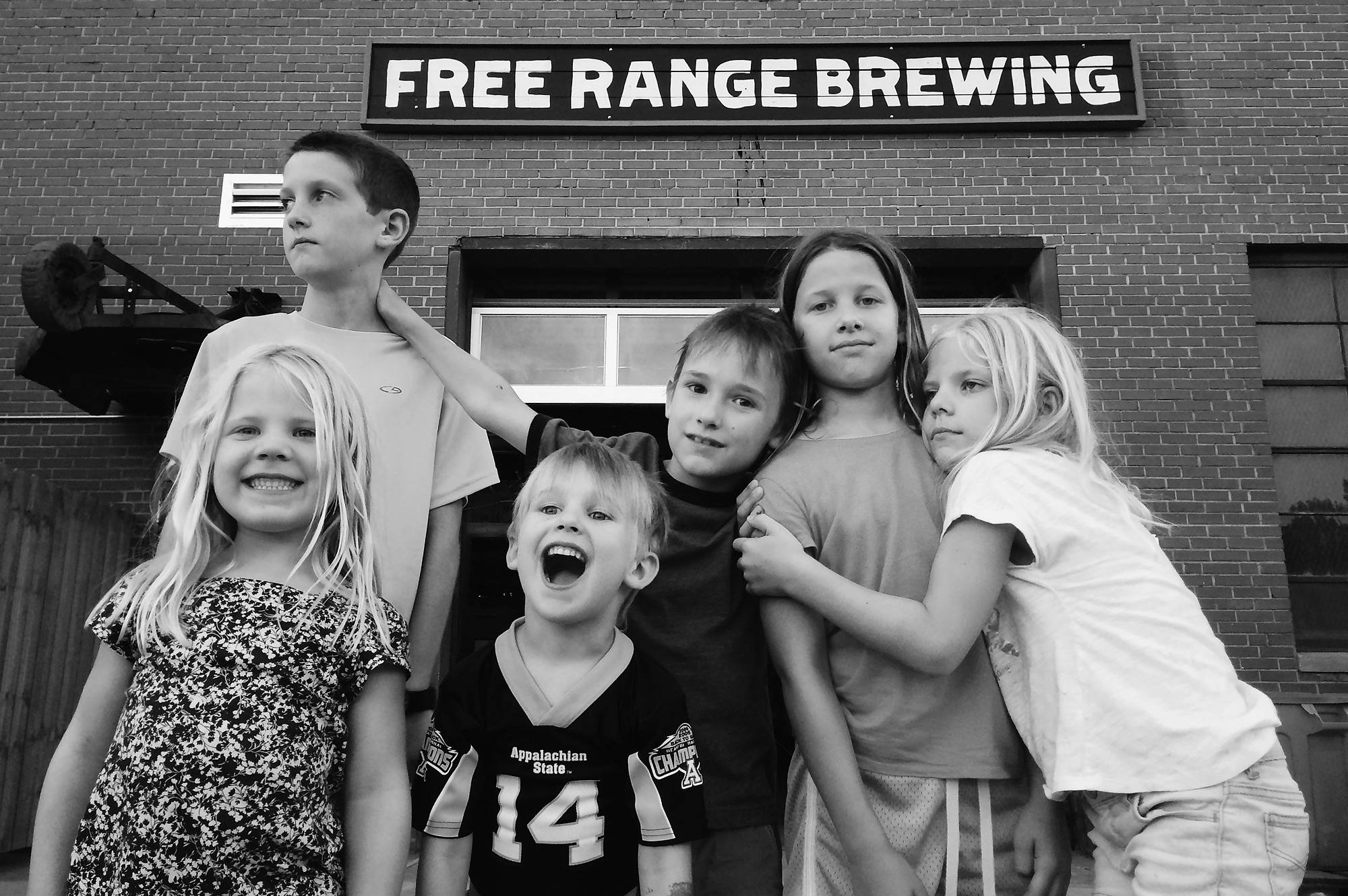 On the way to the Outer Banks, we stopped to visit Free Range Brewing, my cousin's brewery that had just opened, with Denny Deaton's family. I wrangled all of the kids for this shot at the back door. The sign on the building forced me to use a low angle, which helps make the kids look much more interesting. Too often we photograph our kids from our own vantage point.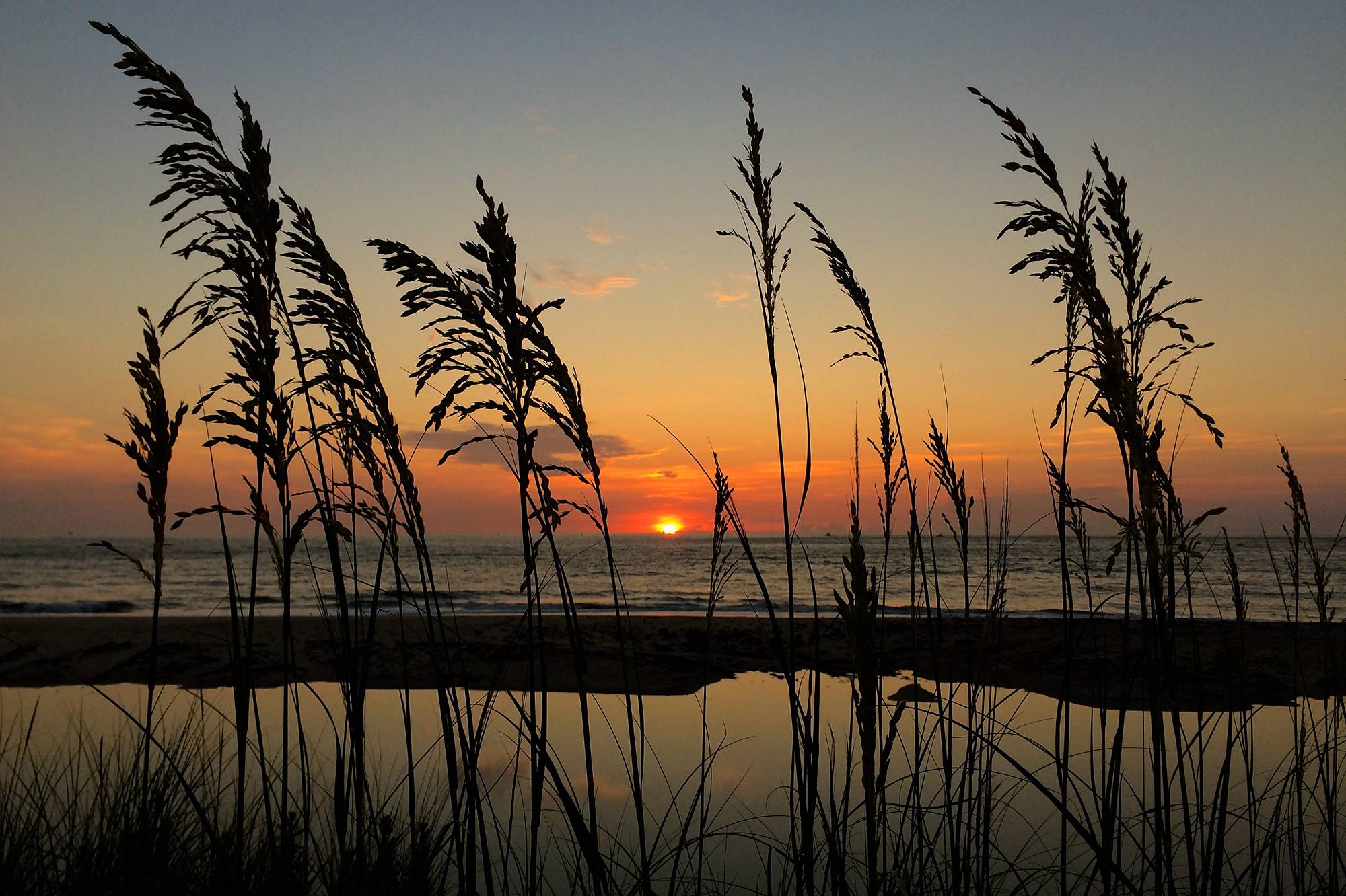 I didn't take my DSLR on summer vacation, so I used my iPhone one morning when my brother and I headed out for sunrise photos near Oregon Inlet. I'm happy with this photo mostly because I was able to see it from the shore, where we were walking. The ocean was on our left, and on our right, there was a large pool of standing water. The sun was getting ready to break, so it was time to find a good spot. I recalled a tip from Joe McNally that when it's mostly dark outside, you can extend the sky into the ground by putting water in your foreground. I thought the standing water might work well for this, and I noticed a short dune with tall grass on the other side. I got into position, waited for the sun and took the shot.
Dad is always up for a photo adventure. On this particular morning, he took me to his hunting spot near Franklin, Illinois. He climbed up into his tree stand to see if he needed to remove some branches for a clean line of sight to a nearby clearing. I struggled with the exposure on this one, but I like how dark it is. To me, it conveys the feeling of being in the woods, even on a sunny day.
This wasn't supposed to be a photo. I was setting up the main camera for a music video, and I had Keil sit in for a band member. It's not a complicated setup. There's a large soft box, centrally-positioned, up high, pointing down. Behind Keil, in the corner, there's a small low-watt light pointed at the brick wall (which provides the slight glow around Keil). Then there are the string lights, which don't really add to the overall lighting. It was a quick setup because it had to be, but it worked well. I don't even remember snapping this still. This photo is significant to me because it's just the start of our work on The Studio Show, our new bi-weekly arts show we're making in The Studio. It has opened up so many fun creative avenues and has introduced me to many talented artists already, and we're just getting started.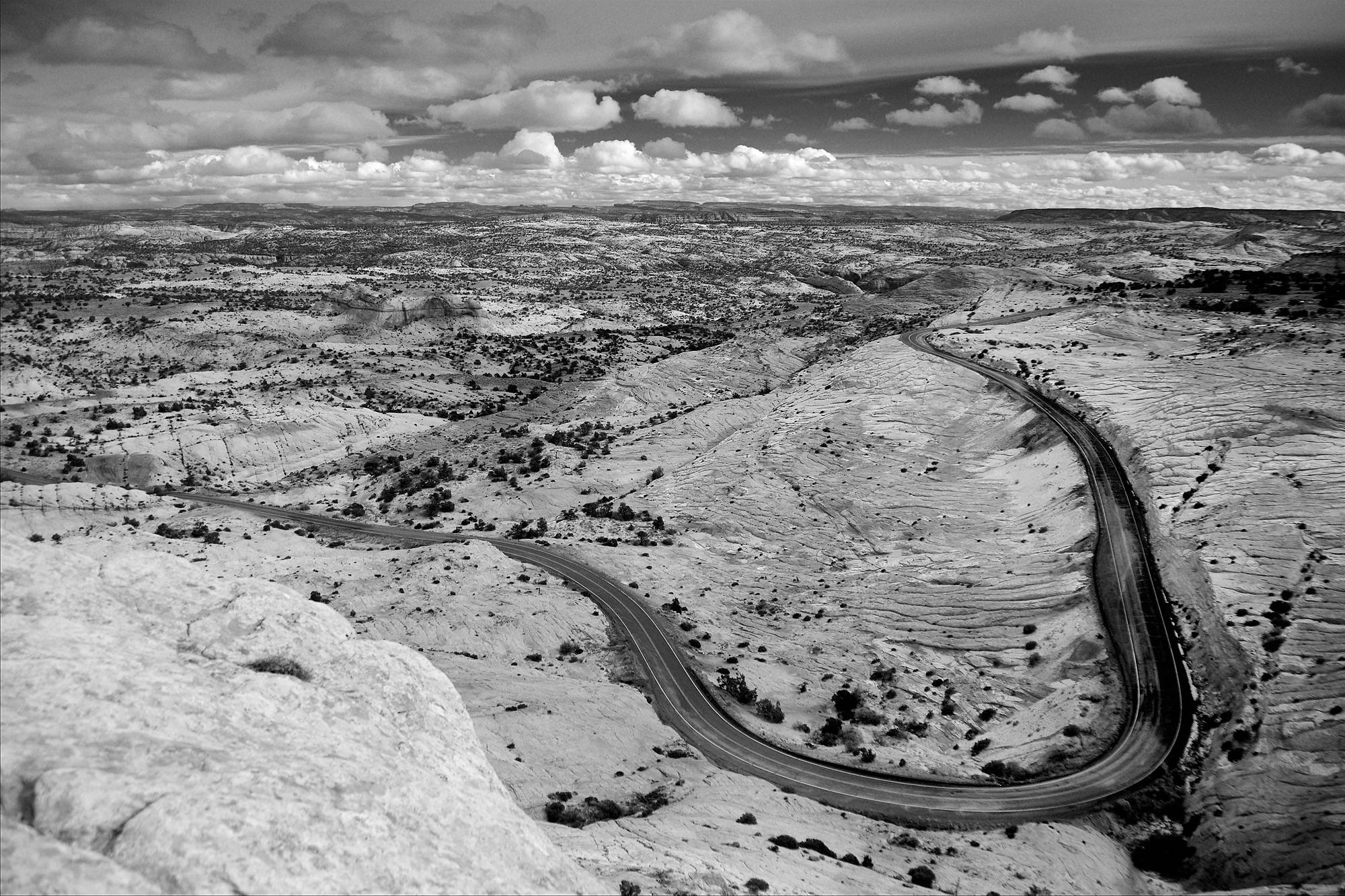 Utah's scenic Highway 12 is my favorite road in the country, and this is one of my favorite sections. If you're looking at this on your phone, you can't make it big enough to really get a sense of this space. It is absolutely stunning in person. It's hard to take a bad photo in Utah. The only thing I wish is that I would have found something to occupy the lower-left corner of this photo.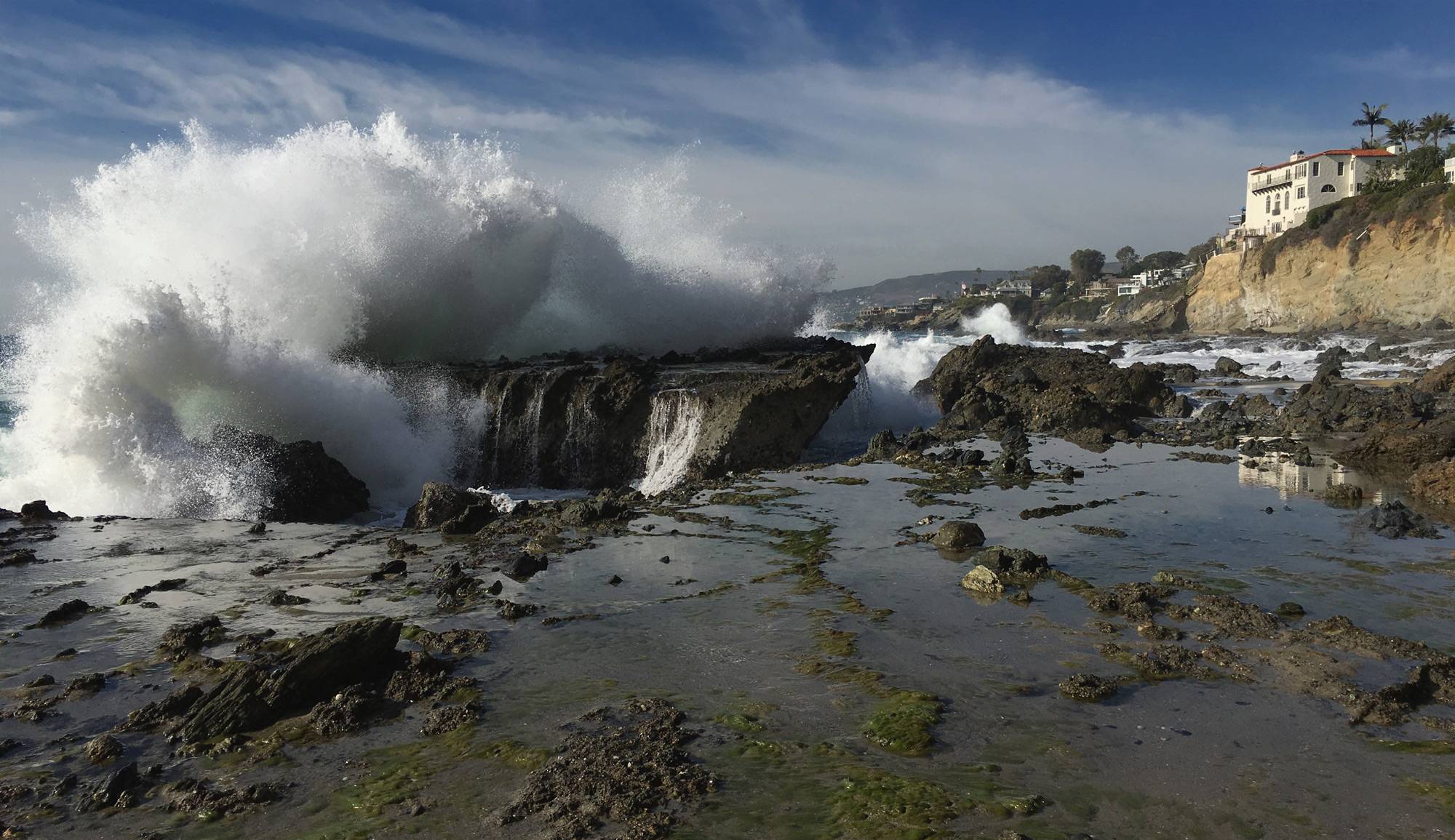 I finally returned to the Pacific Ocean this year, the first time in a decade. It always amazes me. The waves were crashing into the rocky shore with tremendous energy. I framed up this shot with my iPhone, and I waited for a wave. It would have been a tremendously more interesting shot with a person standing on that rock that's getting smashed by the wave. And yes, I got quite soaked taking this.
So that's my 2015. Next up is the annual video mashup from all the miscellaneous video clips I shot throughout the year.