Making the tiny room
There were five people ahead of me at the fabric table line in Joann Fabrics. All were women in their 50s-60s. More started stacking up behind me, all holding various bolts of fabric. My mind wandered to what sorts of projects they were all working on, then to the bolts I was carrying. Was the off-white linen too sheer? Was the teal too teal?
Sometimes as an artist, you get an idea in your head that you just can't shake. I had been feeling that the studio I photograph in was getting stale and started contemplating building a set. That seemed too large and expensive, and at some point my mind said, "hey, Dave, let's build a small set. It'll be cheaper, easier, and so cute!"
I was in the middle of editing 'Emily' and couldn't take on a new project. But I kept seeing this image of a person sitting in a tiny, stylistic room. It was plain, light, and only interesting because of the scale. And I knew I could make it.
So finally, after finishing 'Emily' and tackling some other projects that were also stacking up in my mind, I decided to do a test and see if I could reasonably make this small set a reality.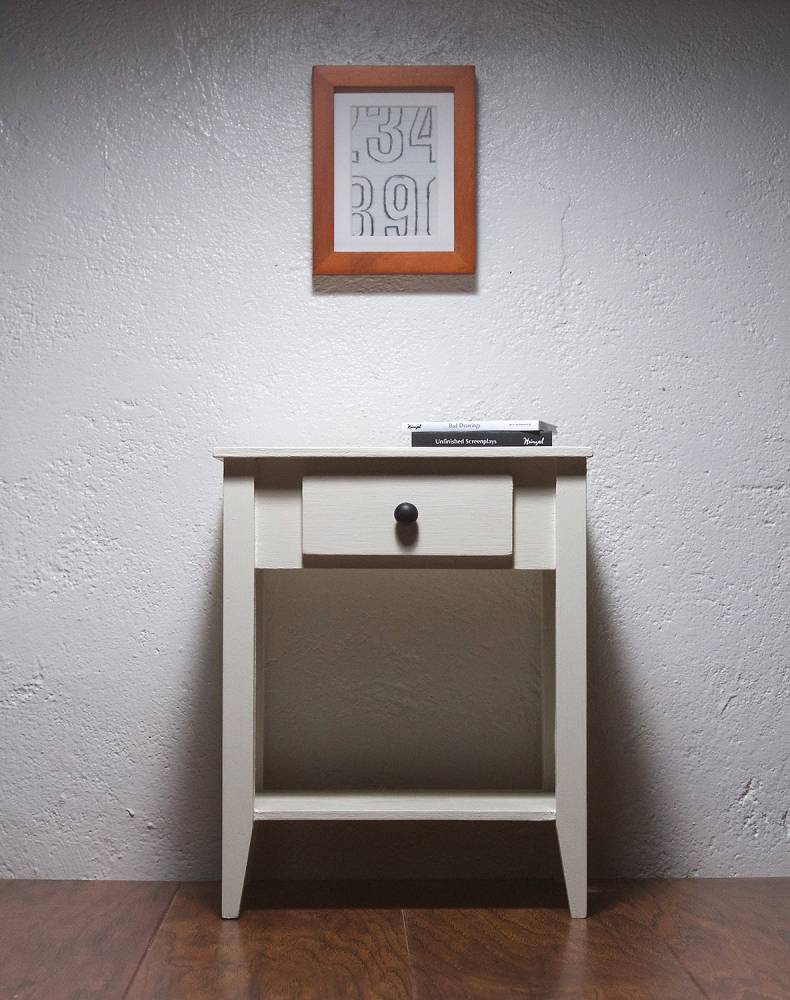 I decided to start with a piece of furniture. The only piece I had in my head was a little table, big enough to hold a plant and maybe some books. I designed it simply on paper first and made it in one afternoon, very easily, all with scrap wood I had on hand. It was too easy. I was immediately hooked and knew I had to see this project through.
That was in December. Fast forward a couple months, and I found myself in places like Joann Fabrics, trying to find the perfect material for this minute detail of a thing that nobody will even notice. But that was pretty much the nature of this project.
I even got totally sidetracked at one point and decided to build a midcentury modern chair and end table. Was it in my original plan? No. Did I really need it? No. Did I even use it in most of the photos? No. Did it help me procrastinate and almost derail the project and add unnecessary time and expense to what should have been an otherwise simple project? Oh most definitely.
Anyway, I'm getting long-winded. I built a small room, and I took photos in it. It was a blast. The photos were even better than I imagined they would be. I was worried that because of the small space, which forced me to use a wide angle lens, the distortion would be comical. But it totally worked.
For camera people, I used my old Canon 7D for this shoot. It's old and not very good at making clear images. But I just love it. It's fast and reliable, and I've missed it. I used one off-camera Speedlight for everything except the "night time" setup.
This was the first time I've worked with a dedicated hair and makeup artist for a photo shoot, and it was AWESOME. Emilie Pearl was kind enough to lend her time on this project, and she was awesome. I can't thank her enough.
I reached out to Lili Beard to be the model for this shoot. I was familiar with her through Instagram, and she had a look that I thought would work well with the concept. She was a blast to work with.
The whole idea of a tiny room is so fun to me because it's so versatile. It lets me shoot in the same studio I always use but create a totally different look. There are so many other types of rooms I would love to make. A retro kitchen from the 80s. A victorian library. A tiny Black Sheep. The list goes on. I'm not sure what I'll do next though. I might start working on another film before I get to the next room. Anyway, here are the photos.