One Hundred and Seven
June 18th, 2014, 1:13 a.m. Incoming call from my brother, 10 minutes in duration. "Randy, Mom's not doing well — Dad couldn't wake her up — We called 911 — The paramedics just got here."
My mother had outpatient surgery earlier and everything went fine. She went to bed exhausted, but happy and relieved the day was over.
Dave sounded scared. He could barely speak. He sent me this photo and within two hours I was driving from Philadelphia to IL.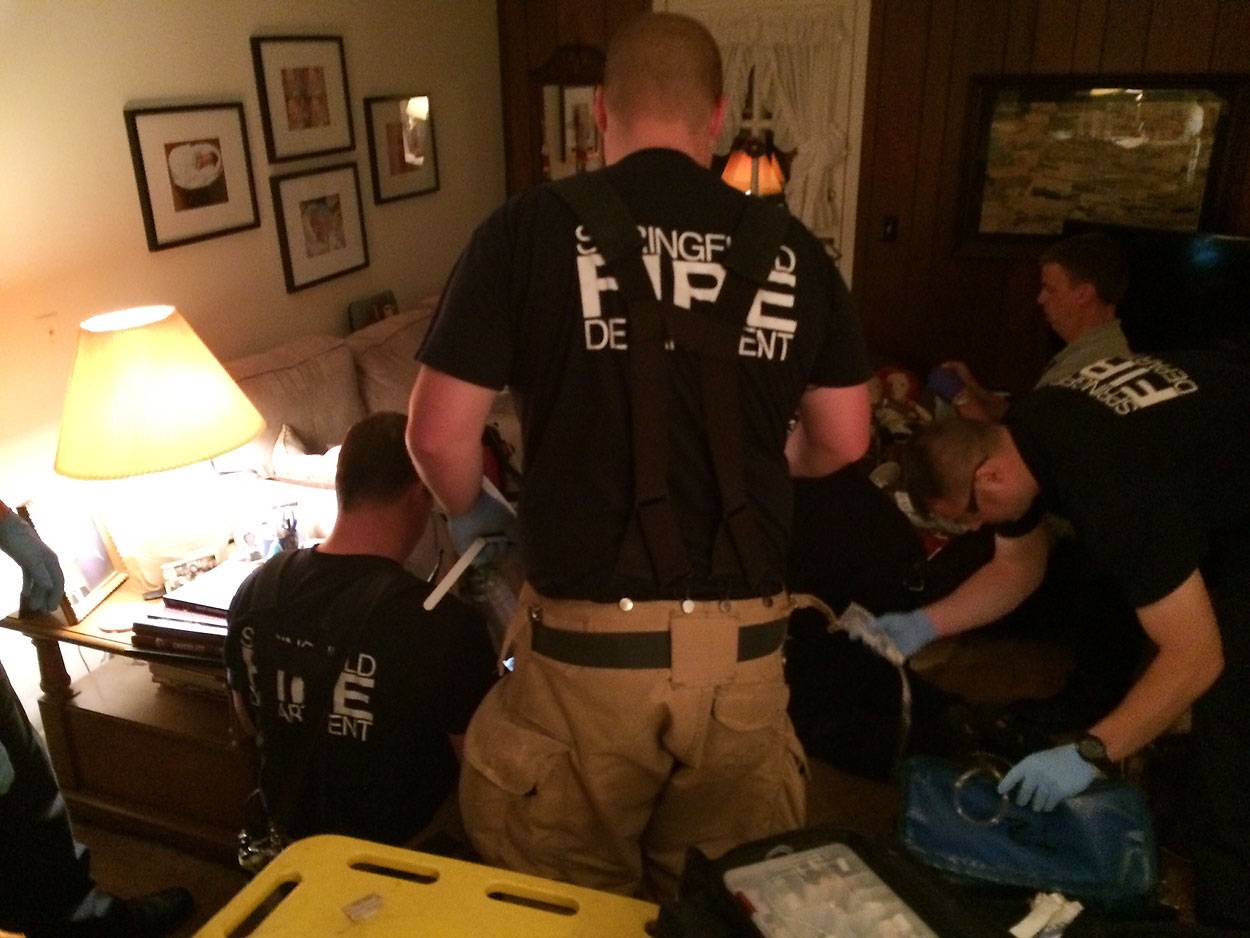 If you want an interesting historical document of your life, look at your cell phone call log from a year ago. It's likely very few of those calls were life-changing, but all represented something — a place where you were, information you learned, or a thought that you had. Chances are you've forgotten much of that information, but looking at your call log can trigger your memory.
After Dave's call at 1:13 a.m., the following 16 hours were a hurricane of emotions, events, and thoughts violently spinning through my mind. Seeing who I called and who called me, the time of calls, the location of the cell towers that handled the calls, etc. has helped me to remember certain things that would have otherwise been washed away forever.
Those of you who have received "the call" understand that you pretty much know it's going to be shitty news the moment you say hello. Dave's call was no exception. Within milliseconds I knew whatever was happening with my mom was bad. Ironically, it was my mother on the other end of the phone the three other times that I've received these calls.
The first call came when my cousin Brian, a 32-year-old pastor and father of two young boys, tragically died. The next was about my Uncle Roger, my mom's brother, who passed away unexpectedly almost two years later. And almost exactly four years after Brian died, my mom called again. This time it was my youngest cousin Merritt, the father of a little girl. I remember each call vividly, and strangely enough, I was in the same location for all of them: sitting on the coffee table in my living room.
By no conscious decision, I found myself again sitting on that coffee table shortly after 1:13 a.m., slumped forward, elbows resting on my knees, and phone pressed to my ear. Looking back, I've received a lot of bad fucking news on that coffee table.
PENNSYLVANIA
Figuring out that I'd get home about the same time whether I drove or flew, I backed out of my driveway shortly after 3:00 a.m. I couldn't just sit around for hours and wait for a flight, and I certainly couldn't take the chance on a delay at the airport. There is an outgoing call to my brother, 3 minutes in duration, that I made as I drove away.
I don't remember anything else about PA other than stopping at the Somerset Service Plaza to refill my coffee. But I do remember the image in my mind — it was the paramedics in our living room.
My parents lived in the same house throughout my childhood. I have countless memories in our living room: Opening Christmas presents, rough-housing with my dad, Friday nights sitting on the red-checkered tablecloth and eating Little Cesar's Pizza while watching Dukes of Hazard.
Scroll up and look at the photo again of the paramedics.
Now look at this:
It's eerie because the person taking this photo (I'm assuming it was my dad) stood in the same location - almost four decades earlier - that my brother stood in while taking his photo.
On a lighter note, I should acknowledge that my sister would disagree with the statement "almost four decades earlier." In the photo, my mom is pregnant with my sister, and Sally would argue that she's nowhere close to 40! Regardless of my sister's denial about her age, she is arguably the smartest person in our family and she just earned a PhD to prove it.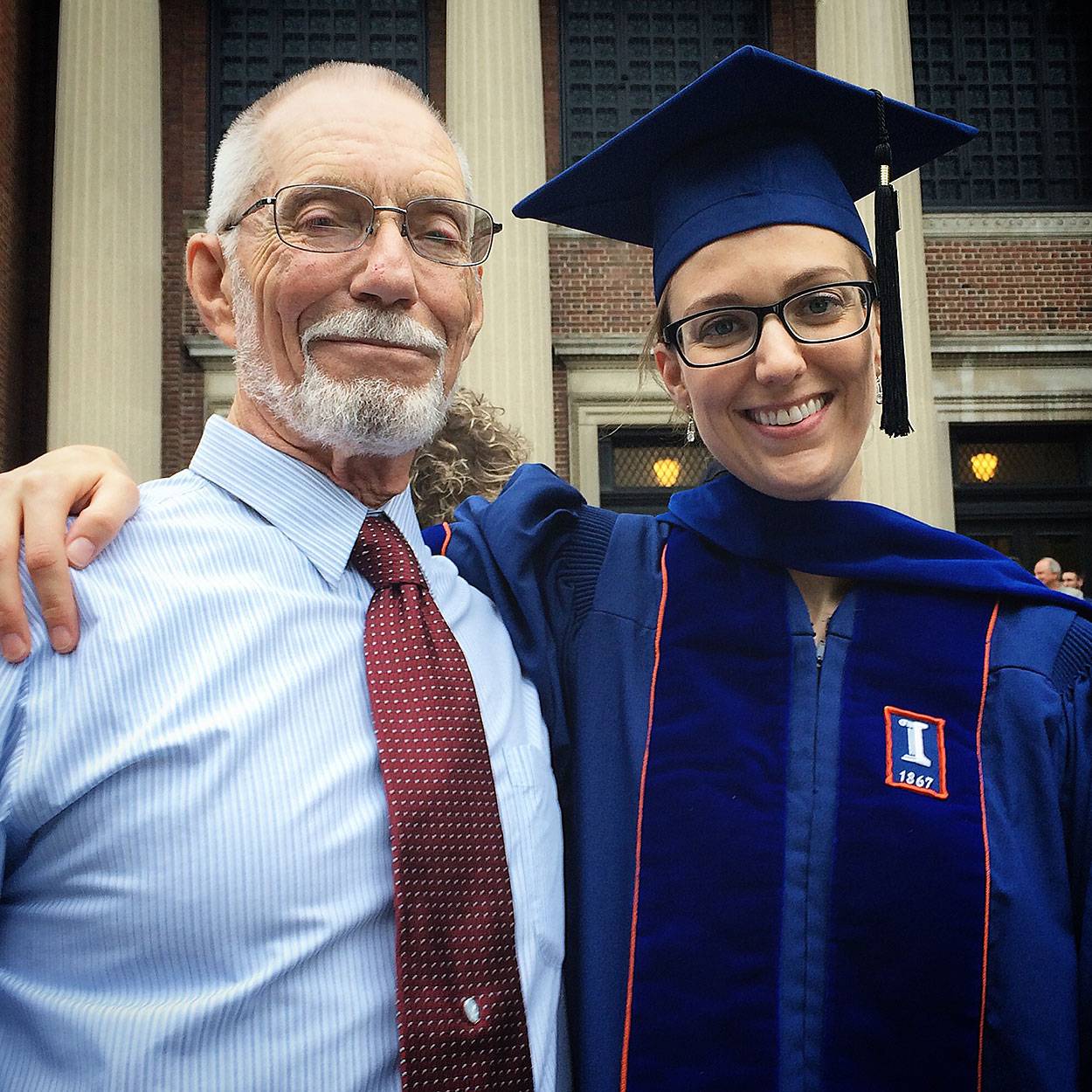 This is my dad and Sally at her recent graduation. She received a PhD in American History from the University of Illinois. It was a bittersweet day for her and our family, though. On one hand, Sally accomplished a goal that took years of dedication and hard work; on the other hand, her #1 fan, supporter, and research assistant was my mother.
WEST VIRGINIA
My phone log indicates that I made two calls and received one while in West Virginia, but I remember nothing about the calls or even driving through the state. However, there is a funny story about my mom involving West Virginia.
My parents were both teachers and never had much money. Now that I'm an adult I'm in awe of what they were able to do (like sending three kids to college) with the resources they had. When I was about 10-years-old, Mom read about a family in West Virginia. They were very poor and could barely afford to feed and clothe their children. Mom decided that we should save up and donate money to this family. My parents saved some money and us kids saved some of our allowance. We sent a check to the family around Thanksgiving.
Mom later found out that the family received a large amount of money, blew it all on ridiculous purchases like designer jeans, and were soon broke again. Mom was PISSED! Nancy Pike Heinzel harbored an amazing capacity for love… but also for scorn. I have personally experienced both, but am fortunate that the love-to-scorn ratio heavily favored love in my case.
OHIO
I made and received 21 calls while in Ohio, and I remember two really well. The first was about work. Despite the circumstances with my mom, my work obligations were weighing on me - I had dozens of scheduled appointments, a few procedures, and I was supposed to be on call the coming weekend (June 18th, 2014, was a Wednesday and I knew I wouldn't be in Pennsylvania again for awhile). My work family could not have been more graceful and compassionate. Patients were seen/re-scheduled, surgeries were moved, and my weekend call was taken care of.
The other call I remember was to my brother. The call occurred at 9:26 a.m. and lasted for 8 minutes. Ironically, the call was handled by a cell tower near Springfield, OH. If you've grown up in a Springfield - whether it's PA, IL, OR, or OH - then you realize that seemingly every state has a Springfield and you've probably heard all the jokes referencing The Simpsons.
Dave called after talking to one of Mom's doctors in the ICU and he relayed the following three words: No Brainstem Function.
INDIANA
God created Indiana just to fuck with people driving urgently from PA to IL. Look at IN on the map and it doesn't seem that big. But try driving for hours, really wanting to be wherever it is that you are going, and you'll realize it's a lot bigger than it looks.
I can only imagine how my dad felt about Indiana in 1975 and 1976. While I grew up in Springfield, IL, I was actually born in Winston-Salem, NC. My mom's mother died a few months before I was born and my mom temporarily moved in with her father in Winston-Salem. My mother's family is as tight-knit as they come and it makes me happy to think that my birth exposed them to something positive during that otherwise awful time. It must have been hard on my dad, though, driving back and forth. He likely spent a lot of time cursing IN, too.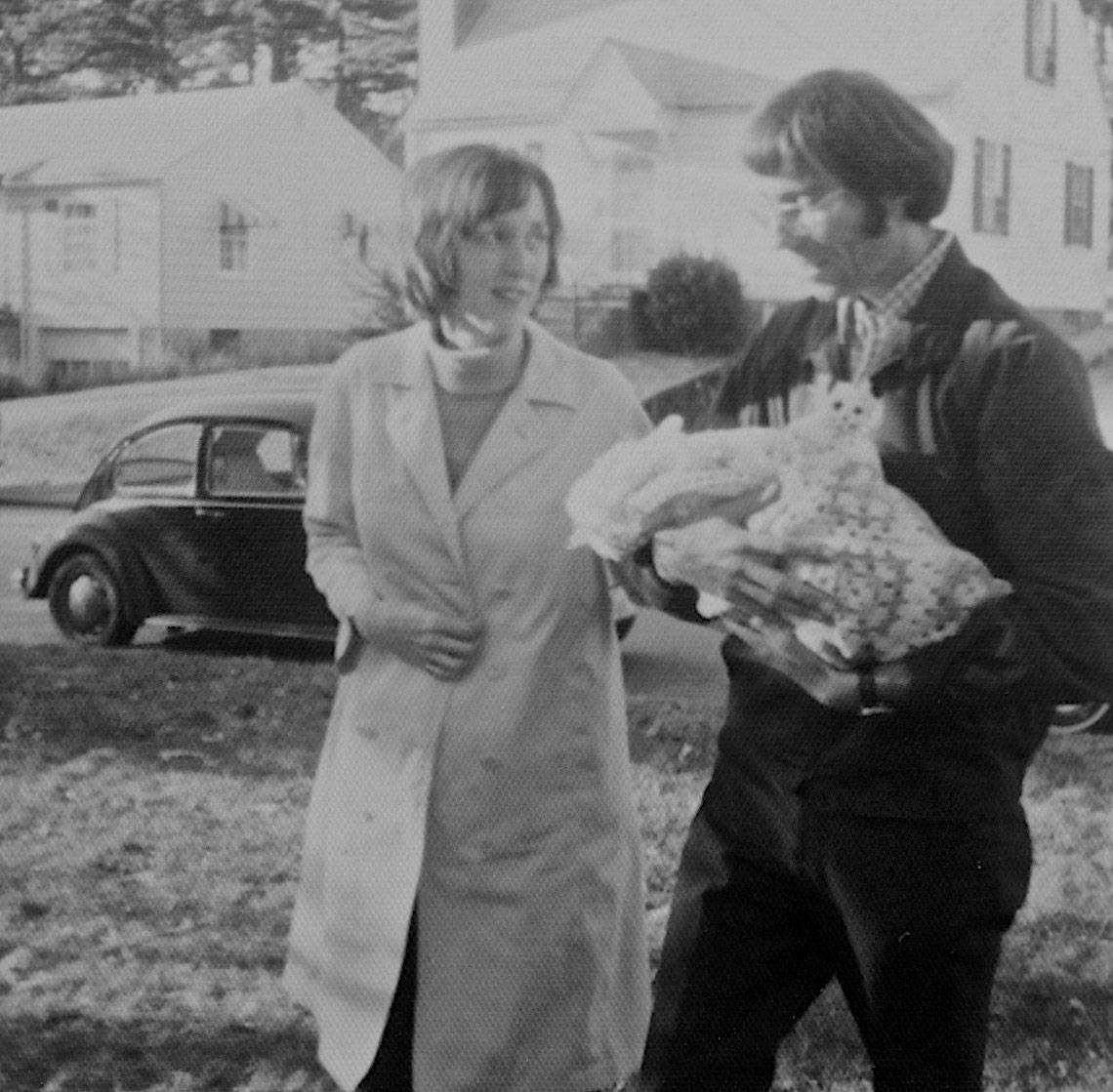 This is a photograph of my mom and dad taking me home from the hospital in Winston-Salem. Notice the blanket I'm wrapped in…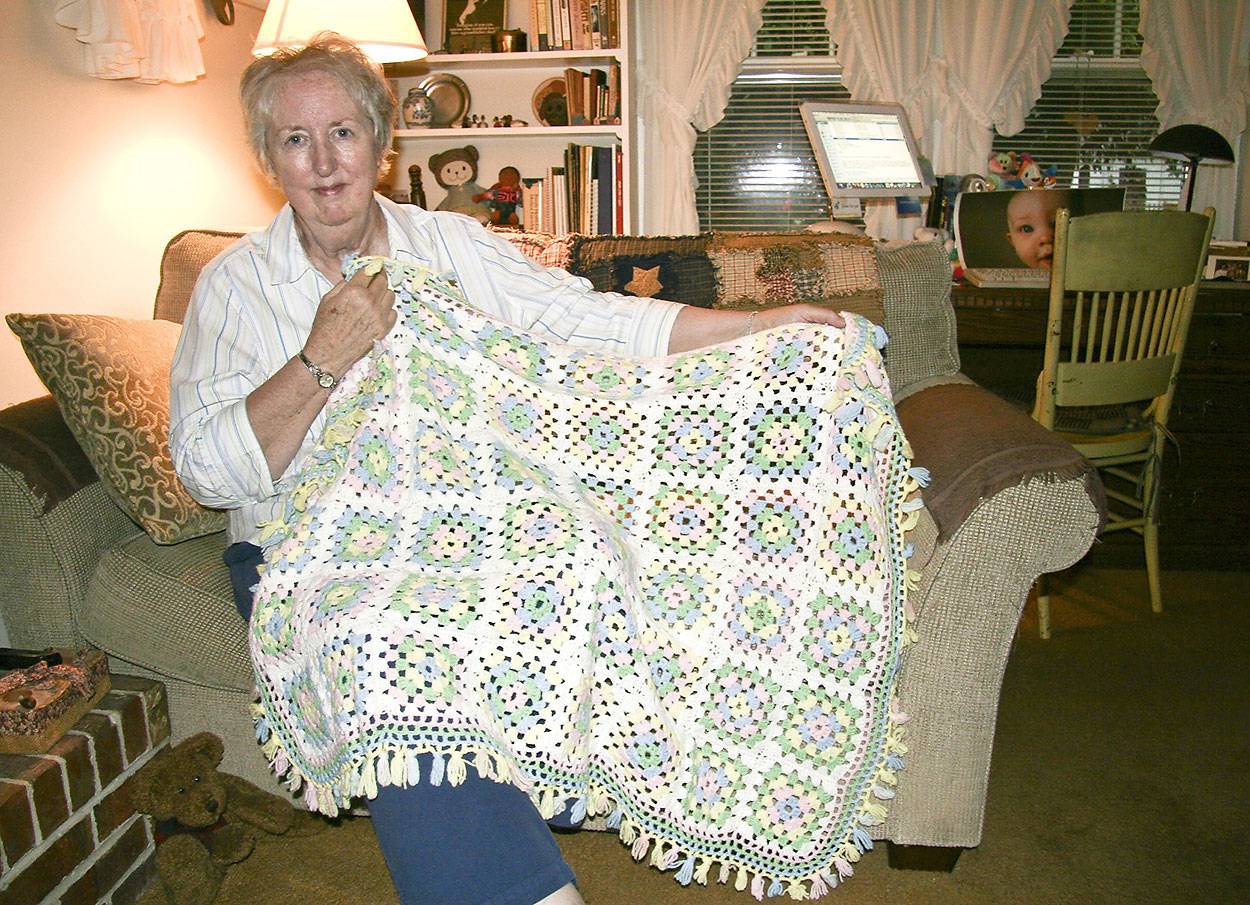 Here is the same blanket 34 years later. My mother gave it to me in preparation for the birth of my oldest son, Alex.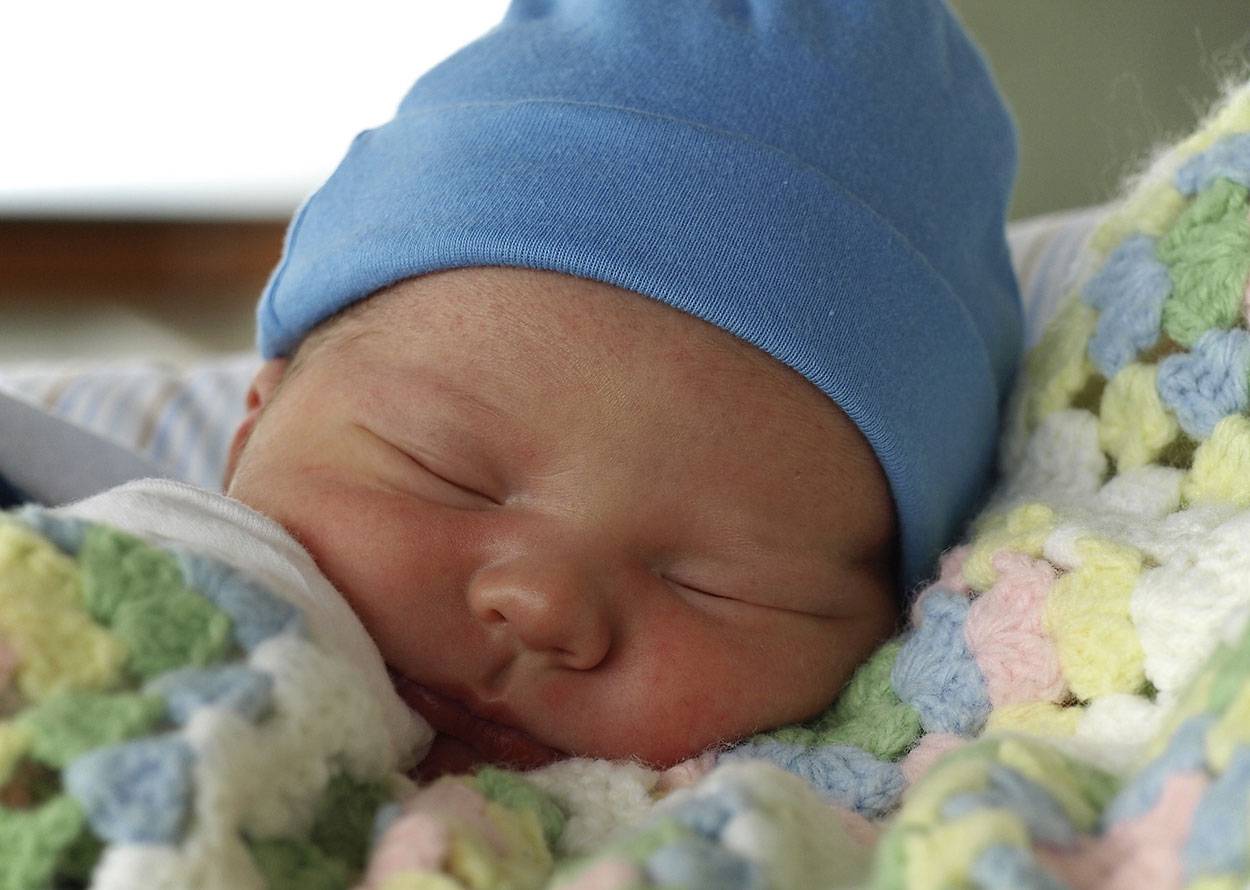 This is the day we brought Alex home from the hospital.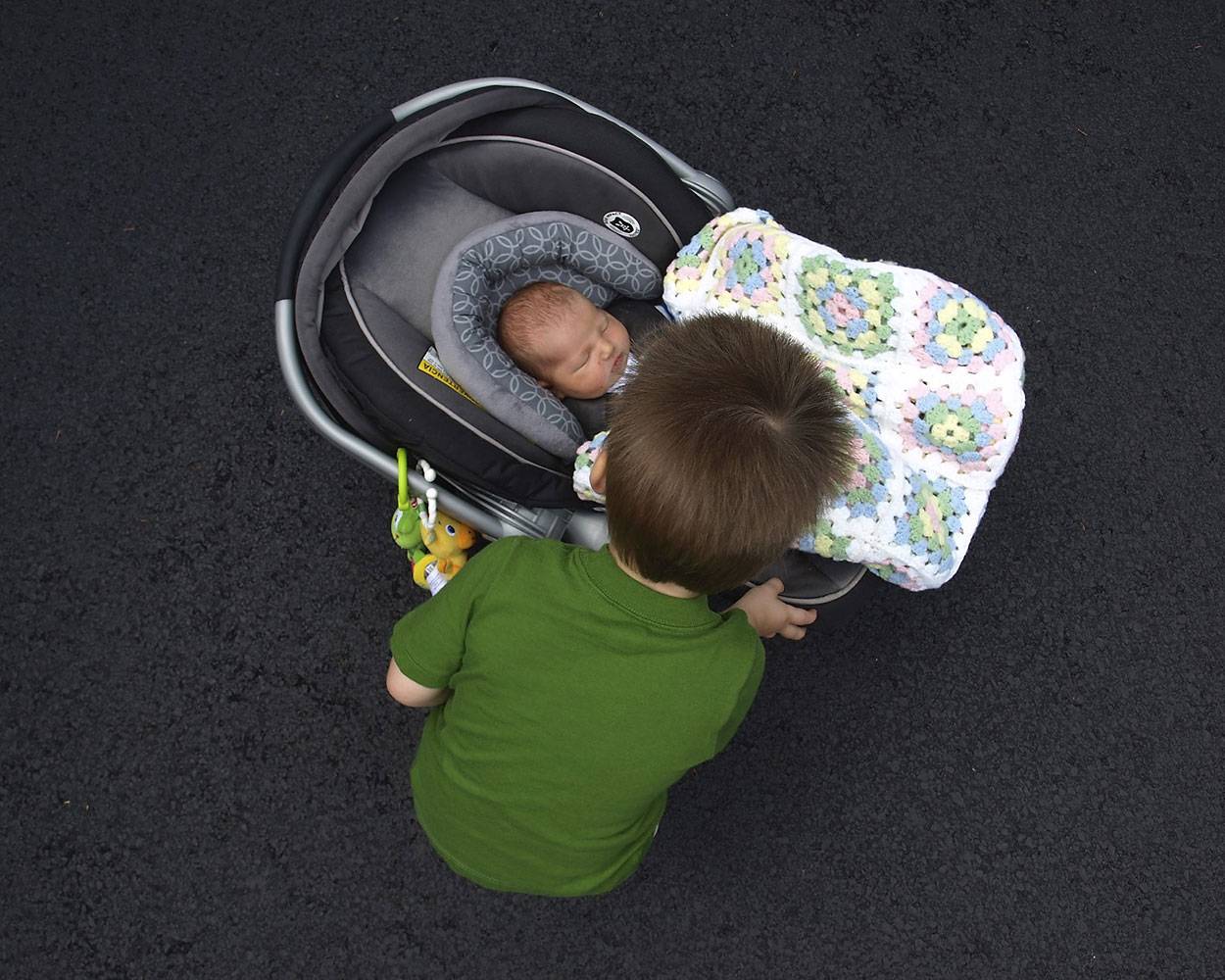 Alex welcoming home his new brother Ryan.
ILLINOIS
Perhaps it's because I've driven through nearly every square mile in the entire state, but I remember the home stretch of this trip extremely well, despite the large gaps in my memory from the preceding hours. It's also when I stopped worrying that I wouldn't be there when my mom died and began dreading that I would.
I took for granted how beautiful Illinois is when I lived there (that is, every part except Decatur). Montana is nicknamed Big Sky Country, but the nickname could just as easily go to IL. The sky on June 18th, 2014, over the flat and vast IL farmland was hauntingly brilliant.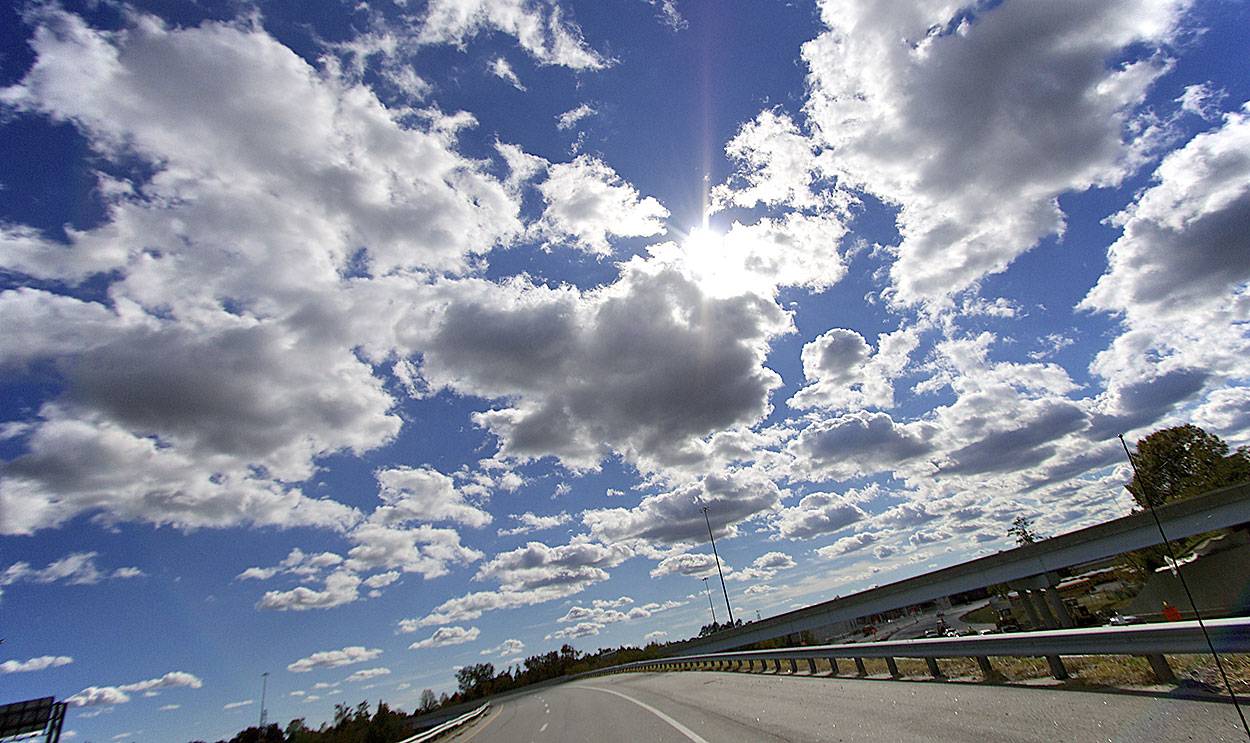 This photograph was not taken on June 18th nor was it taken in IL. It was taken about a month later while driving to Kitty Hawk, NC. Trust me, though, when I say this is EXACTLY how the sky looked over IL that day. I'll never forget it.
Anyone who knows me or knew my mother, knows that the Outer Banks is a sacred place for our family. I've spent a week in the OBX, sometimes two, virtually every year since I was born. In 2014, it was a bizarre feeling to not be excited about what is traditionally my favorite week of the year.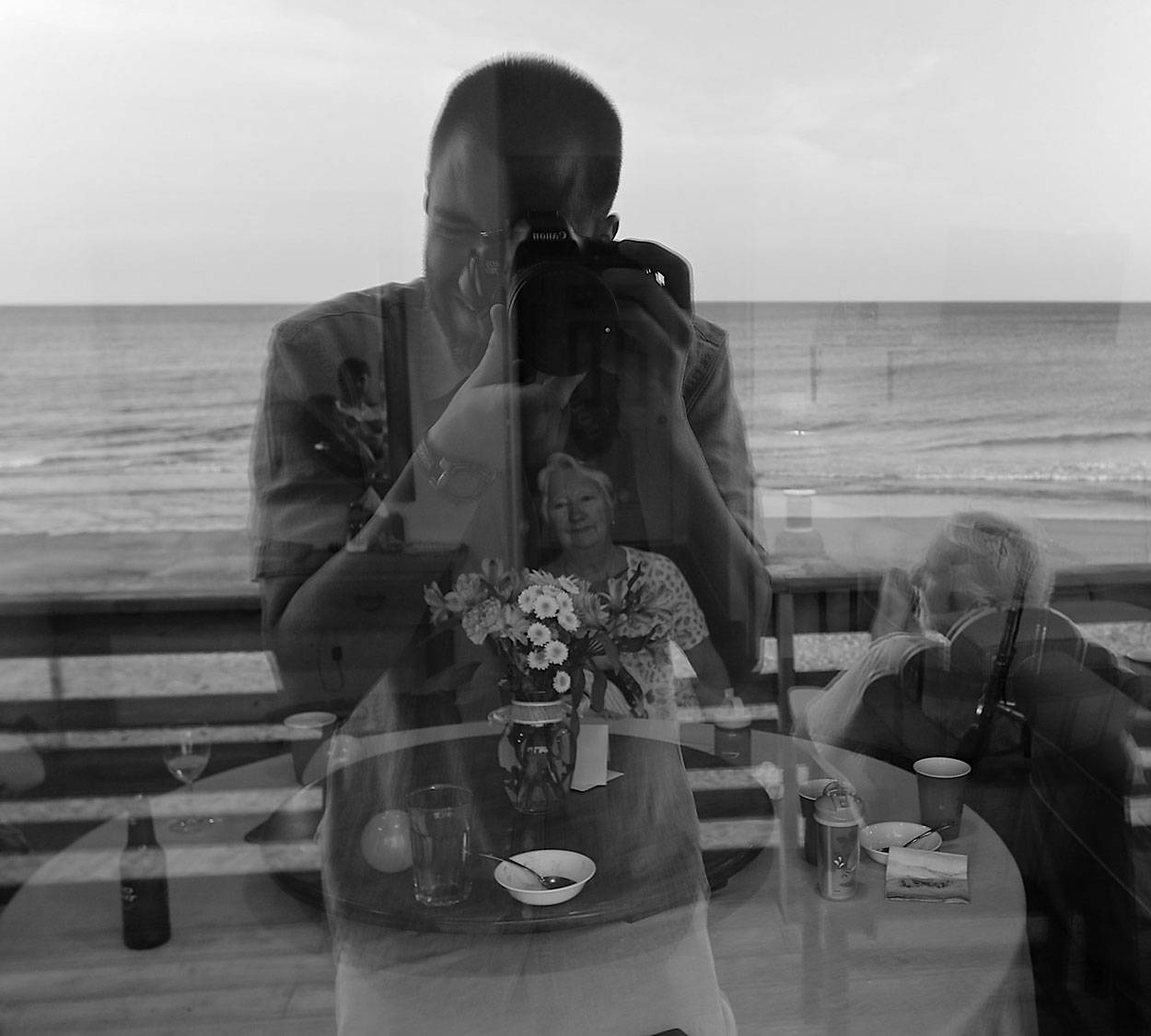 I took this photo standing on the deck looking into our cottage and positioned my body so that my Aunt Janet's (my mom's beloved sister) face appeared through my reflection over the location of my heart. The look on Janet's face perfectly captures the mood of our family that week.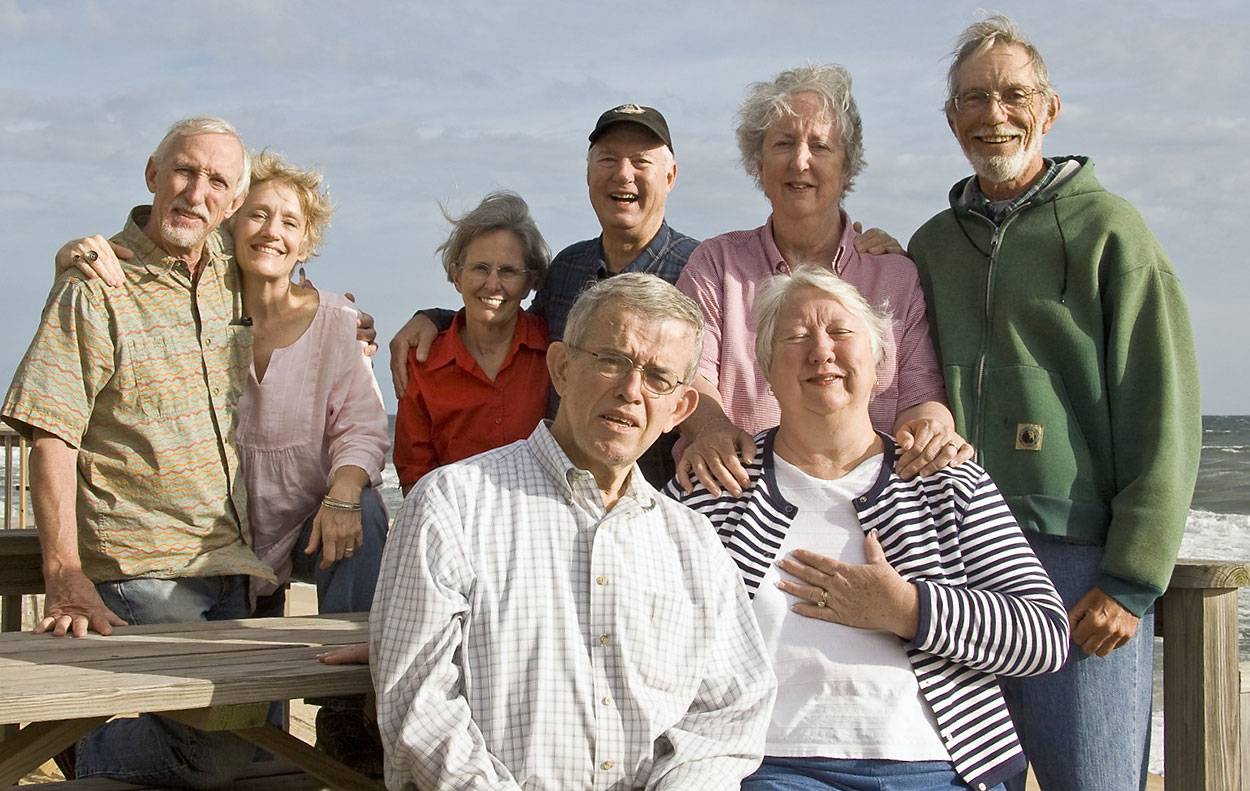 This photo was taken during happier times in October 2009. In front are Janet and Wayne; In the back are my parents, Roger (mom's brother) and Sandy in the middle, and Bob (mom's brother) and Pegi.
SPRINGFIELD
Much to my alarm, time started to move really fast as I got close to Springfield. As I drove into town under that magnificent sky, I felt sick to my stomach. I just wanted to stop and relish the fact that my mom was technically still alive. I even contemplated ways to stall, like stopping to get more coffee. But I needed to get to the hospital. My family had been there the entire day. They were tired and scared too.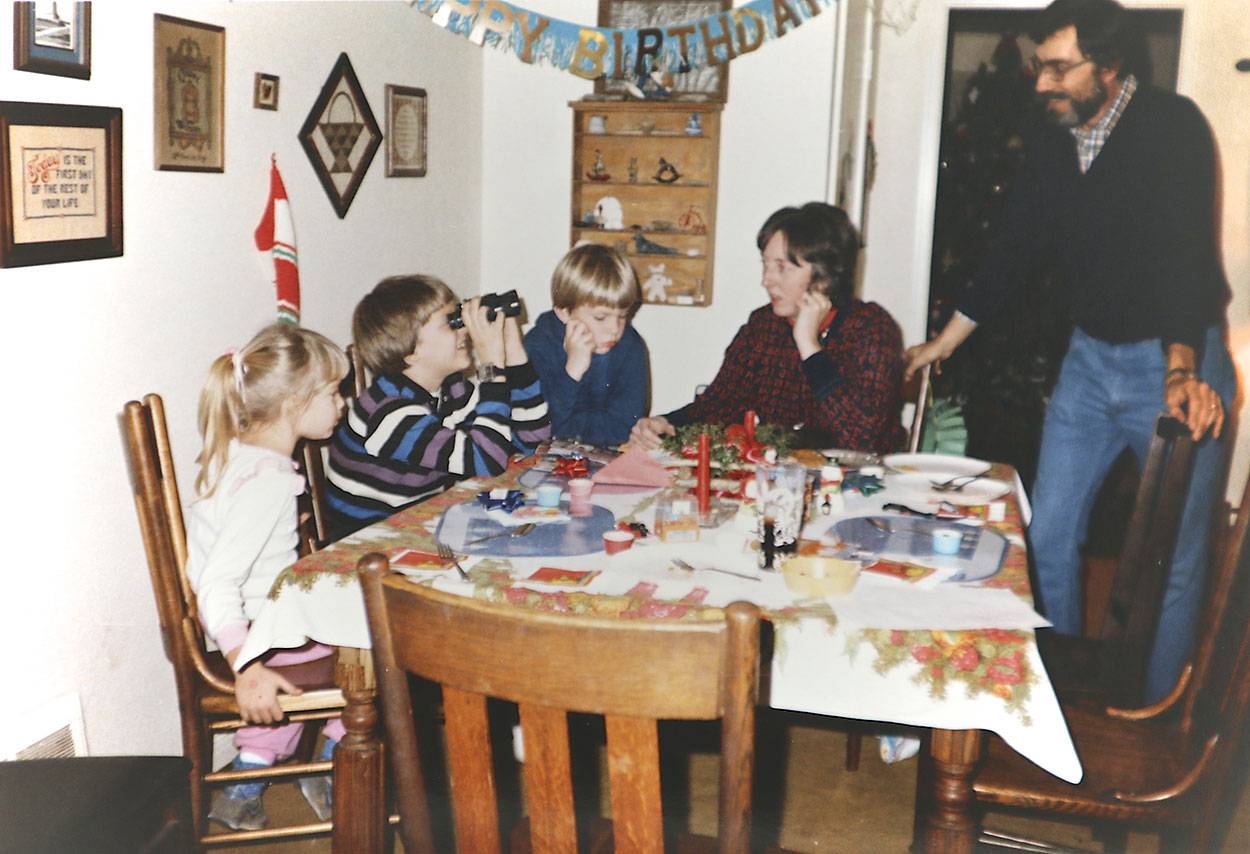 My mother was a slave to tradition. See that Happy Birthday sign hanging up in the photo above? Every time anyone in our family had a birthday, mom hung that sign between the same walls in the northeast corner of our dining room. The sign still exists today.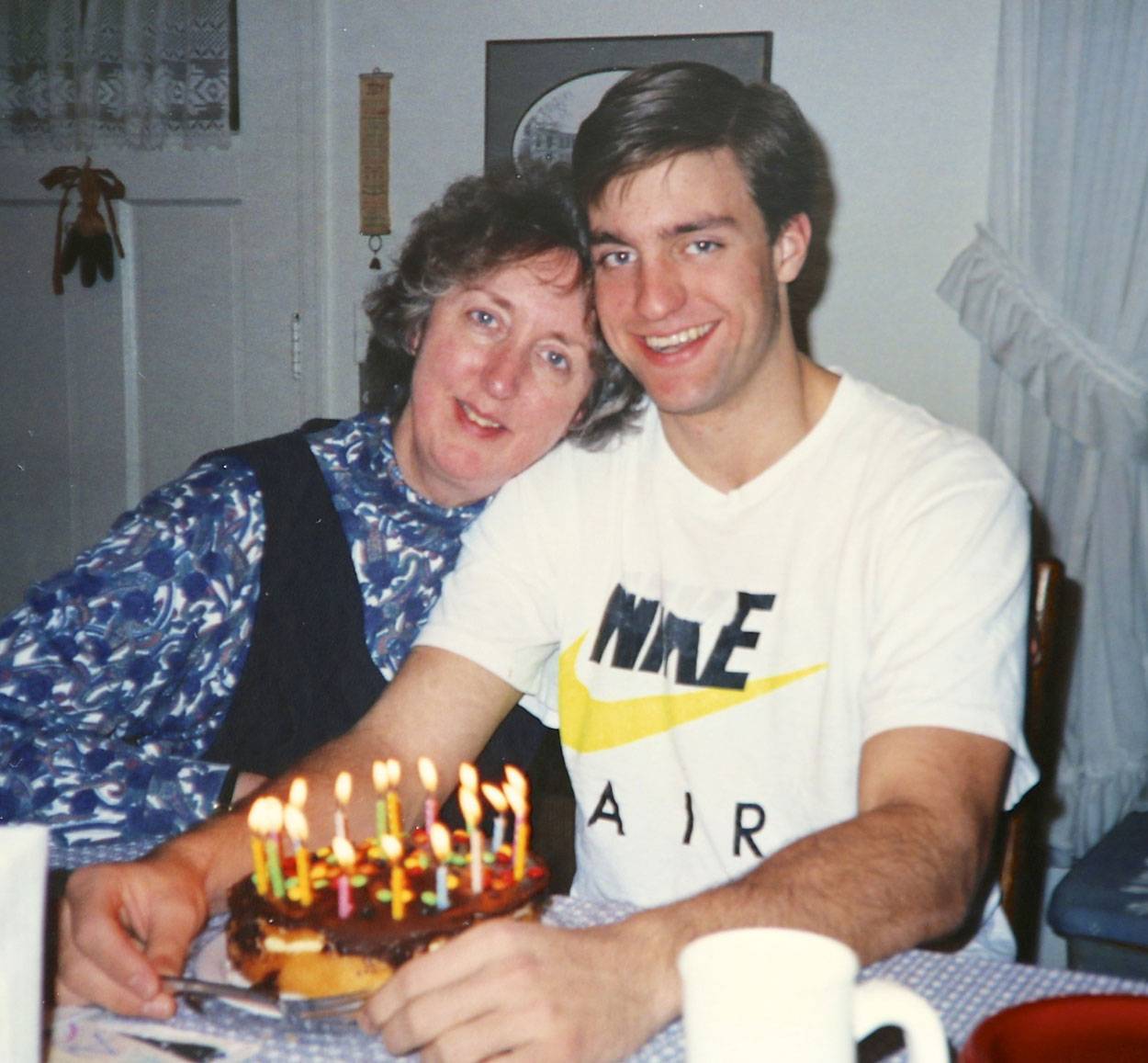 Another tradition was the birthday cake photo. This was taken on my 16th birthday.
June 18th, 2014, 3:53 p.m. Outgoing call to my brother, 1 minute in duration. I called to let him know I was a few minutes from the hospital.
MEMORIAL MEDICAL CENTER
Deciding to remove my mom from life support was not really that difficult a decision for our family. When Dave told me near Springfield, OH that Mom had no brainstem function I realized she was gone and that we would never get her back. I had all the way from Springfield, OH to Springfield, IL to wrap my mind around that. Similarly, my dad, brother, and sister, at my mom's bedside all day, realized she was gone forever. We all knew exactly what my mom would have wanted us to do in that situation, too.
My mother's best friend in the entire world was her sister Janet. When those two got together, the cosmic force of their love threatened to disrupt the universe. Janet was at her house in Virginia and I talked to her many times earlier in the day.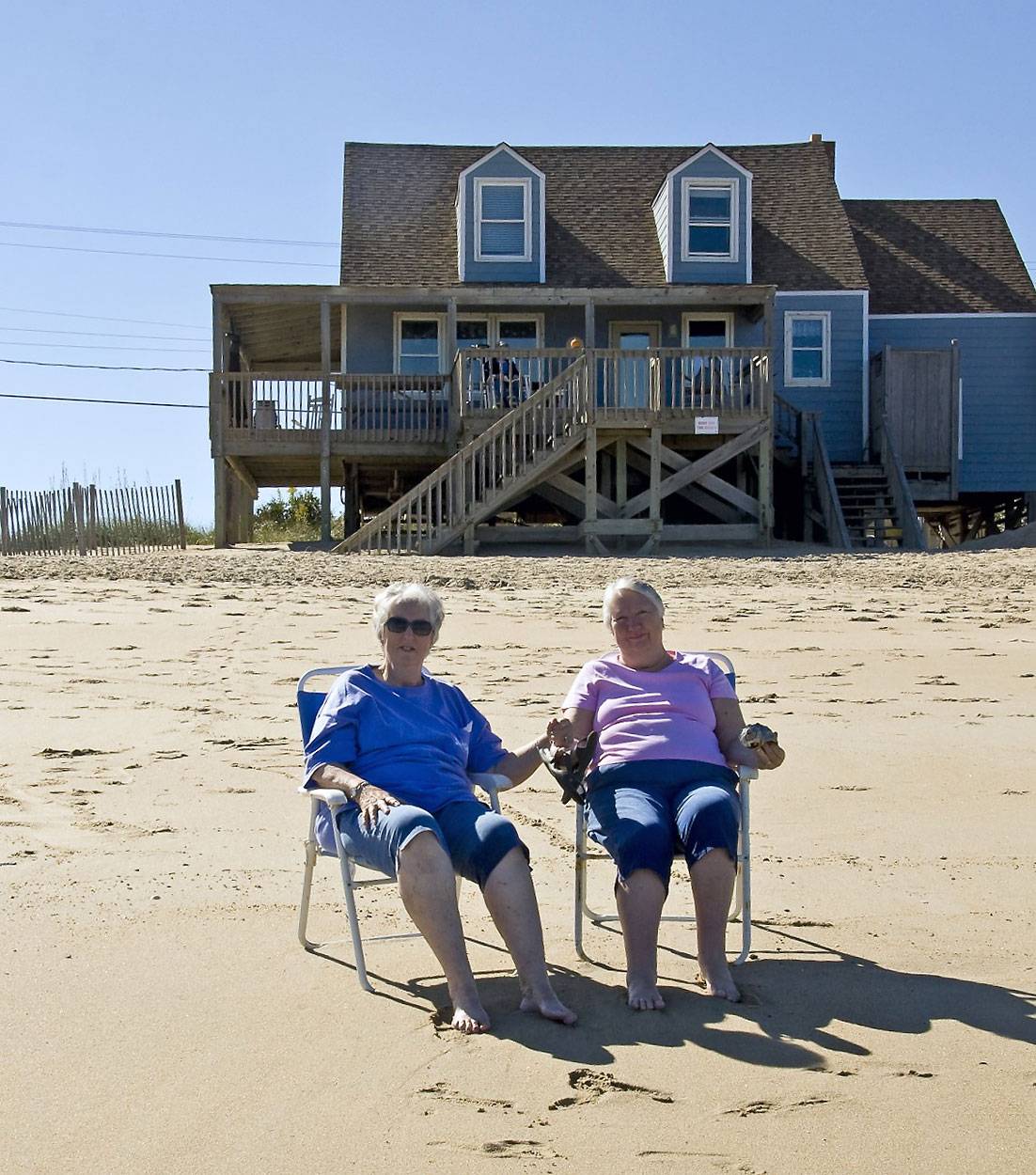 My mom and Janet in Kitty Hawk in 2010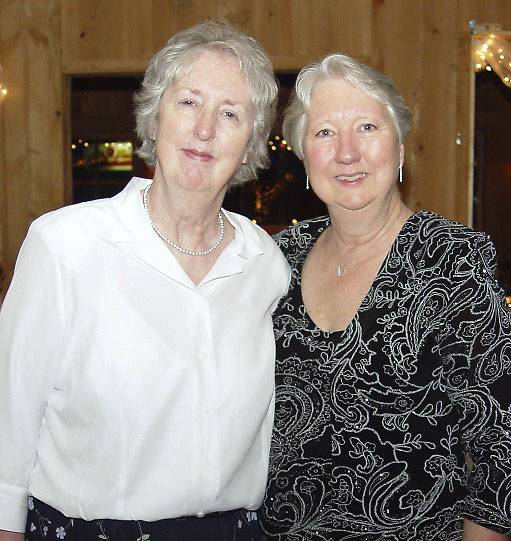 At my cousin Mark's wedding in 2007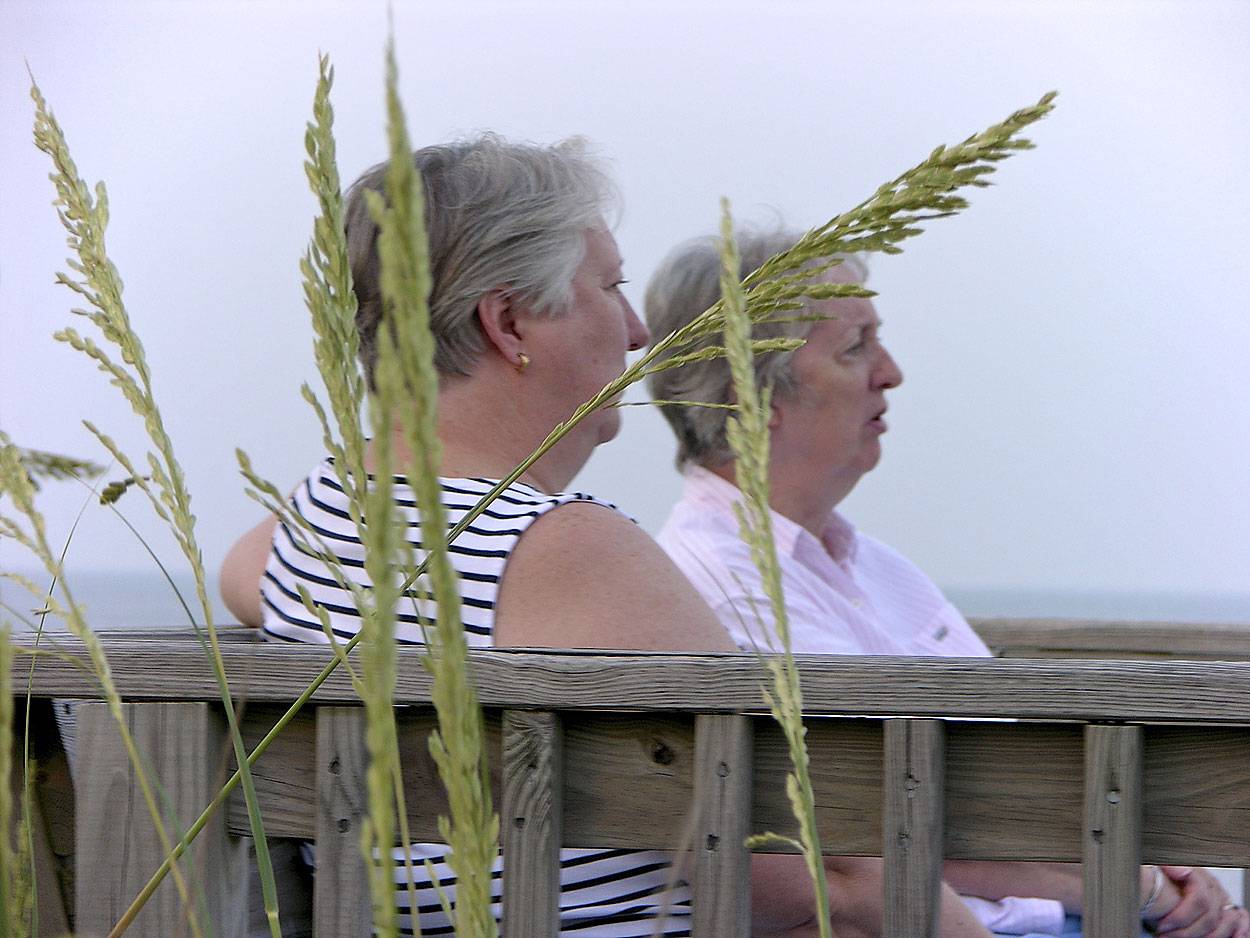 Looking out at the ocean in 2006
Goodbye hugs leaving OBX in 2009
June 18th, 2014, 4:30 p.m. Outgoing call to Janet, 6 minutes in duration. I called Janet, put her on speaker, placed my phone by my mom's ear and we all left the room. That was the last time Janet talked to her sister.
Even as I walked into the room when it was my turn to say goodbye, I had no idea what I was going to say.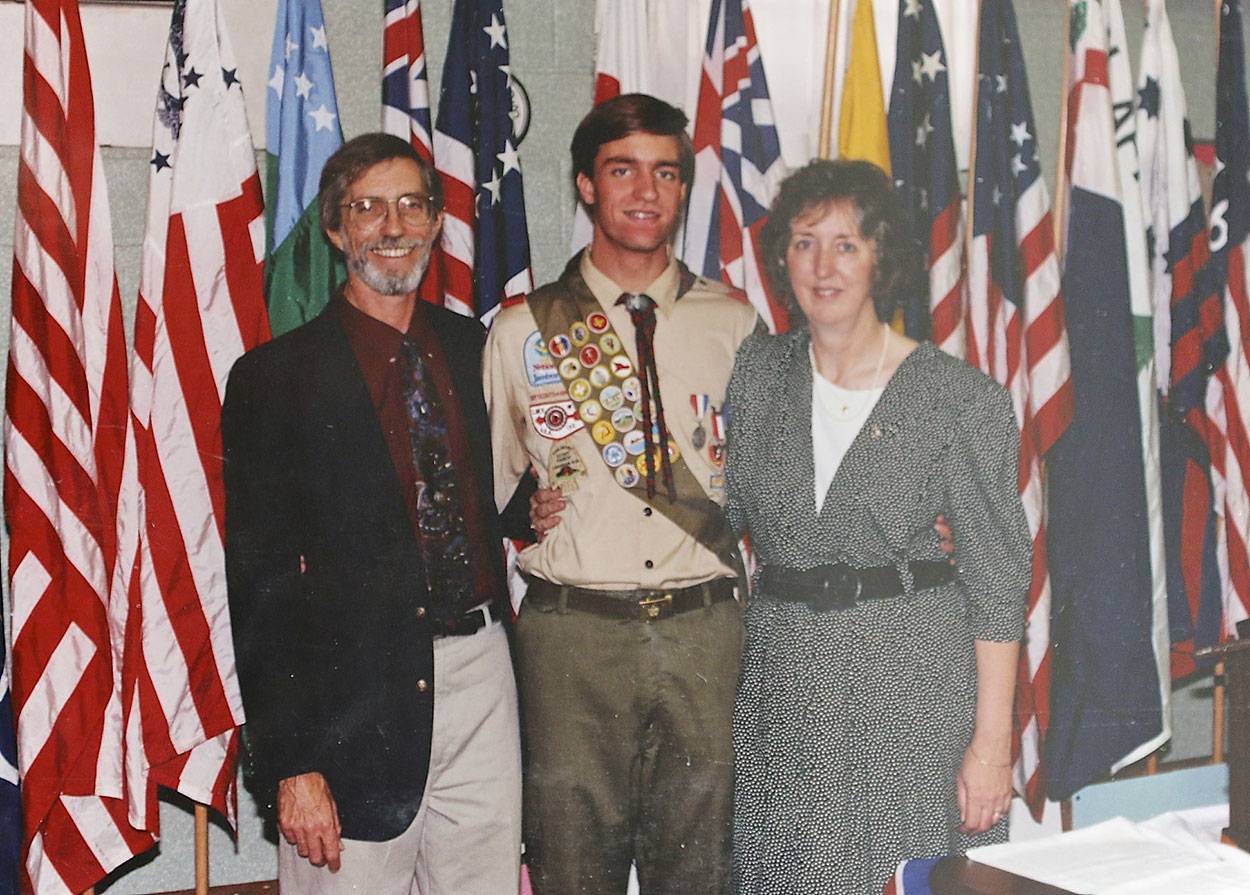 My parents and I at my Eagle Scout ceremony.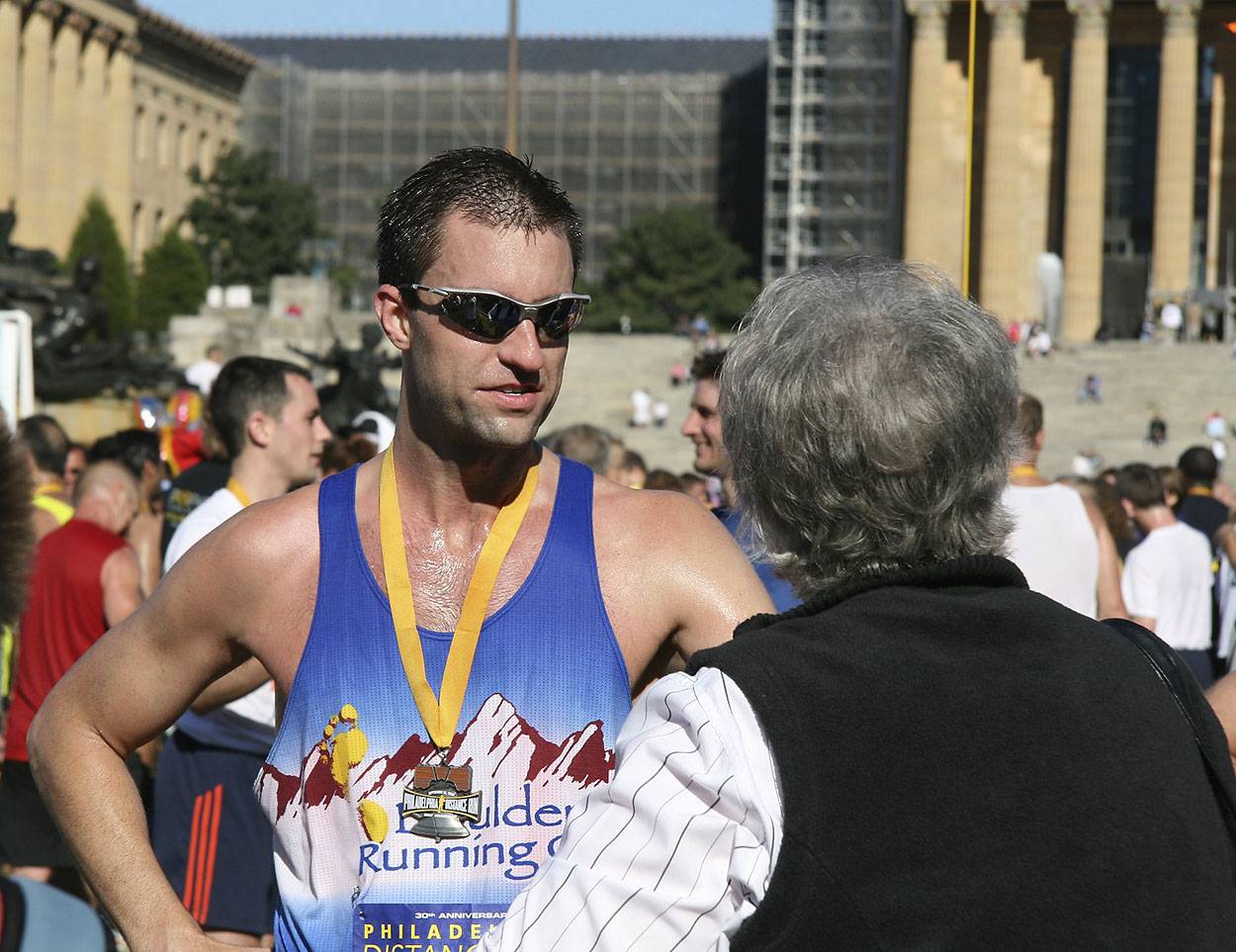 My mom and I at the finish line of the Philadelphia Distance Run in 2007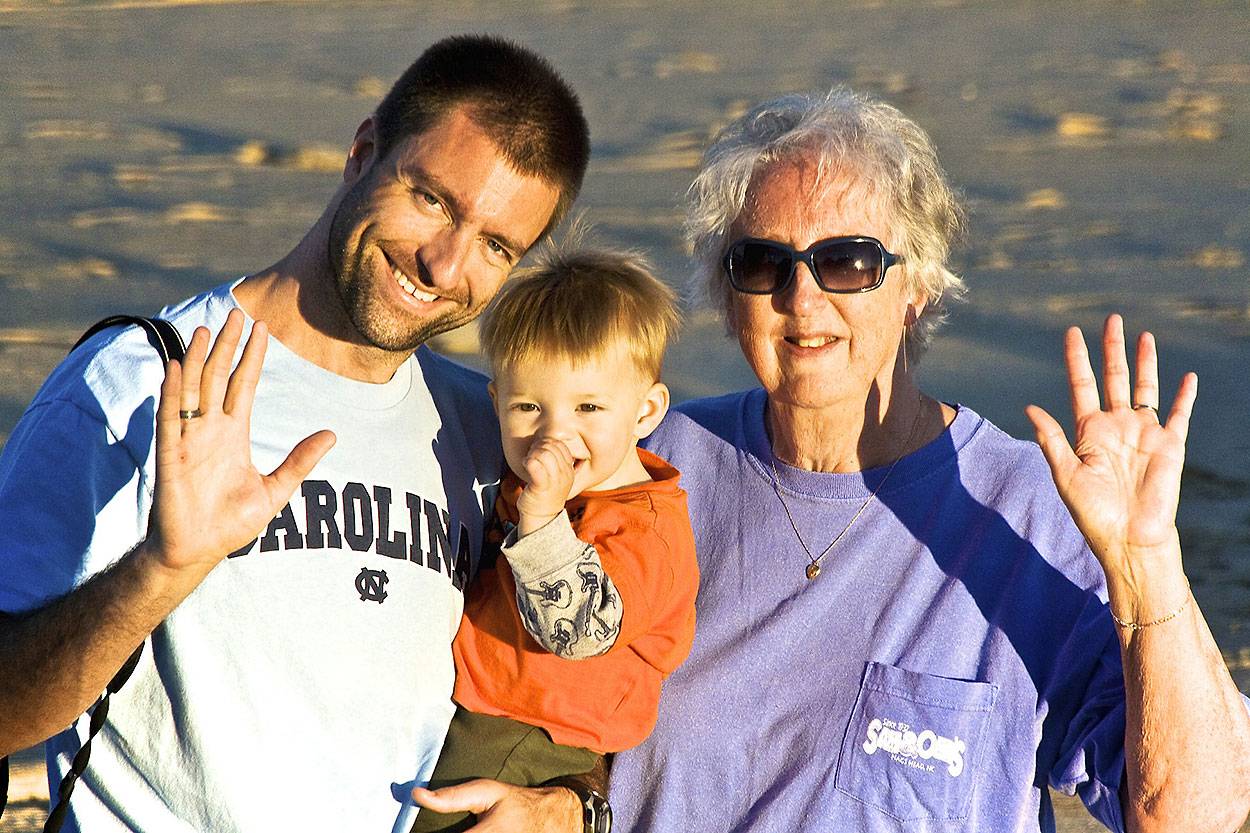 Me, Mom, and Alex on the beach in Kitty Hawk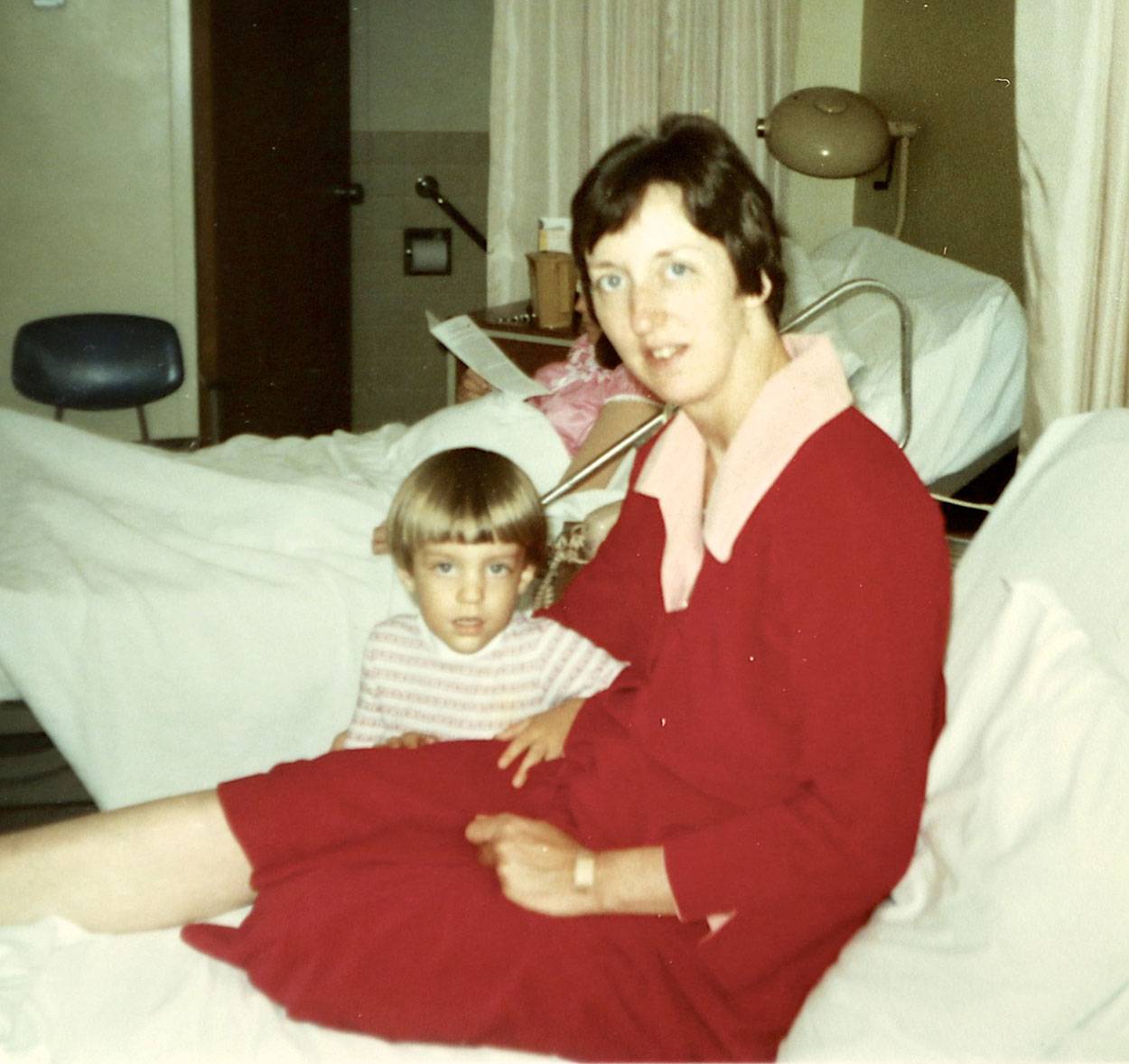 Me, timidly visiting my mom in the hospital after she gave birth to my sister.
I pulled aside the curtain in Mom's room and knelt down on her left side. I wrapped my right arm around her shoulder and kissed her cheek.
I'm going to let what I said remain between me and my mom, but I can tell you this: It was a calm, peaceful, and beautiful moment and the words came out of my mouth much easier than I could have ever imagined.
My mother died at 5:26 p.m. on June 18th, 2014. We were all by her side.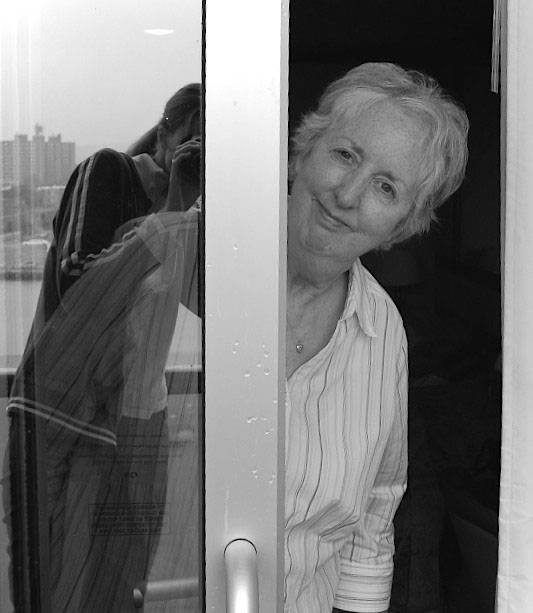 ONE HUNDRED AND SEVEN
Between that 1:13 a.m. call from my brother and Janet's last call, my call log shows that I made and received a total of One Hundred and Seven calls.
One Hundred and Seven.
Although most of them I don't remember, even when seeing the details of those calls, all were about my mom and all were important. But for me, the most important one of all occurred a few hours before my brother called at 1:13 a.m., and fortunately, I remember it well. I was sitting in the blue Ikea chair in our front porch/office.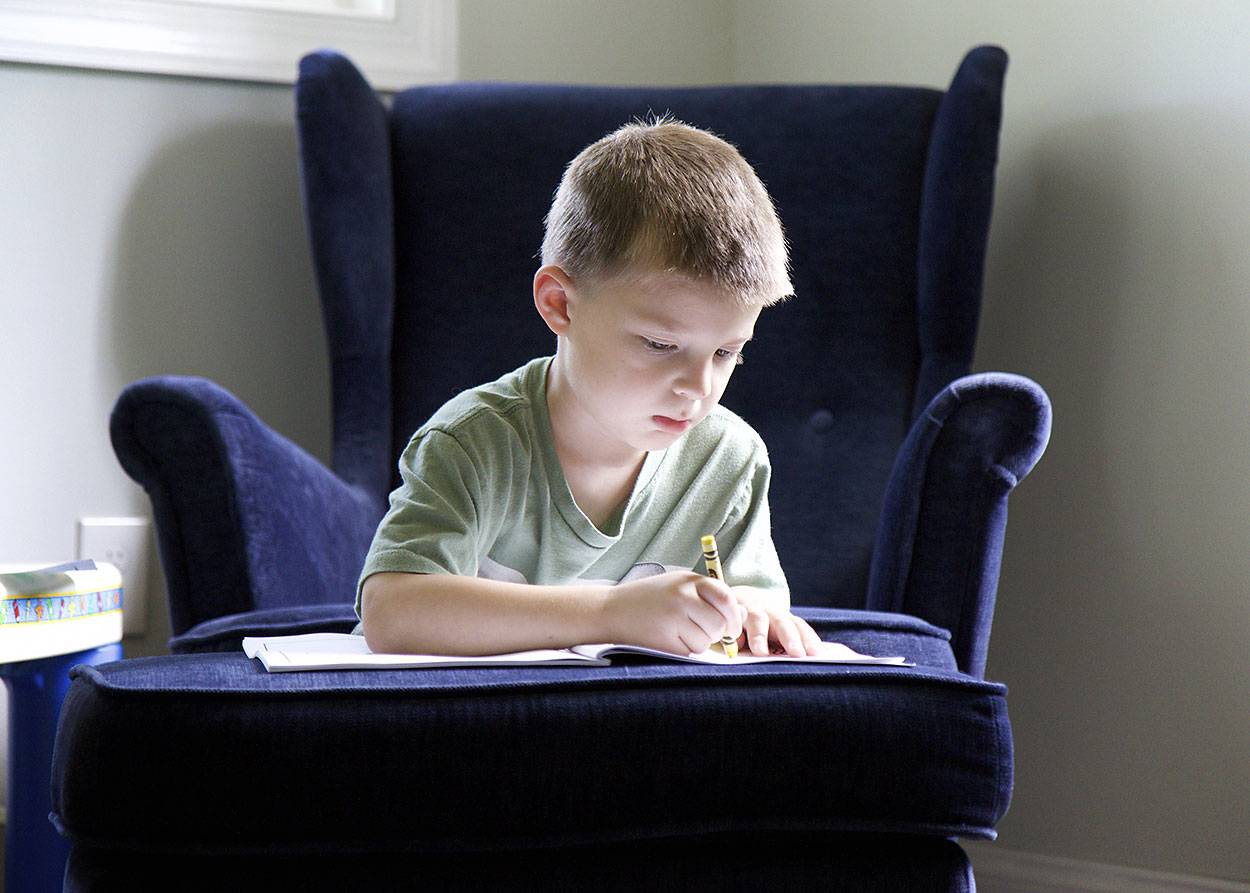 This is Alex coloring by that chair a few days ago. On June 17th, 2014, after I finished mowing the lawn, I sat down in this chair to call my parents, knowing they just got home from the hospital. I opened the window next to the chair and could hear the neighborhood kids playing outside.
This was the last conversation that I had with my mom.
June 17th, 2014, 7:14 p.m. Outgoing call to my parents' house, 15 minutes in duration. Mom was sitting at the dining room table with my dad, brother, and sister, the same table where she had administered so many of those birthday hugs. Everyone was tired but relieved that Mom's surgery went well. The mood seemed jovial and I remember wishing very much that I was there with them. They passed the phone around and I quickly said hi to everyone. I answered some of Mom's medical questions, listened to her complain about something that happened earlier, and then she told me she wanted to go lay down on the couch in the living room.
"Goodbye, honey. I love you."
"Bye, Mom. I love you, too."