Out West with the family
I scheduled a week-long vacation in early June. I wasn't planning on going anywhere — I just had too many vacation days to carry over into July. There were a lot of projects around the house I was looking forward to catching up on. But somehow Hannah and I decided instead to load up the entire family and every single thing we could physically fit into the van and drive west.
We planned this trip in maybe a week's time. Initially we thought we'd go through Colorado and to Moab, Utah. Then we added a second leg up through Wyoming and South Dakota. We were going to see half a dozen National Parks over ten days and camp almost every night.
The morning we were supposed to leave Springfield, we wanted to get on the road by 7 or 8 in the morning. But Hannah and I had been sick all week, and despite our best intentions, we were woefully unprepared. We packed the van in a hot panic and finally got on the road around 9:30am. This was the start of a pattern that would eventually derail our grand plans and change the scope of the trip. But our spirits were high as we started down the road, and we were all excited to get out of town and go on an adventure.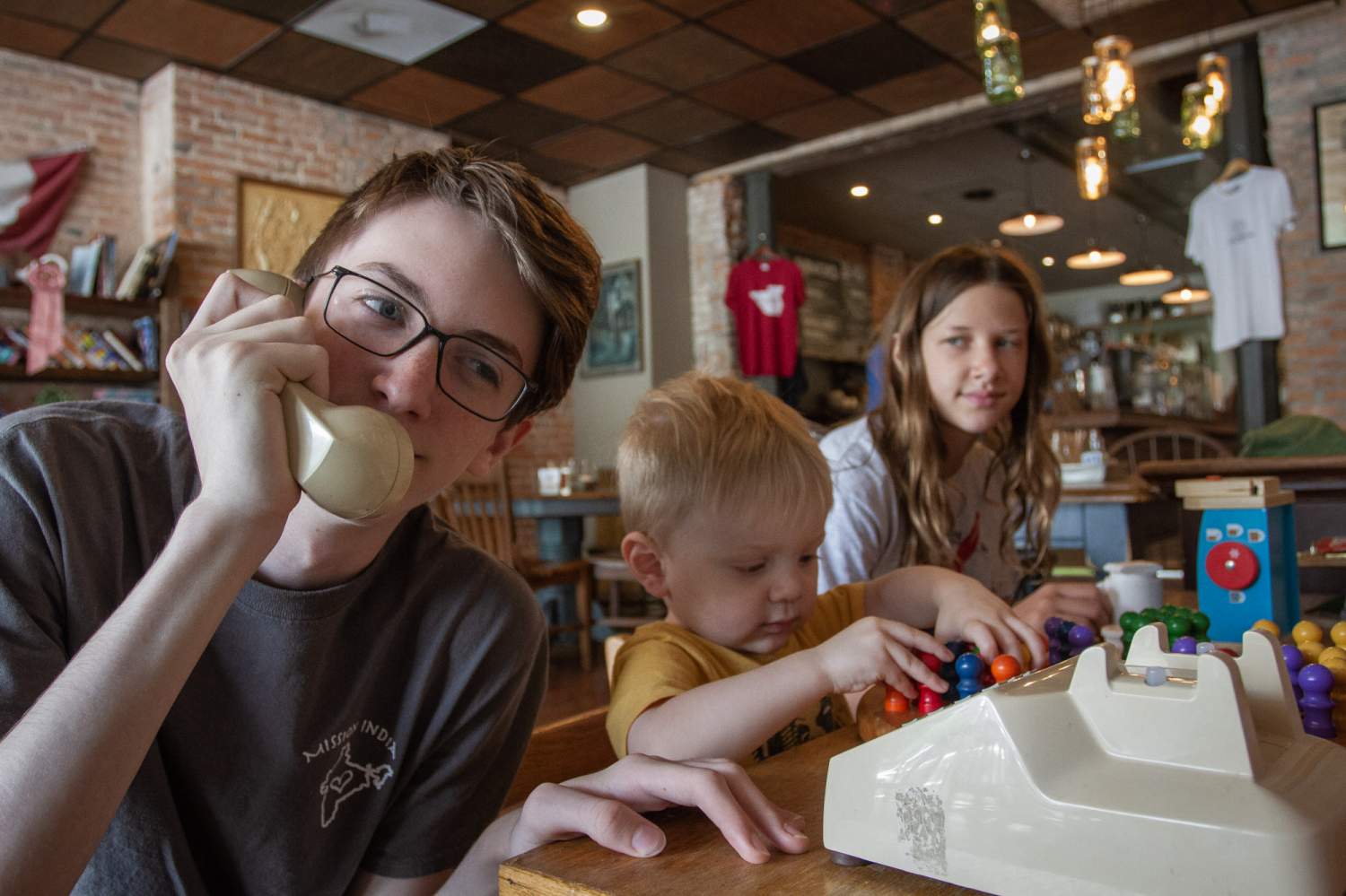 Our first stop was for coffee. Obviously. We stopped at Free Press in Pittsfield and stretched our legs a bit. Martin found some toys. Hannah and I found some coffee. We didn't have time to dawdle, so we got back on the road.
Martin loved having the big kids around. And they did such a great job with him — being patient, keeping him busy, watching him on playgrounds, everything really.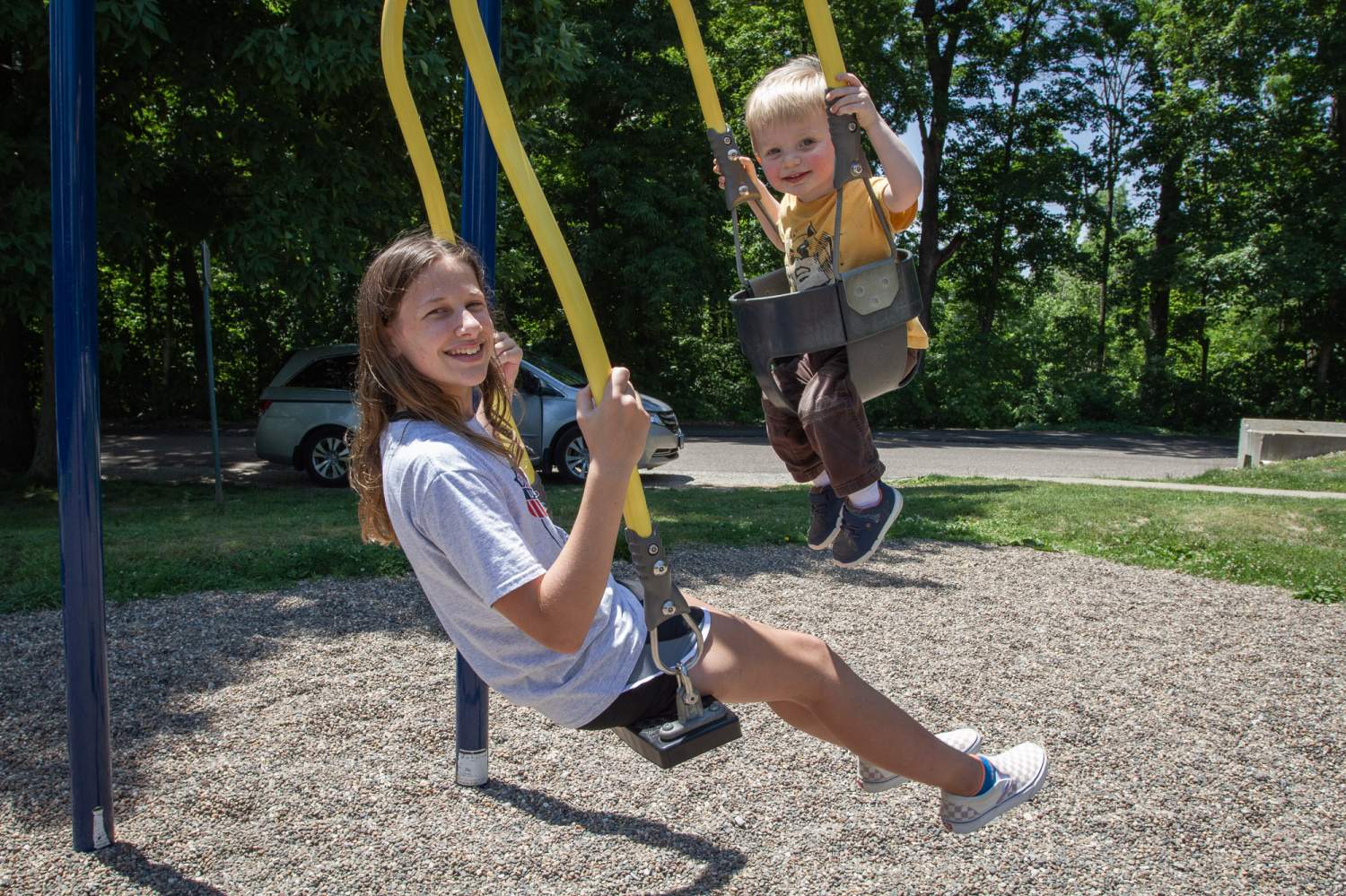 We stopped for lunch at a playground in Hannibal. The kids played together, I took photos, Hannah made lunch. This became a routine that defined the trip.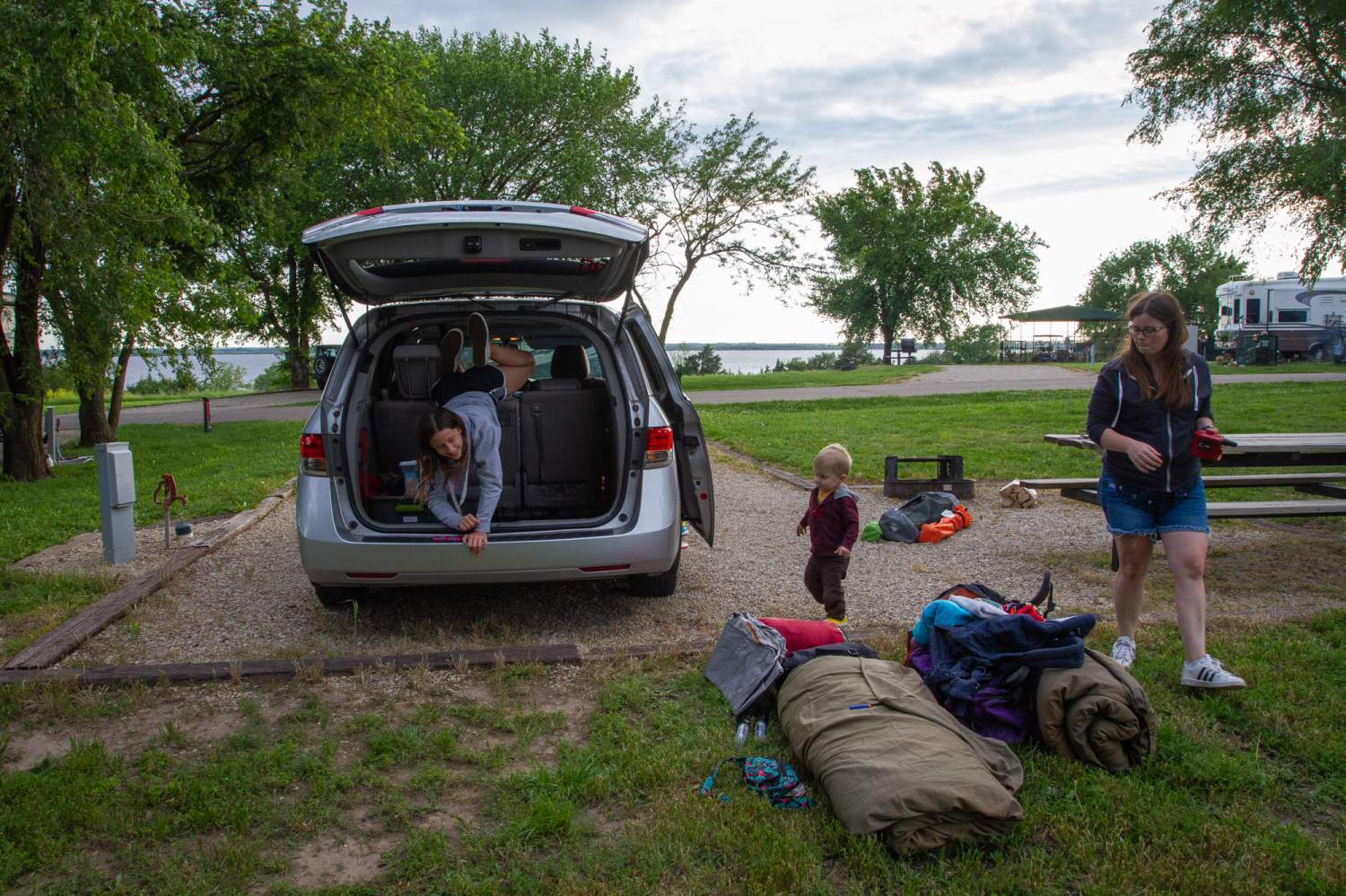 We spent our first night at a campground in Milford Lake State Park, Kansas. We were behind schedule and decided to skip a campfire dinner in favor of fast food (Freddy's).
We got to the campsite and set up our tents. Hannah, Martin and I shared a big tent. Ethan had a medium tent to himself, and Mia used my little backpacking tent. After we got all the tents set up, we went on a sunset walk down to the lake. Kansas was experiencing a lot of flooding, so the beach was under water.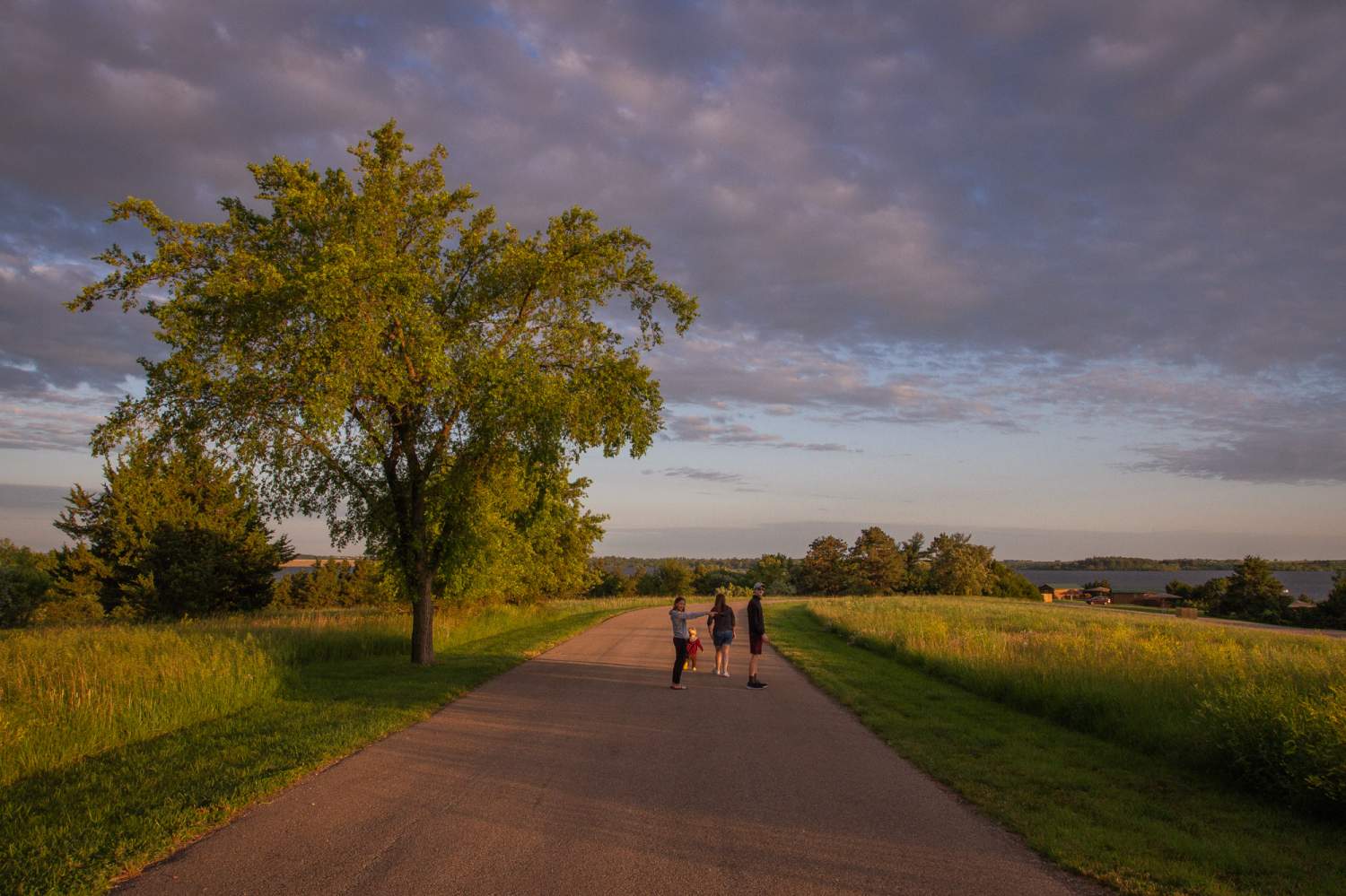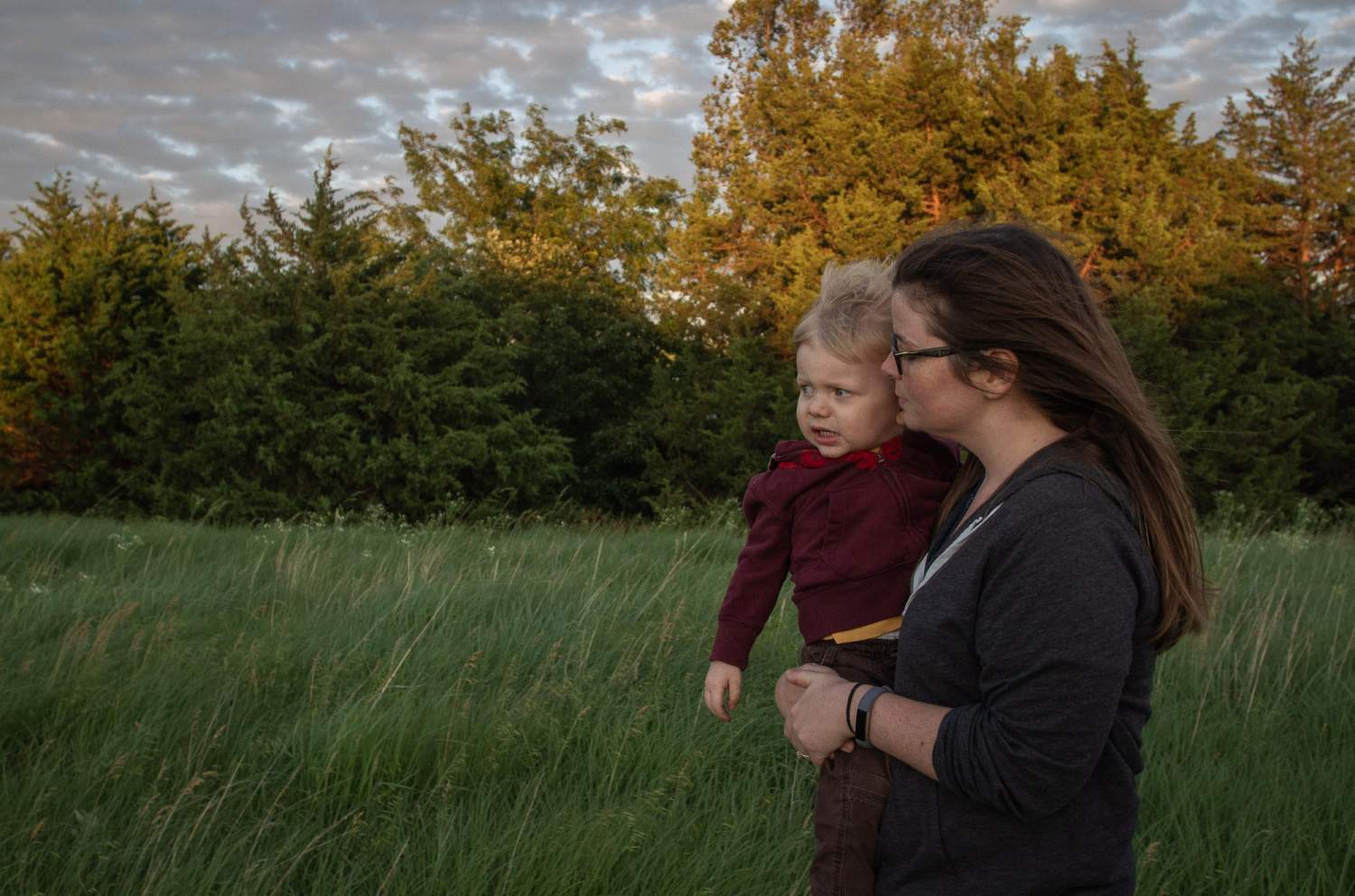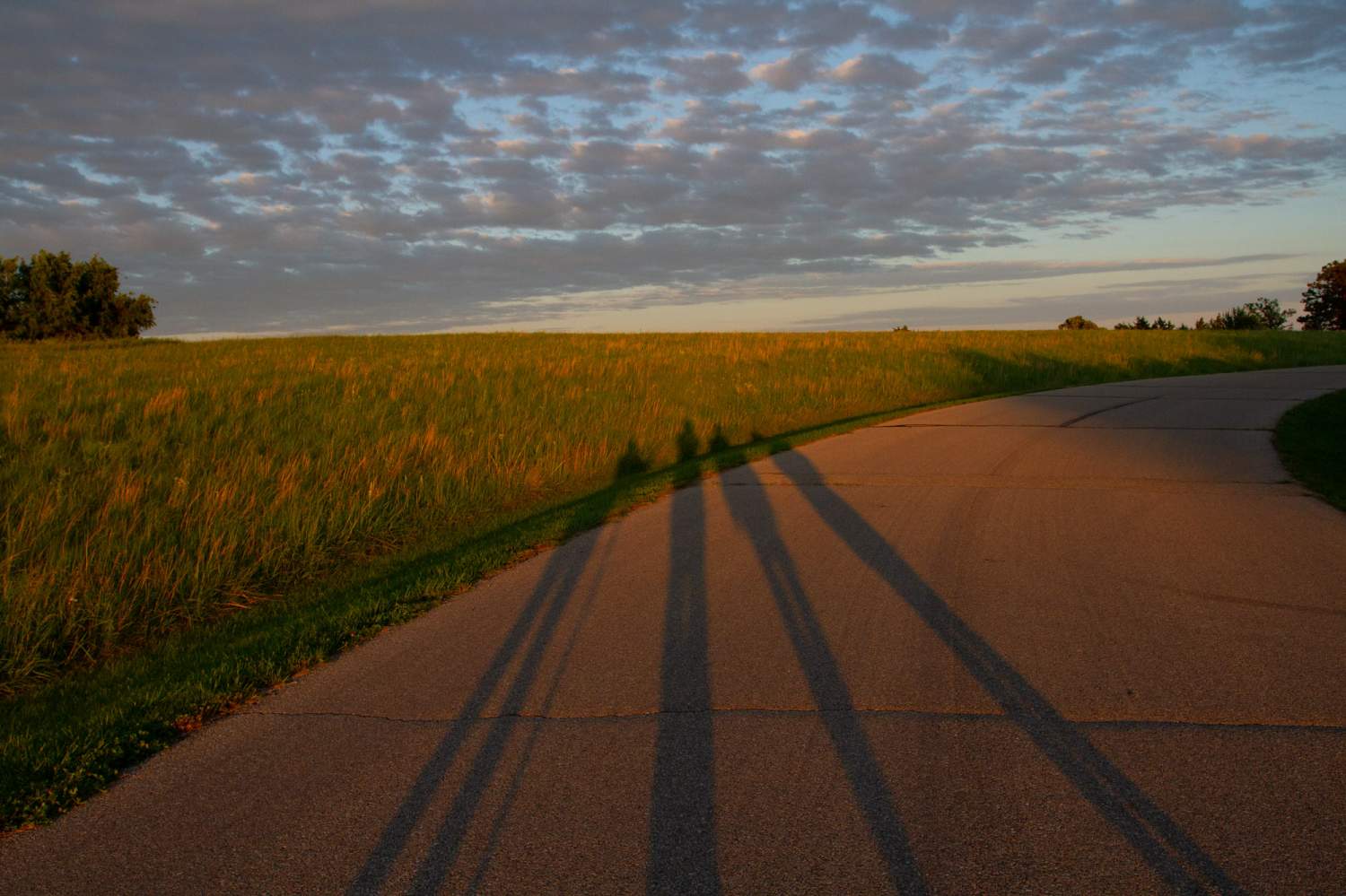 It was a long first day, but we had done it. We almost cancelled the trip due to being sick and unprepared. It could have gone wrong in a million ways. But at the end of the day, we had fun.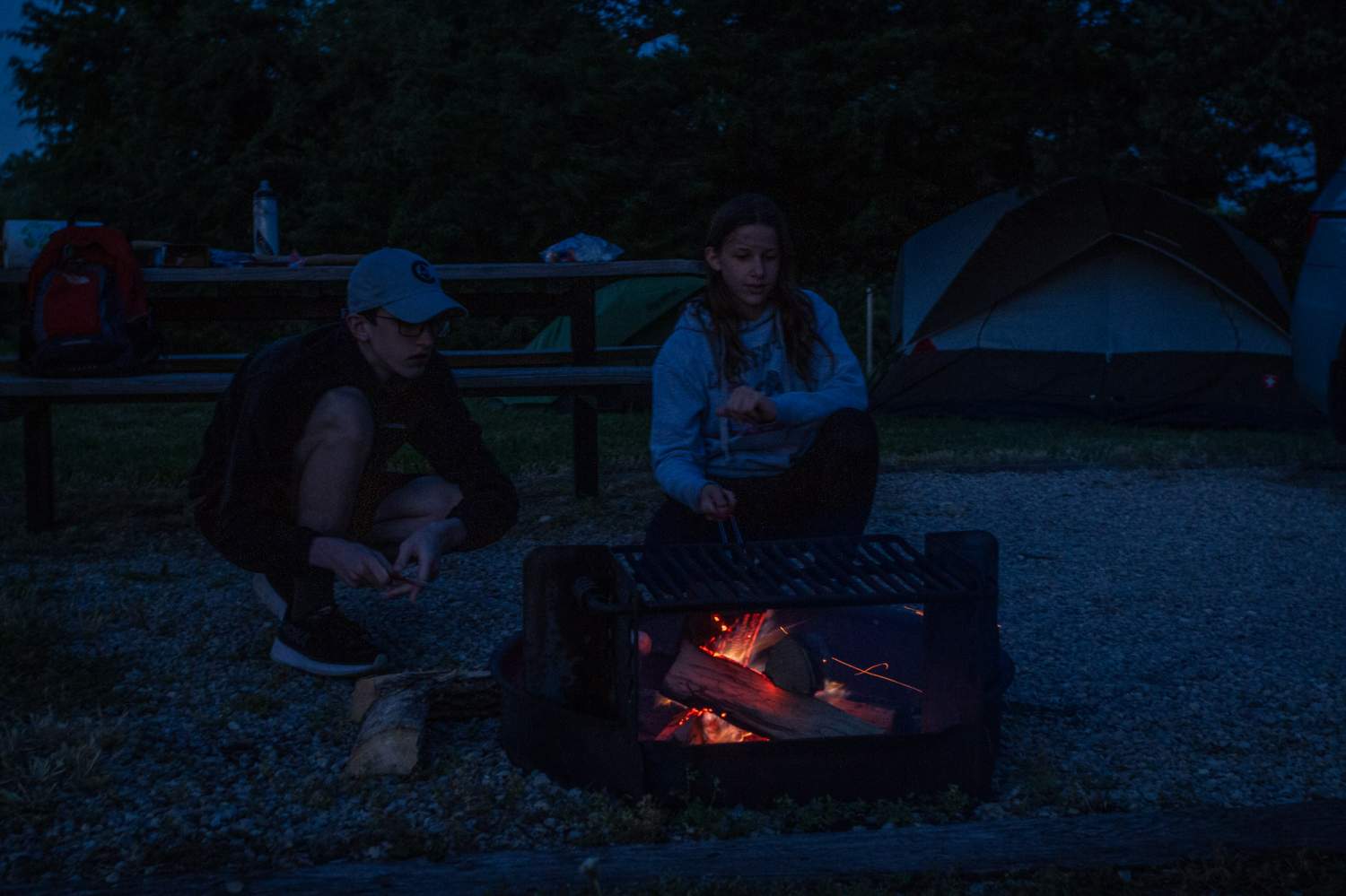 Hannah took Martin to bed in the tent, and I stayed up making S'Mores with the kids. We stayed up a bit past dark then said goodnight. In our tents, we listened to the wind and distant coyotes. The air mattress that Hannah, Martin and I slept on slowly lost air all night until we were on the ground in the morning.
The kids and I got up just after sunrise. After taking down their tents, Hannah and Martin were still sleeping soundly. So we took a walk around the park, through a field and down to the water. Back at the campsite, we played a makeshift game of Pictionary on the chalkboard until Hannah and Martin woke up. We packed up the last tent and headed out.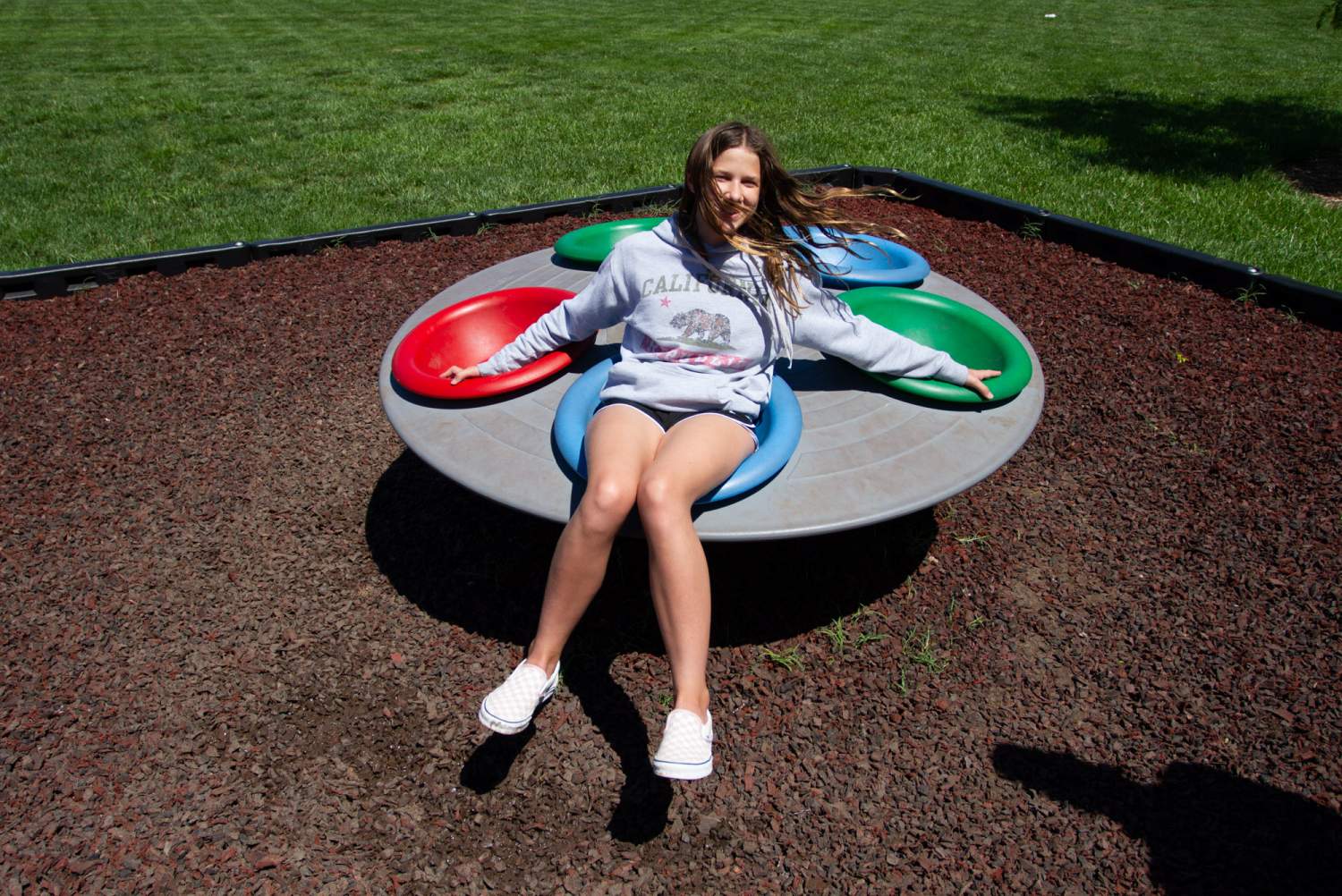 Our first stop was in Hays, Kansas. Another playground / lunch stop. They tested their tornado sirens when we were there. After lunch we drove Old Highway 40 to Ellis and got back on 70 West. Everyone had a nice nap as we drove into Colorado.
We stopped at Limon for gifts and restrooms and continued on our way. We could see Pike's Peak looming in the distance.
That night we stayed with friends near Denver. It was a ton of fun, but I didn't take any photos. We played in their backyard, made S'Mores around a fire and slept well. Big thanks to Paul and Danielle for hosting our weary family.
The next morning we headed into the mountains.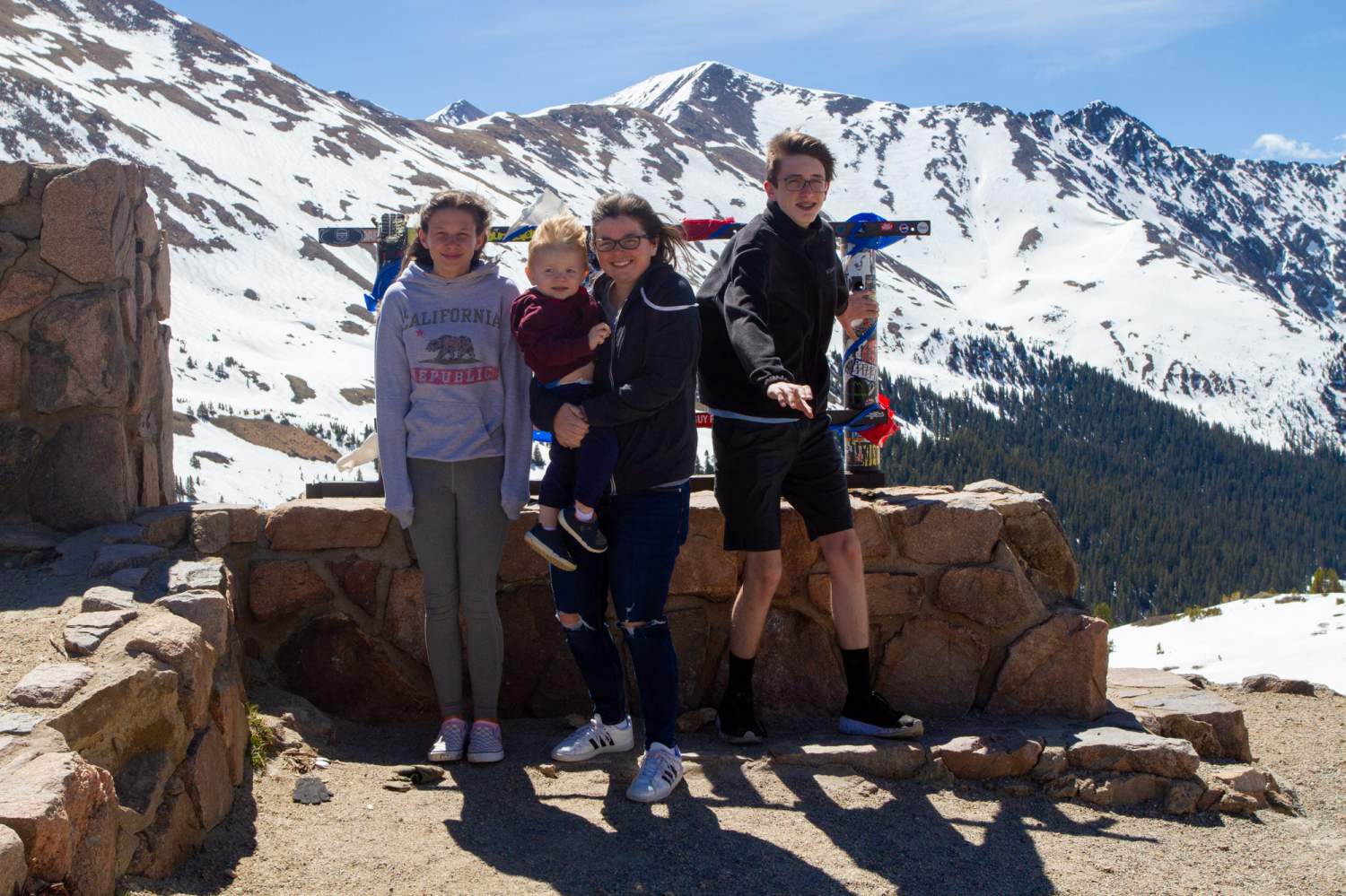 We took a detour from Interstate 70 to go over Loveland Pass. It was incredibly windy and cold up there, so we didn't stop long. Everyone was feeling the altitude by this point as well.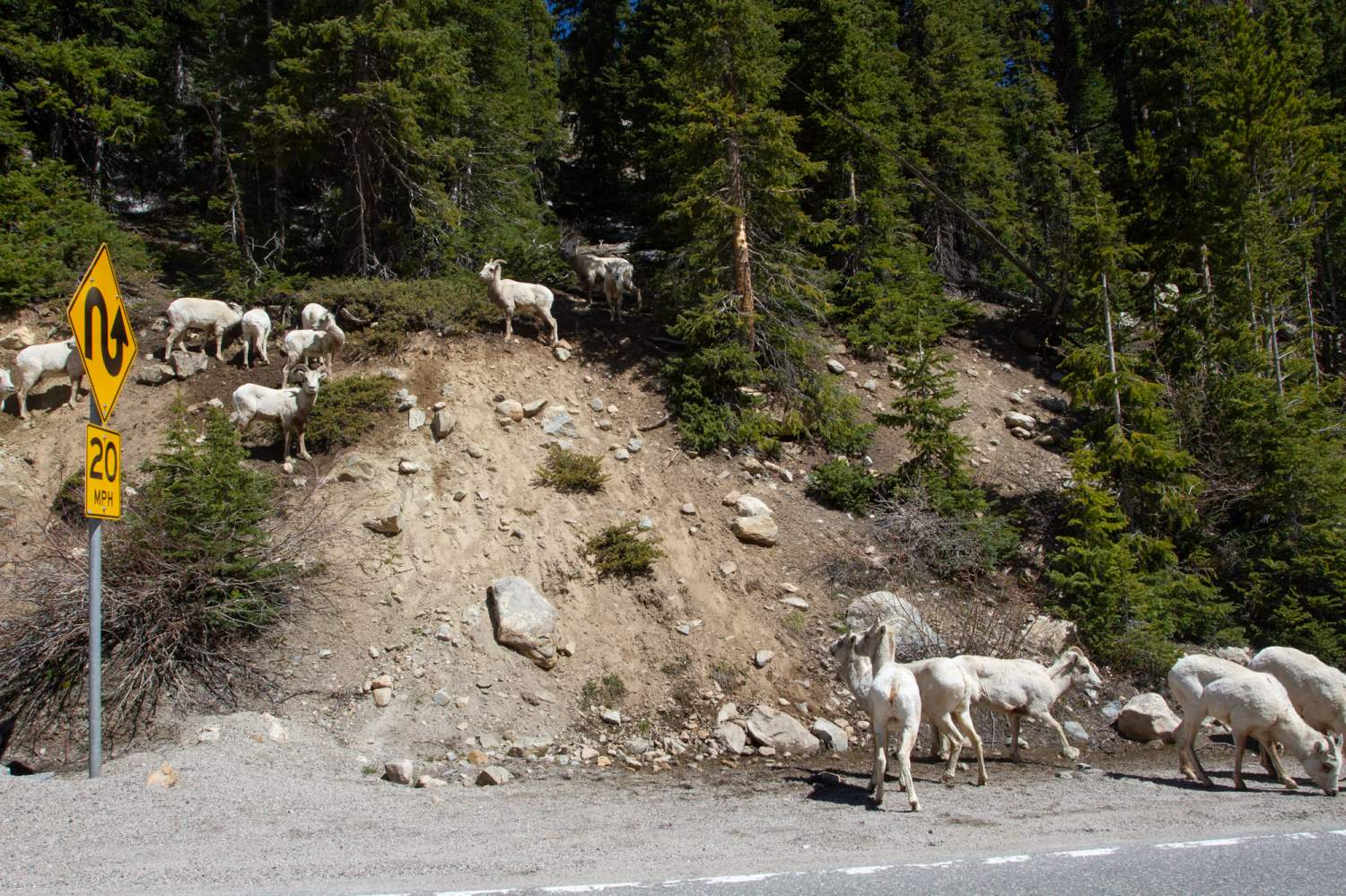 Just after the pass, we came upon a group of goats hanging out by the road.
The next stop was Breckenridge. I'm sure it has a lot of really cool local places to eat that would have enriched our lives, provided us with invaluable memories while supporting a local business and filled our stomaches with healthy, locally-sourced food. But we ate at Subway instead. The meal was cut short when Martin had a monumental diaper blow-out, which was super fun because there were no changing tables in the restrooms. So we changed him on the sidewalk next to the van.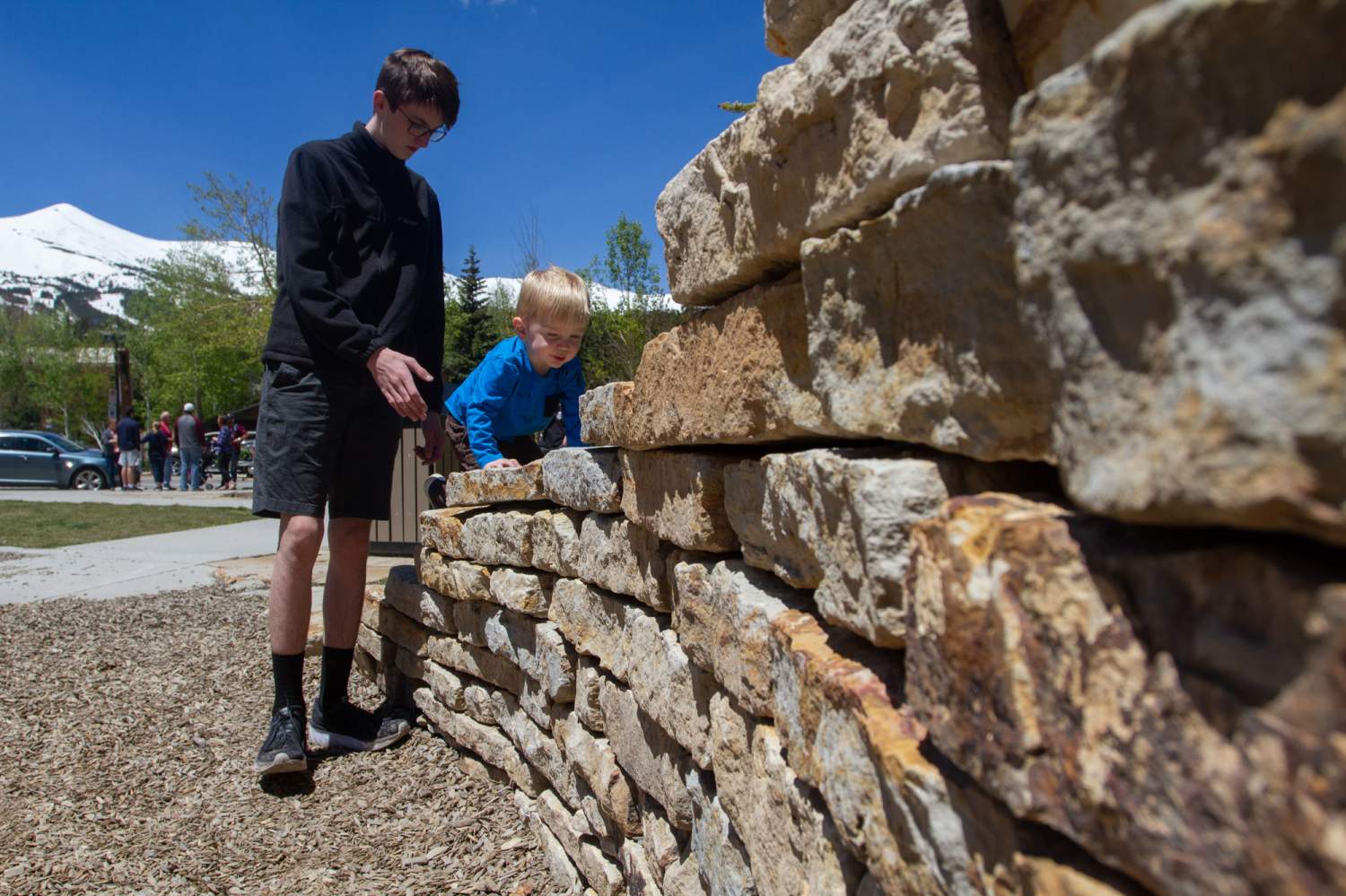 Before heading out of Breckenridge, we stopped at a little playground in the center of town. Martin enjoyed climbing, and Ethan enjoyed keeping him safe. Mia was probably doing backflips somewhere out of frame.
This was the first part of the trip that I think we all started to feel a little bit overwhelmed. We would be camping for the next several nights, and we had hours and hours of driving each day. The altitude was making everything a little foggy, and we were constantly behind schedule. Something was going to have to give, but at least for the next few days, we pushed on.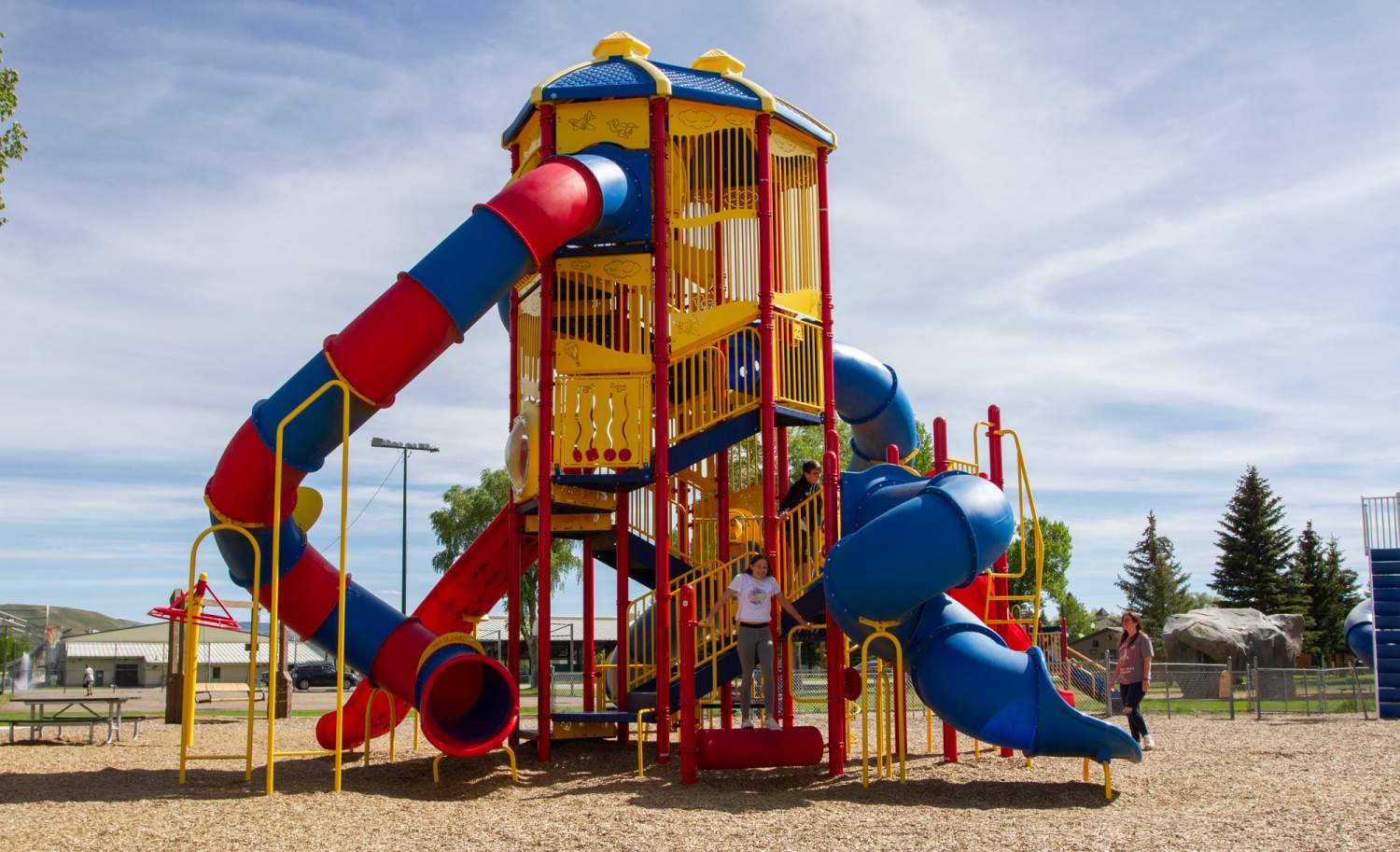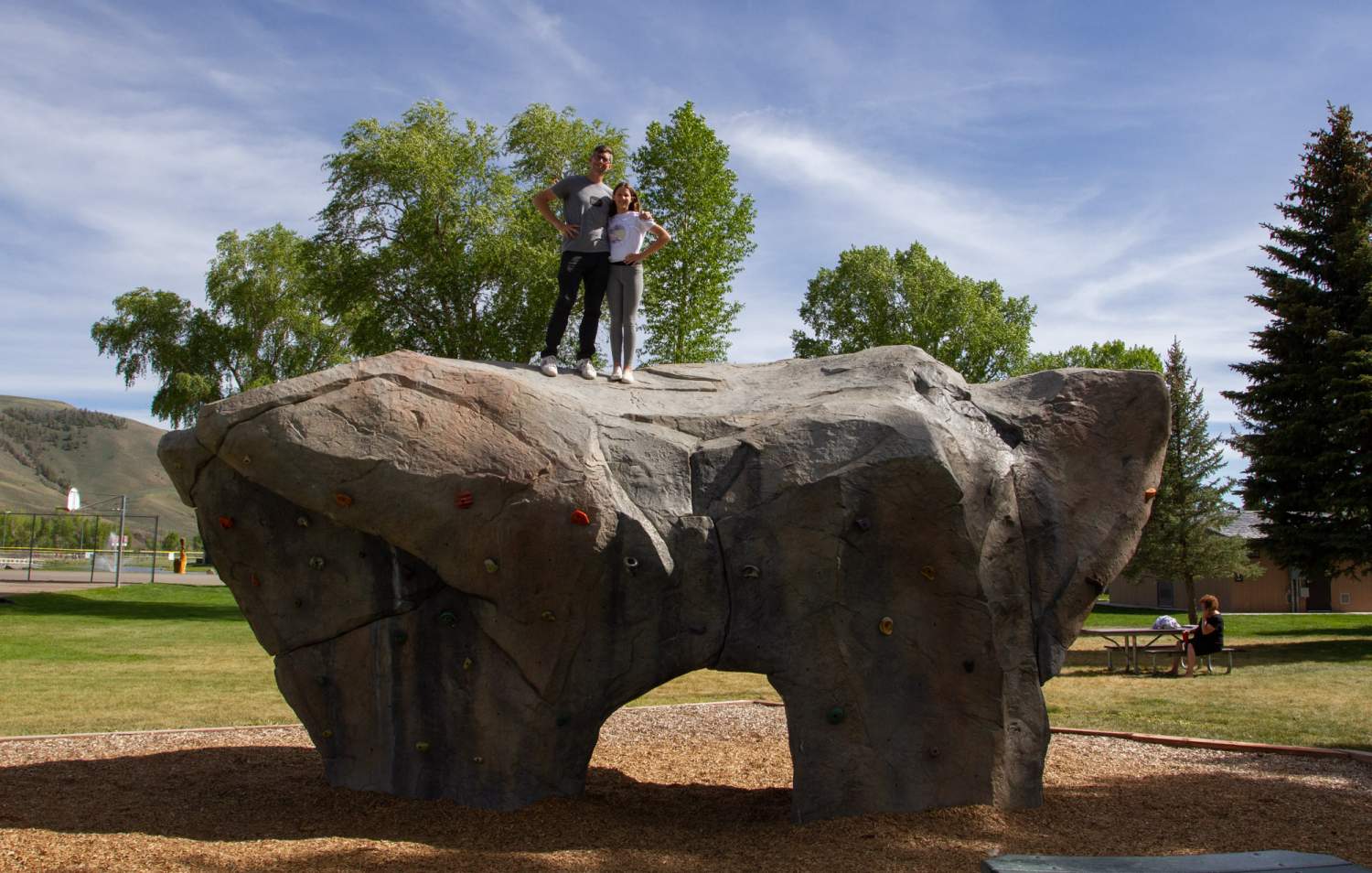 We stopped at a grocery store in Gunnison, Colorado, one of the last towns before we got to our destination for the night, Black Canyon of the Gunnison National Park. Before leaving town, we found a nice playground so everyone could stretch their legs.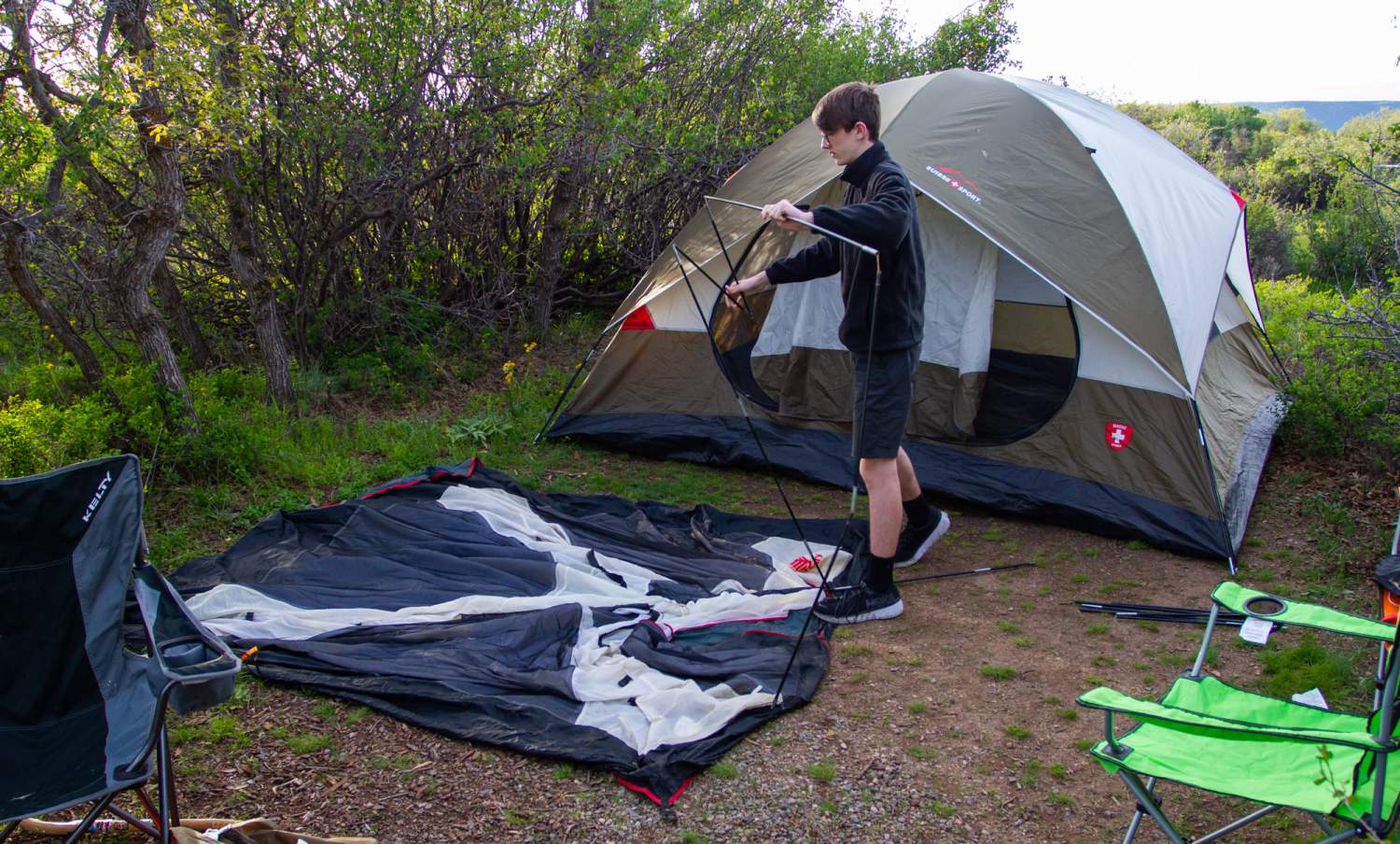 We rolled into our campsite around 6pm, much later than planned. We quickly set up the tents, Hannah made dinner and we made it just in time to the nearby amphitheater for the ranger talk. Everything was hurried, and it was obvious that this wasn't the best way to experience a National Park.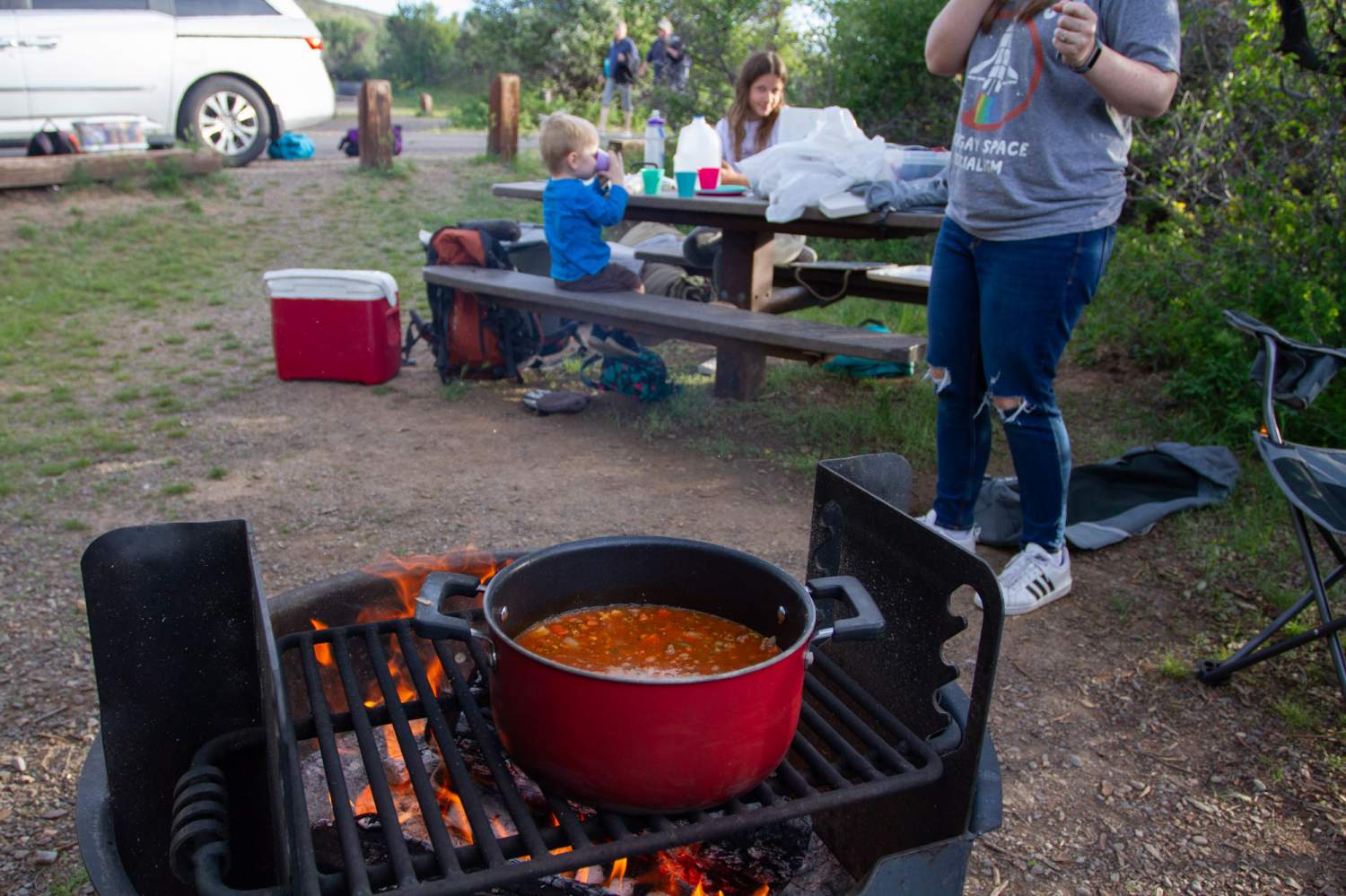 I took Martin back to the tent during the ranger talk, and the rest of the family joined me afterwards. We still hadn't seen the actual canyon, and the sky was getting dark. Hannah stayed behind and tried to put Martin to sleep while the kids and I headed out on a little adventure.
It was too dark for photos, but the kids and I found a nice overlook and hiked down past the viewpoint quite a bit. We found ourselves on a very exposed rock overlooking a very impressive canyon. We sat together and had a much-needed relaxing break from a strenuous day. As the sky grew darker, Ethan pointed out some planets in the sky. We hiked back up the hill to the car using flashlights, and we headed back to camp.
We had been gone awhile, and I was expecting Hannah and Martin to be asleep. But Martin was very much awake, and he was actively fighting all efforts to be put to bed. I tagged in and did my best, but he wasn't having it. After a lot of crying, Hannah came back in and was able to work some magic and get him to sleep.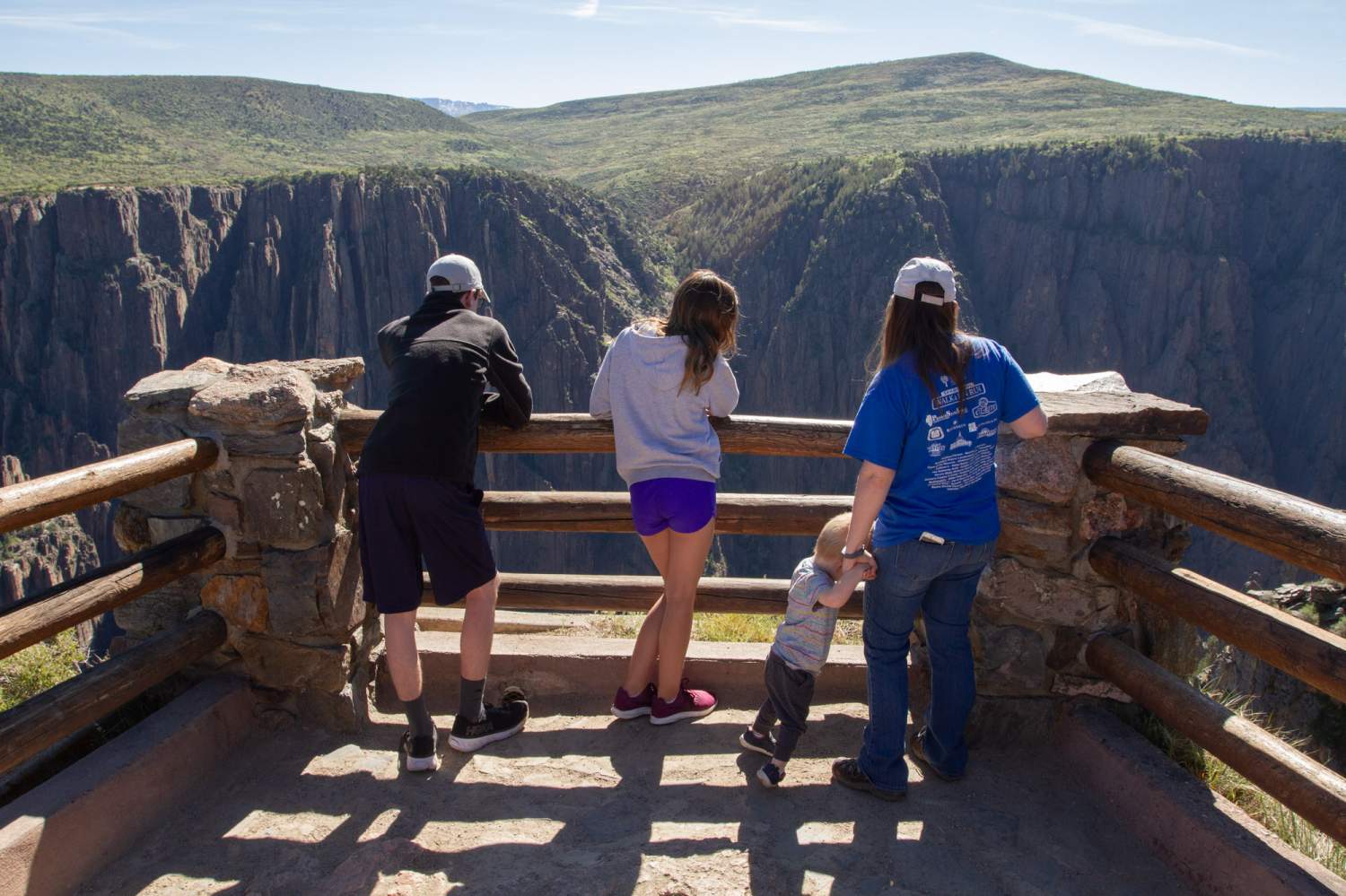 The next morning, the kids and I set out for another adventure while Hannah and Martin slept. We drove to some overlooks just after sunrise. The park was almost empty — it felt like we were the only ones there.
We went back to the camp and collected Martin, Hannah and the rest of our stuff. We said goodbye to the friendly deer at the campsite and went to some overlooks together.
We were once again feeling the pressure of our schedule. We had a long day ahead of us but fortunately not as many hours in the car as the previous days. We drove out of the park and into the nearby town of Montrose, where we stopped at Cimarron Coffee Roasters for coffee and wifi. Everyone was exhausted, so we headed to a playground (Buckley Park in Montrose) for a little break.
Back on the road, Martin took a much-needed nap as we drove towards Utah. We stopped at a Starbucks in Grand Junction for some completely unnecessary but very delicious dessert drinks and got back on Interstate 70. Martin was still sleeping as we drove across the state line into Utah, so we didn't stop for a photo by the sign.
We took the slightly longer drive towards Moab that follows the Colorado River down Highway 128. It's a beautiful drive that never gets old.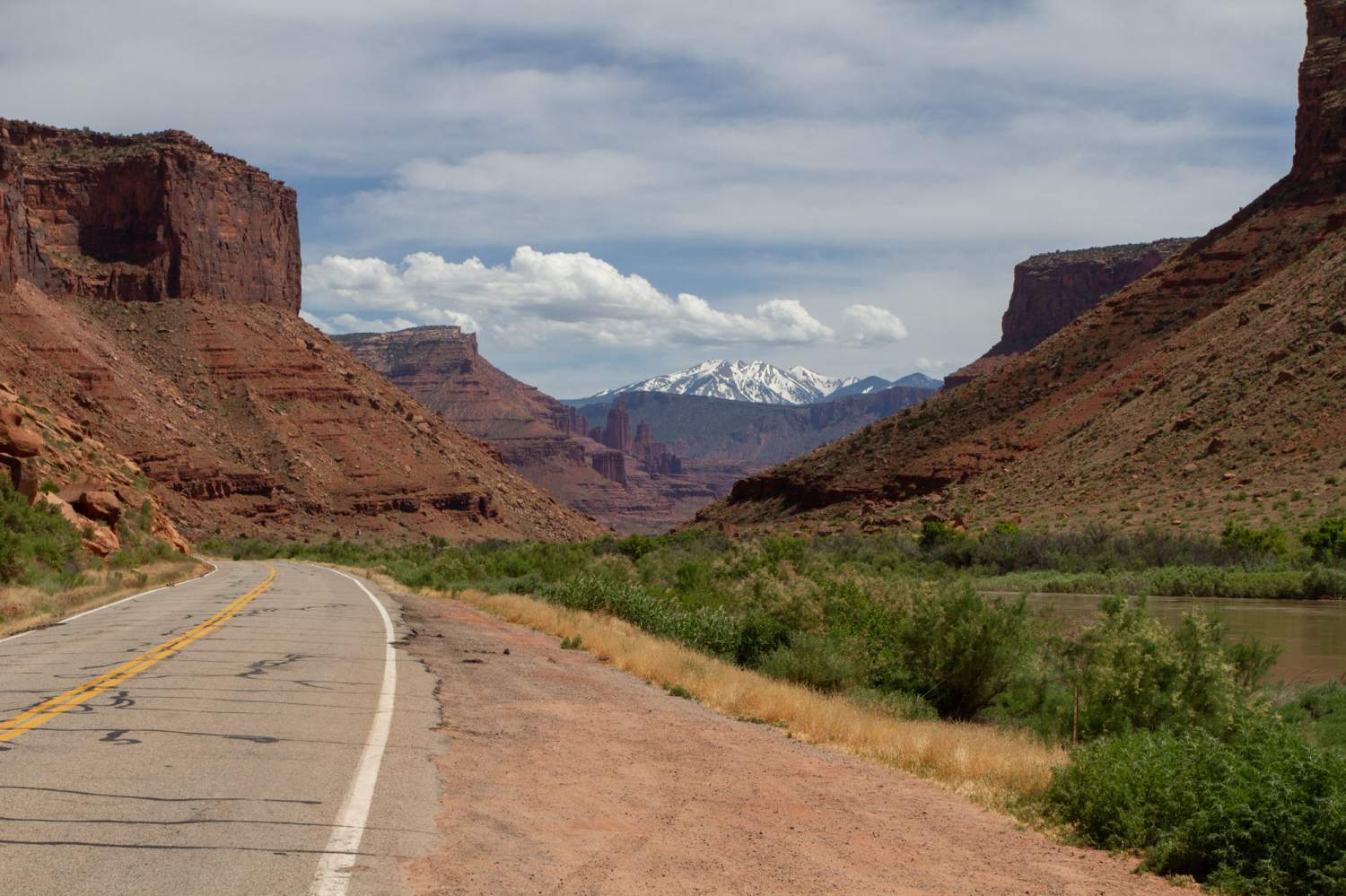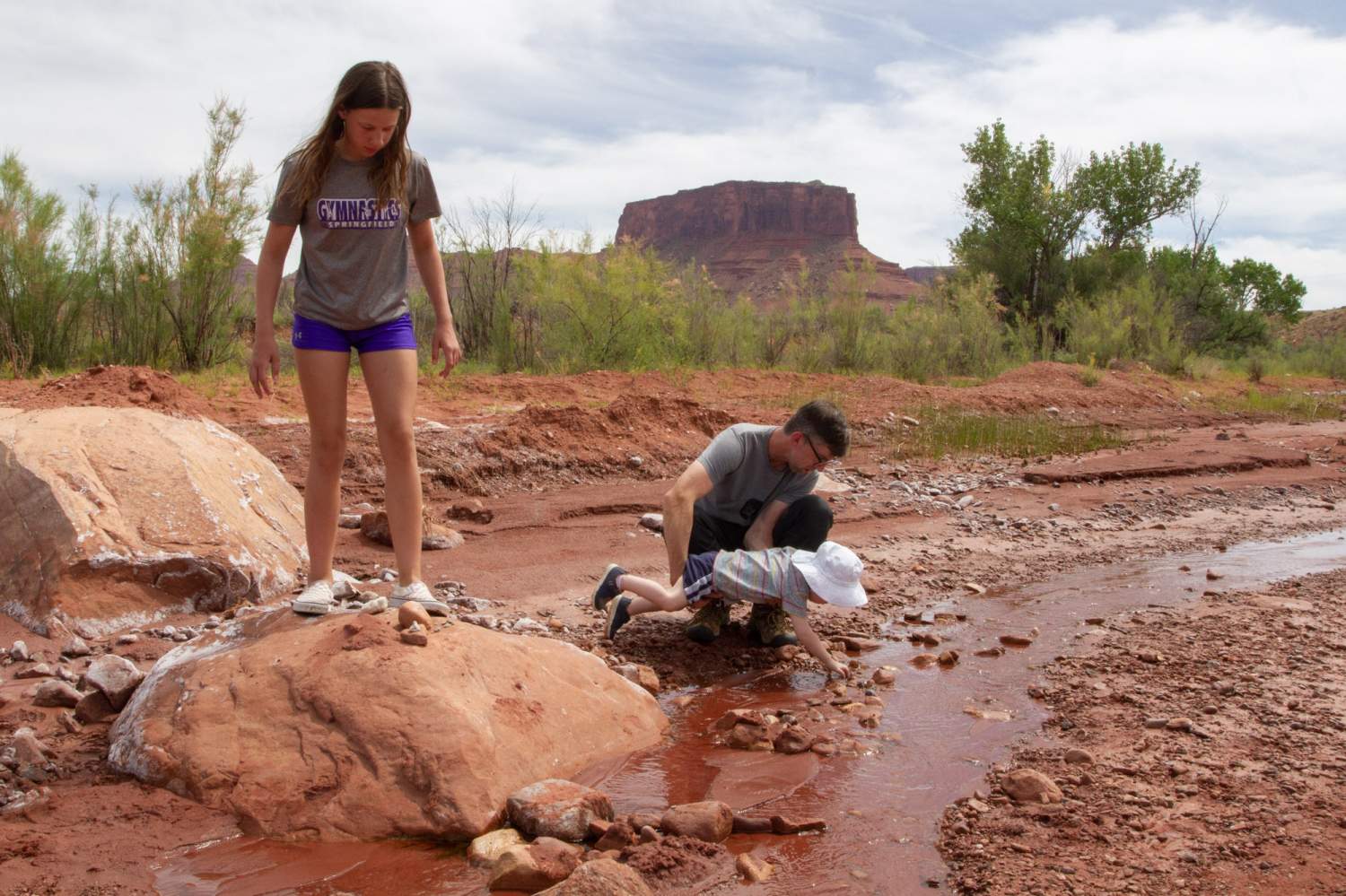 We stopped to play in a little creek off the road. It was HOT out, but like I told the kids about 1,000 on the drive there, it was a dry heat. It became one of many now-inside jokes we made on the trip.
In Moab, we stopped for groceries and headed to Sand Flats Recreation Area. It's a place I discovered a couple years ago and have enjoyed camping at since. We found an awesome campsite away from everything else that overlooked the La Sal Mountains.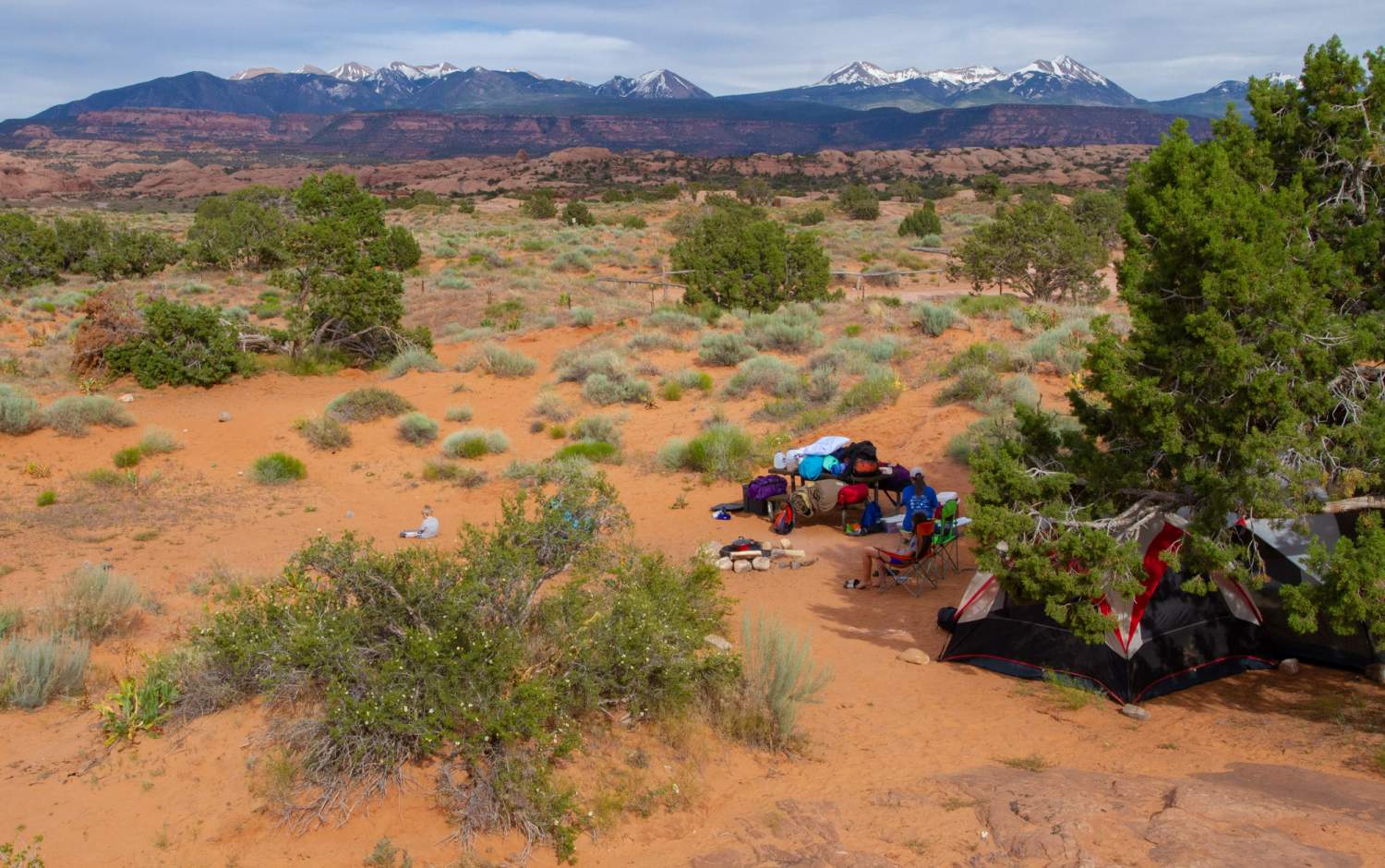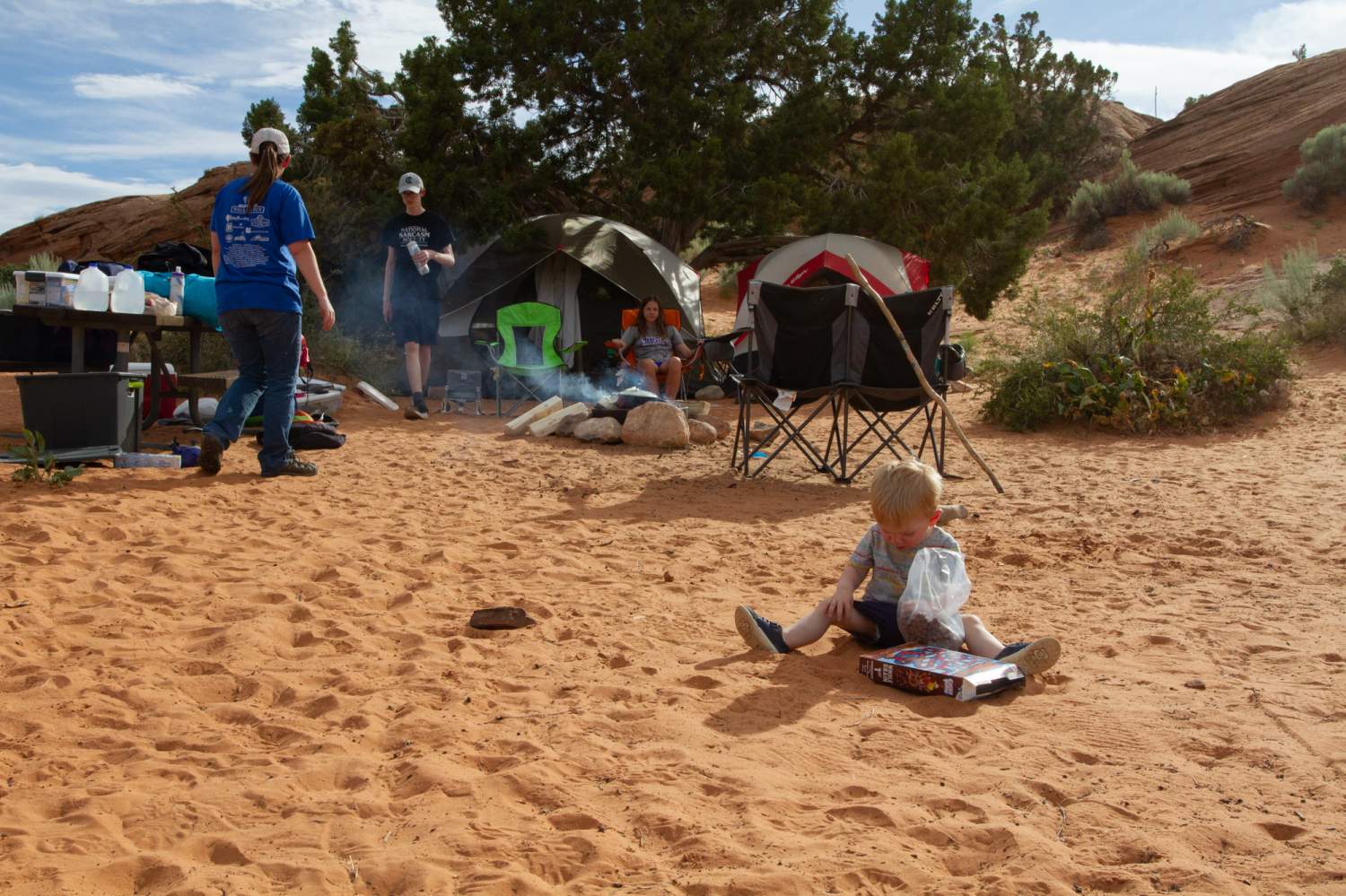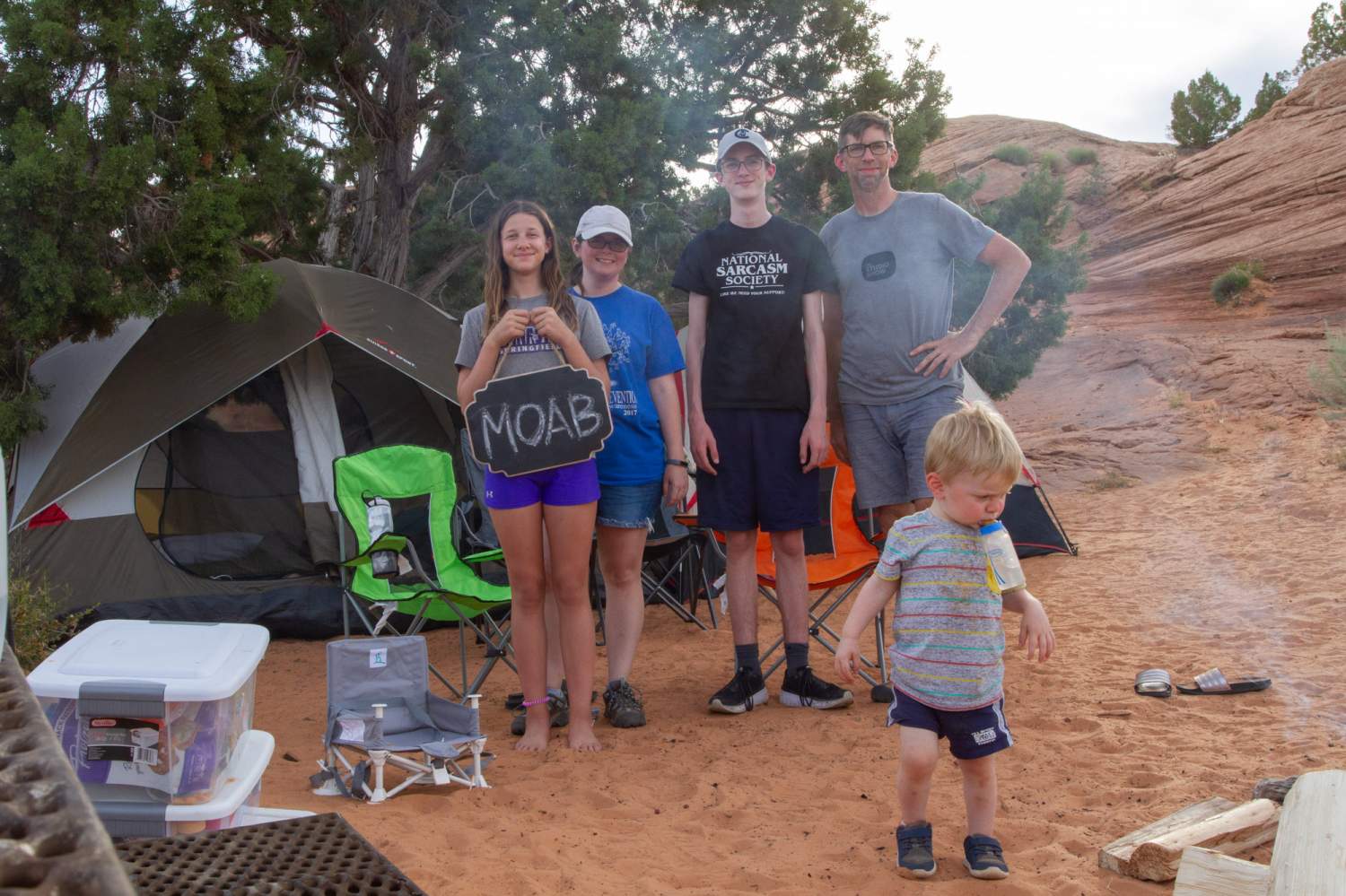 We set up for another family photo, but Martin wasn't having it. It was hot and sandy, and there were not nearly enough bottles for his tastes.
After dinner, Hannah stayed with Martin at the camp while the kids and I drove to Arches National Park. This was Ethan's first time seeing the park, and it was awesome seeing it through his eyes. We moved quickly through the park and got to the trailhead to Delicate Arch just before sunset.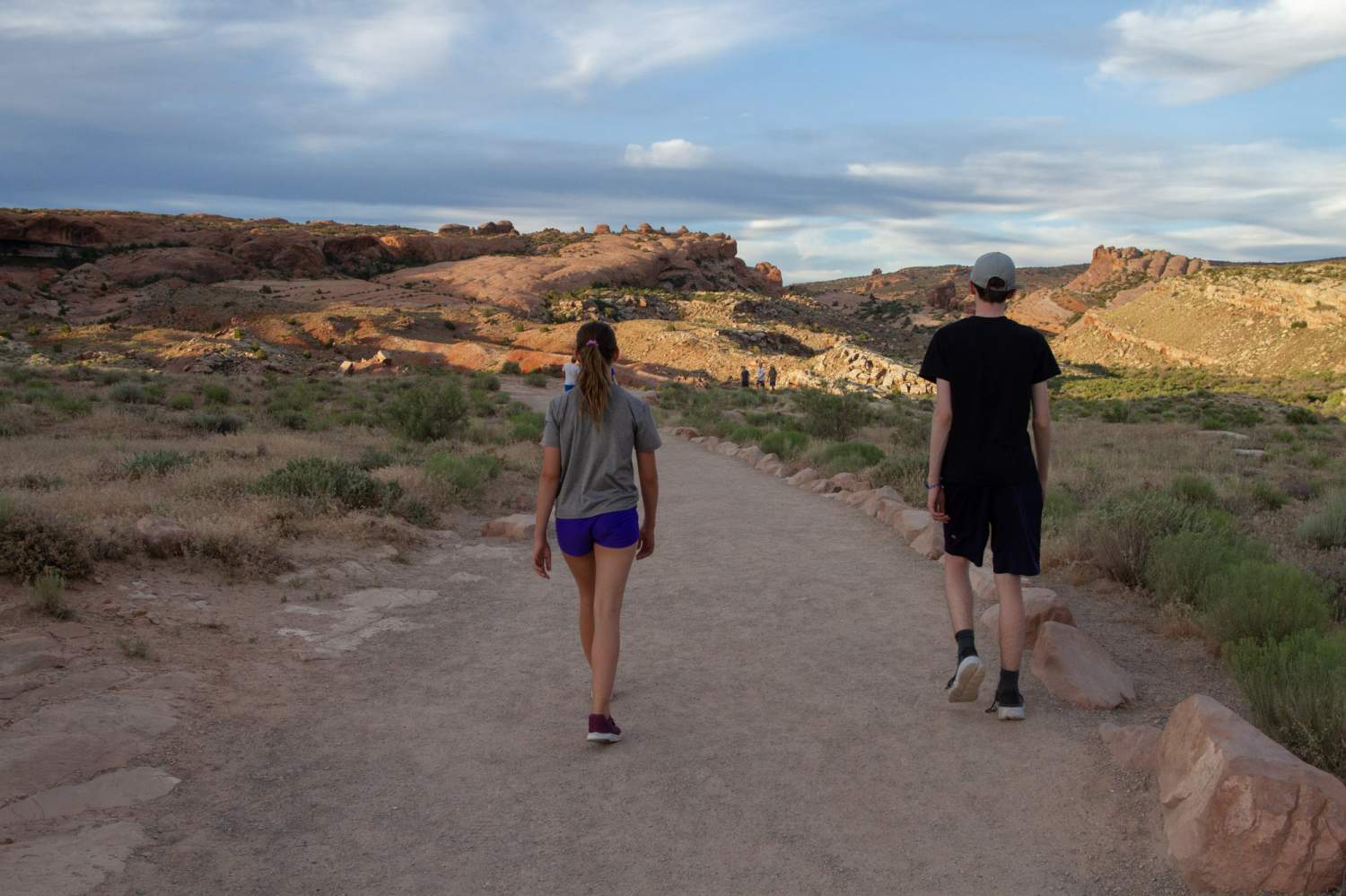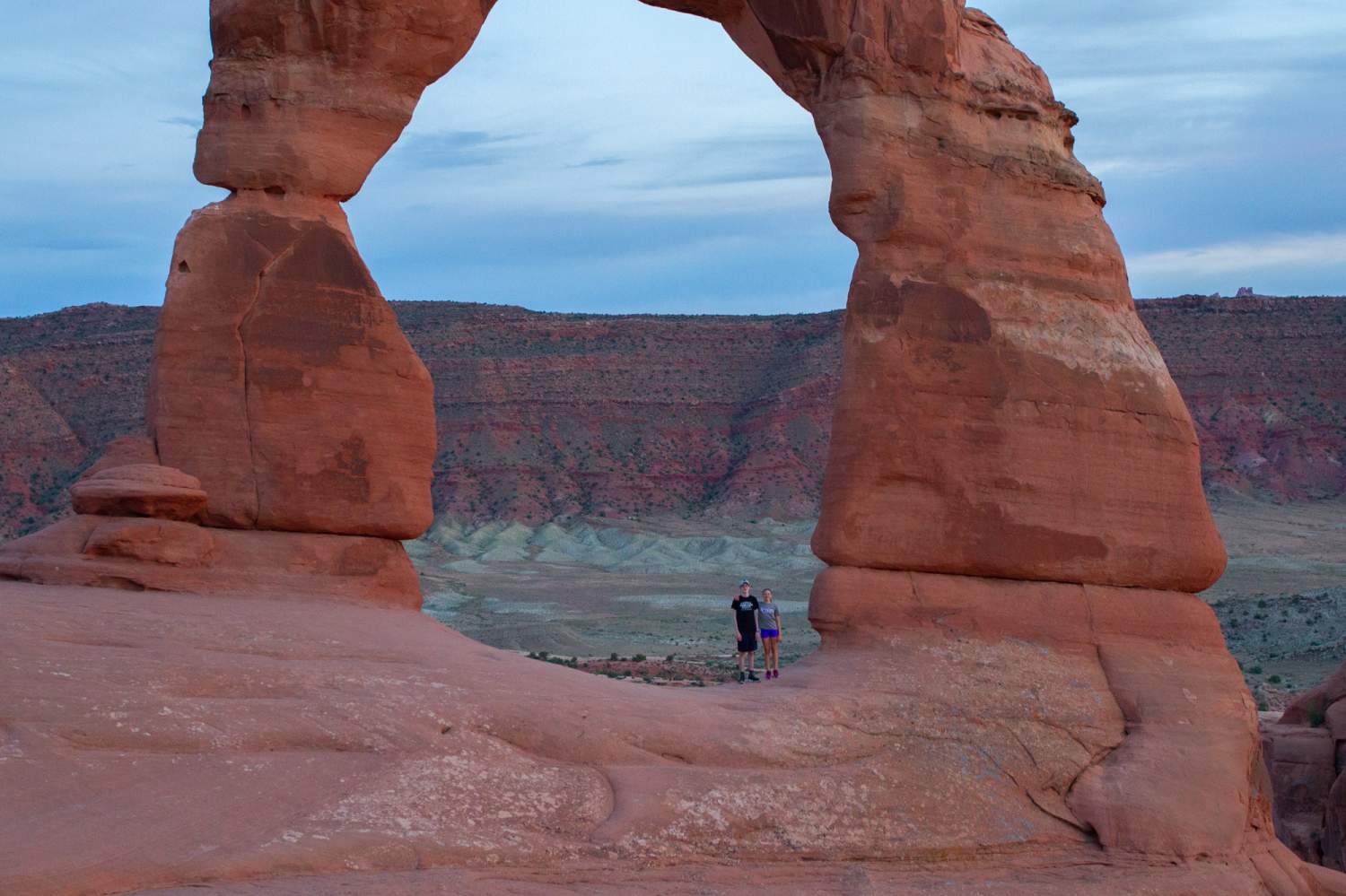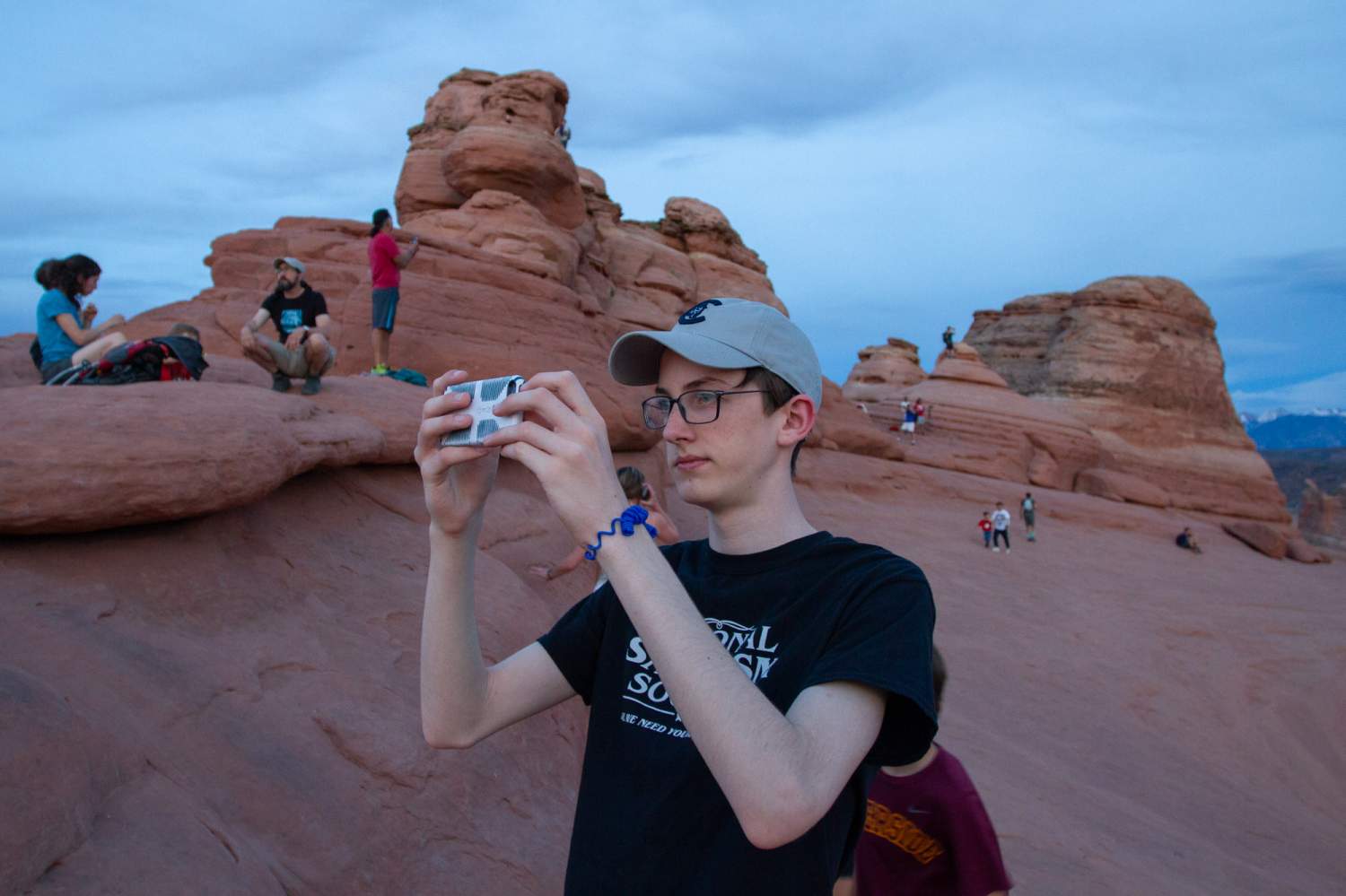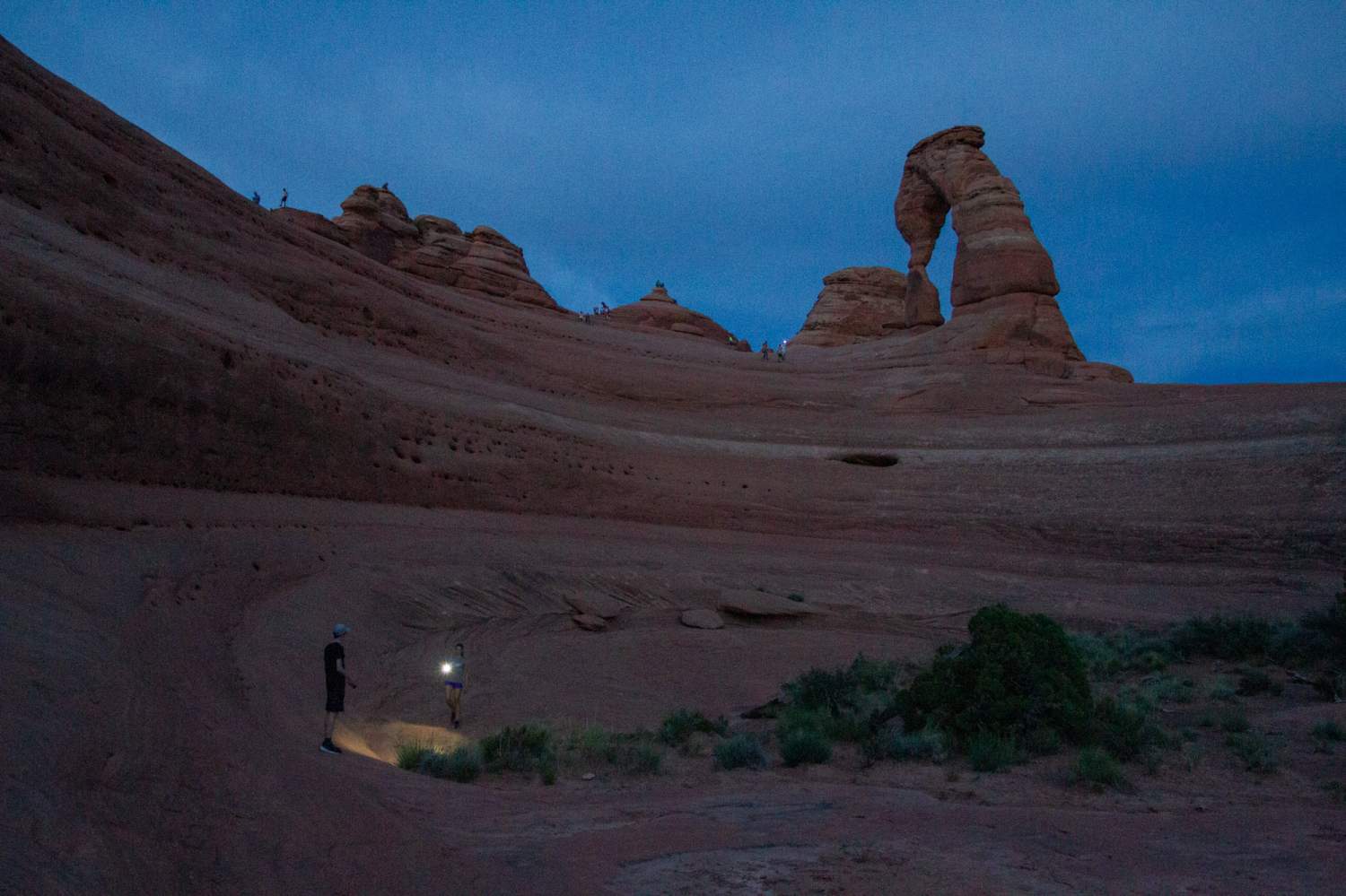 We had a great hike to the arch. Everyone was in a good mood and talkative. The arch was crowded as usual, but it was fun. After taking some photos in the arch and enjoying the sunset, we headed on an unmarked trail that leads to the bottom of the basin area underneath the main viewing area. This is a fun angle to view the arch, and you're sure to find some treasures that unsuspecting tourists dropped and didn't know how to retrieve. On this particular night, we found a few lens caps.
The hike back was fun, as it was mostly dark, and we had to rely on our flashlights and our sense of trail finding. It's hard to get lost when there are crowds on the trail in the daylight. But when you're alone in the dark, it's a completely different landscape. We encountered a baby rattle snake that pointed us in the right direction.
Back at the car, we all felt great after the long and beautiful hike. We enjoyed a nice drive back through the park, into Moab and to the campsite.
The next morning — let's see, this would have been June 14, Day 5 of the trip — I felt terrible when I woke up. Day after day, I kept feeling worse, and now it was obvious that I had some sort of infection or whatever. We stopped for coffee in Moab, and that didn't even make me feel better. That's when I knew it was serious.
But we pushed on. The whole family headed to Arches, where we read every sign in the visitor's center before heading to Balanced Rock and the Windows area.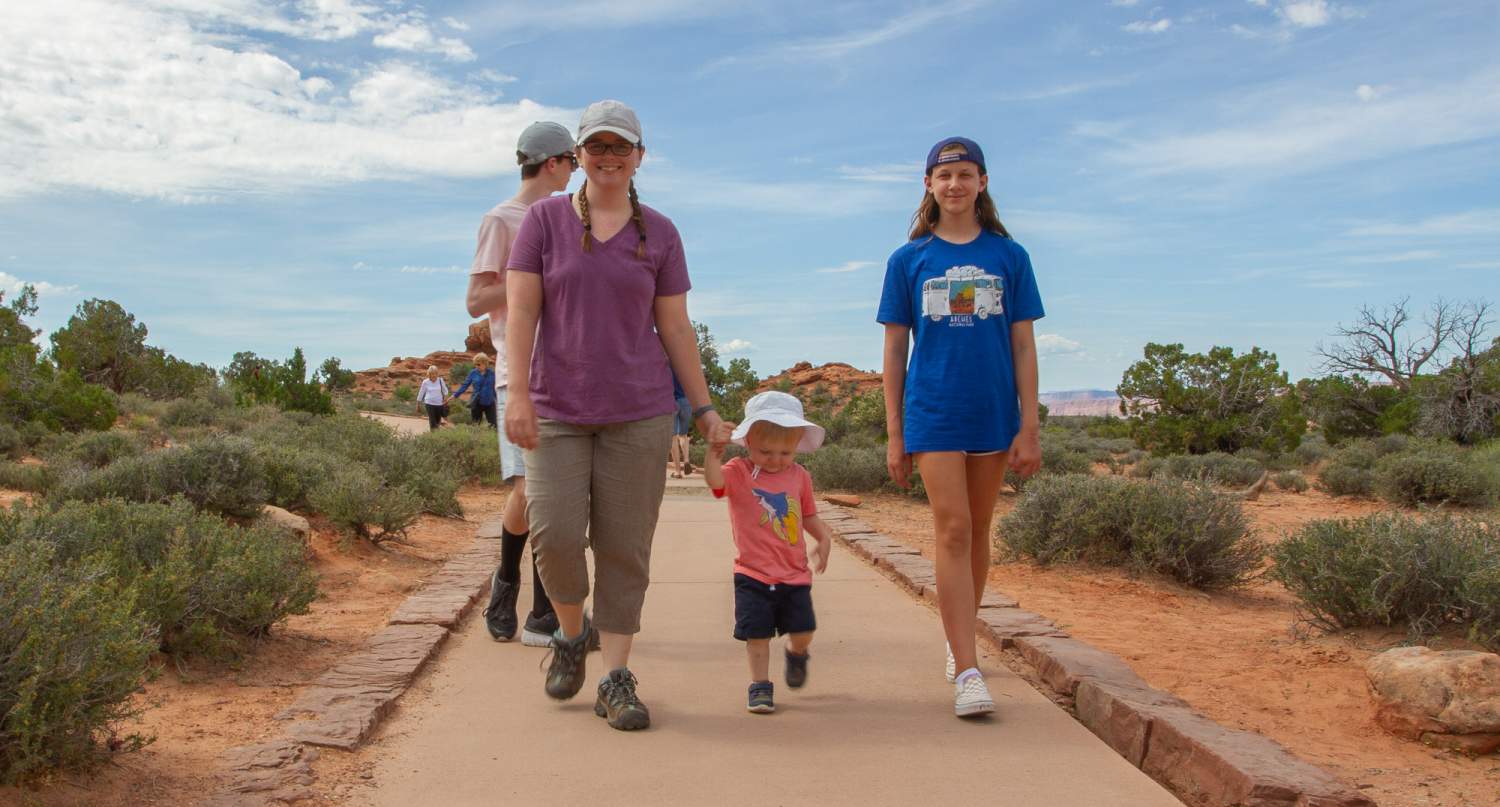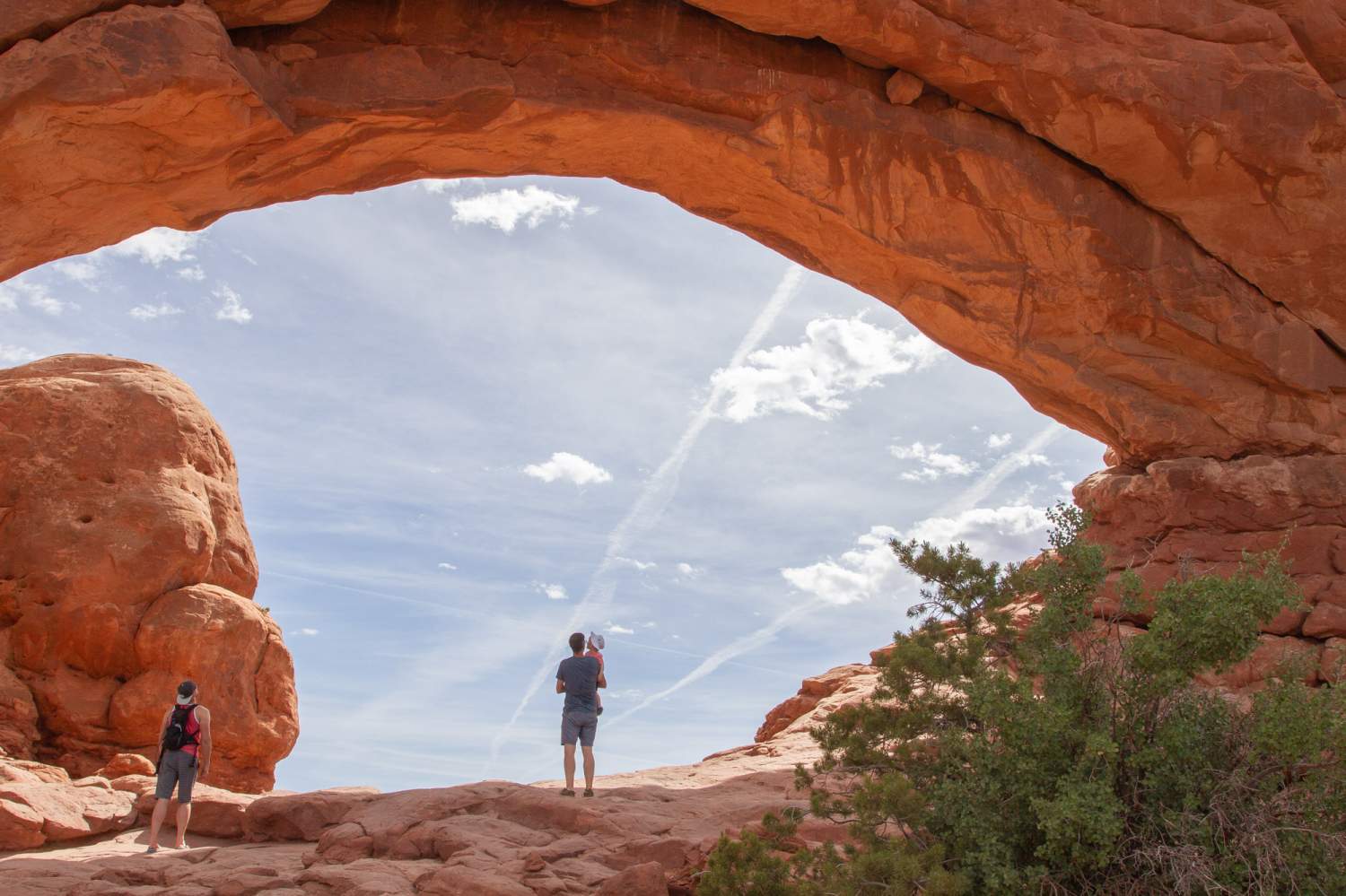 We had a nice hike around the arches, ate some peanut butter and honey sandwiches in the car and enjoyed our drive out of the park.
We headed to Moab and dropped off Hannah and Mia at a laundromat. Ethan, Martin and I took a long drive on the La Sal Mountain Loop Road so the boys could get some sleep.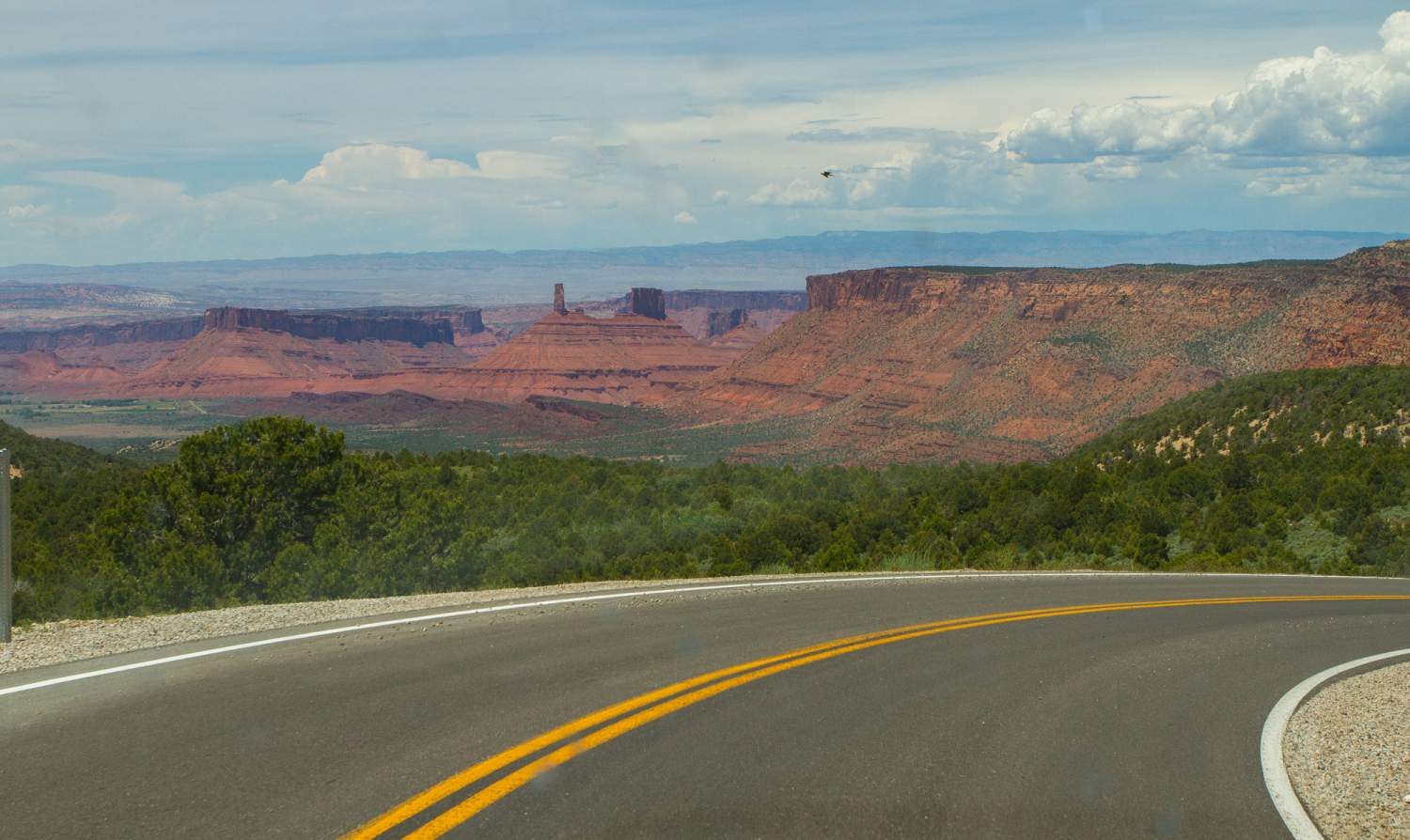 After finishing laundry, Hannah and Mia walked to a pool, where we met them after the drive. Mia got me to jump off the high diving board, which was terrifying. We all grabbed a shower before heading to dinner at Zax.
I was still feeling pretty sickly, so Hannah dropped Ethan and I off at prompt care while the rest of them went to a playground. I was diagnosed with bronchitis and a sinus infection. Good times!
We got back to the campsite before dark. Everyone was exhausted, and Hannah tucked Martin in for the night while the kids and I sat around the campfire. A distant storm was becoming less distant, and we feared we might have to load up everyone and drive to shelter. The lightning in the desert was amazing, but it became clear how exposed we were. Fortunately the storm moved on (most likely thanks to some impressive rain dances courtesy Ethan). We all stayed up a bit longer, enjoying our last night in Utah.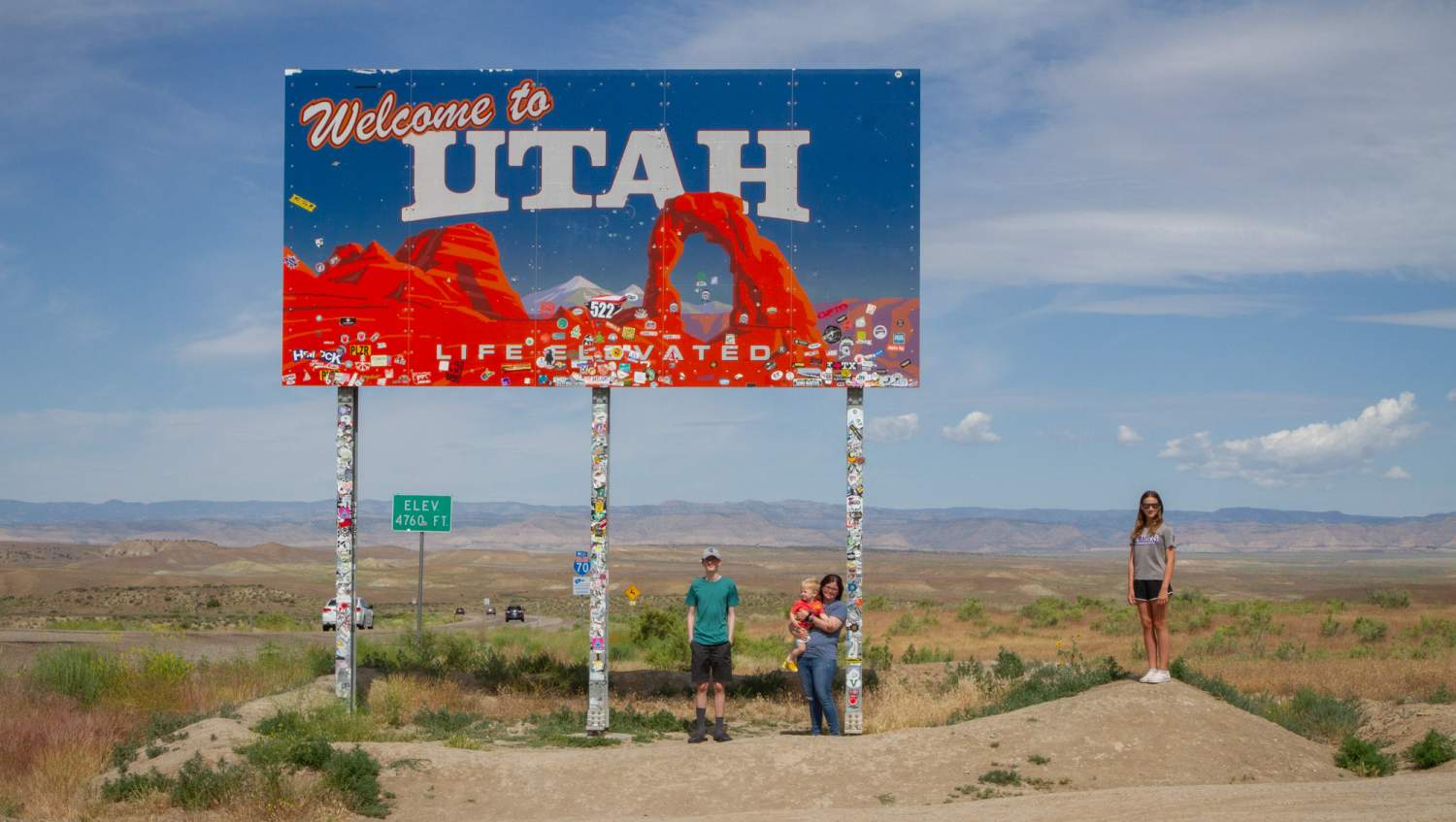 In the morning, we headed out of Moab and back to Interstate 70 (this time everyone was awake, so we turned around and got some photos at the Utah sign).
We originally intended to spend the night in Rocky Mountain National Park (one of the few campground reservations we made in advance), followed by several days of laborious driving connecting various National Parks and points of interest from Wyoming to South Dakota to Nebraska. But due to a weather warning for a snowstorm and our general pace up to this point on the trip, we decided instead to cut out that whole leg of the trip. Instead, we would spend the night at an Airbnb in the mountains and head home through Nebraska.
The remainder of our trip would consist of coffee in the morning, driving, lunch at a local playground then more driving. It wasn't a bad plan, and we actually got to spend more time seeing weird local places than we would have been able to otherwise. This was a good decision.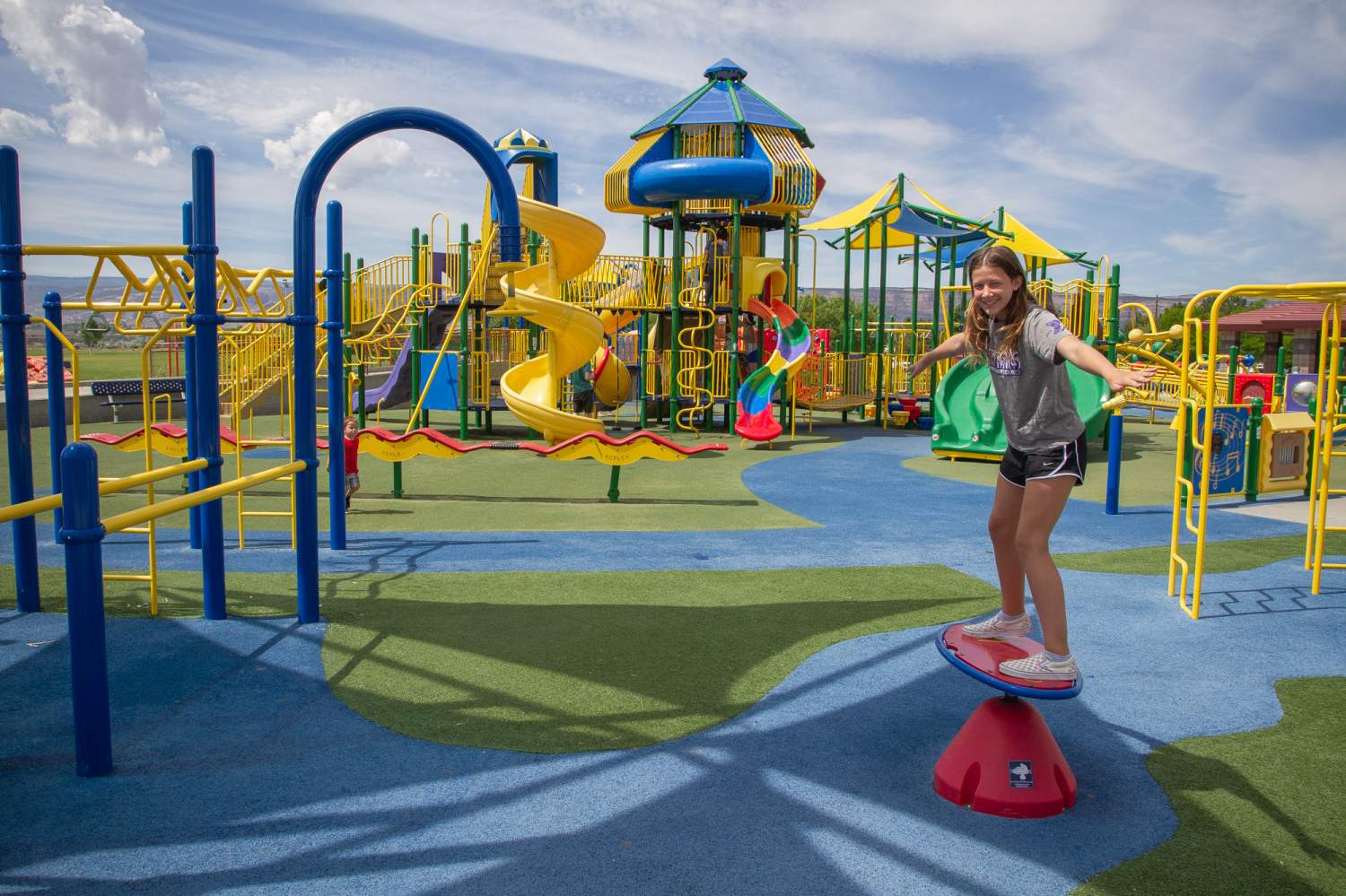 We stopped in Frisco, Colorado, for a late afternoon hike to Rainbow Lake. This was a trail that Mia and I hiked a couple years ago when we headed west.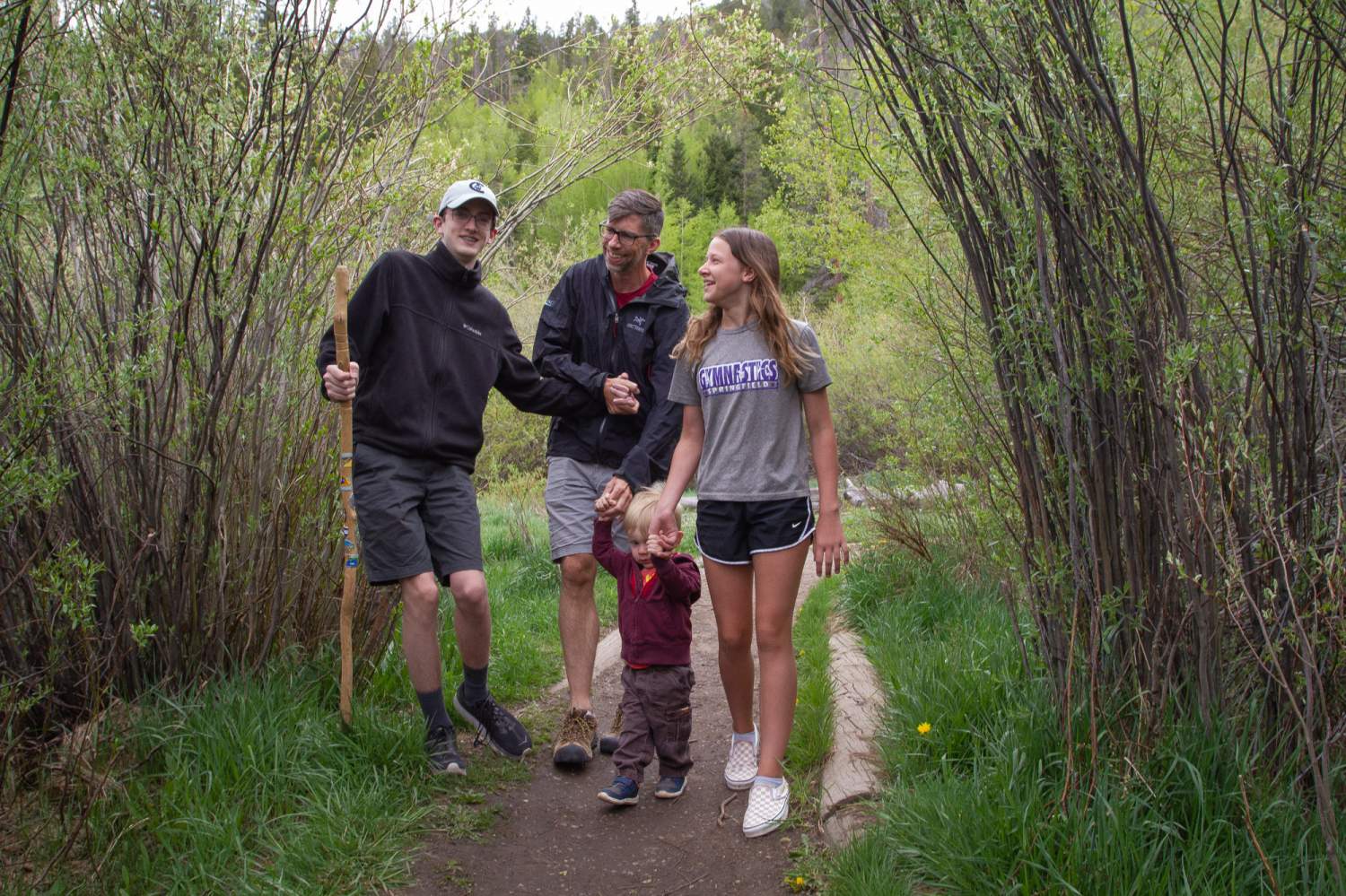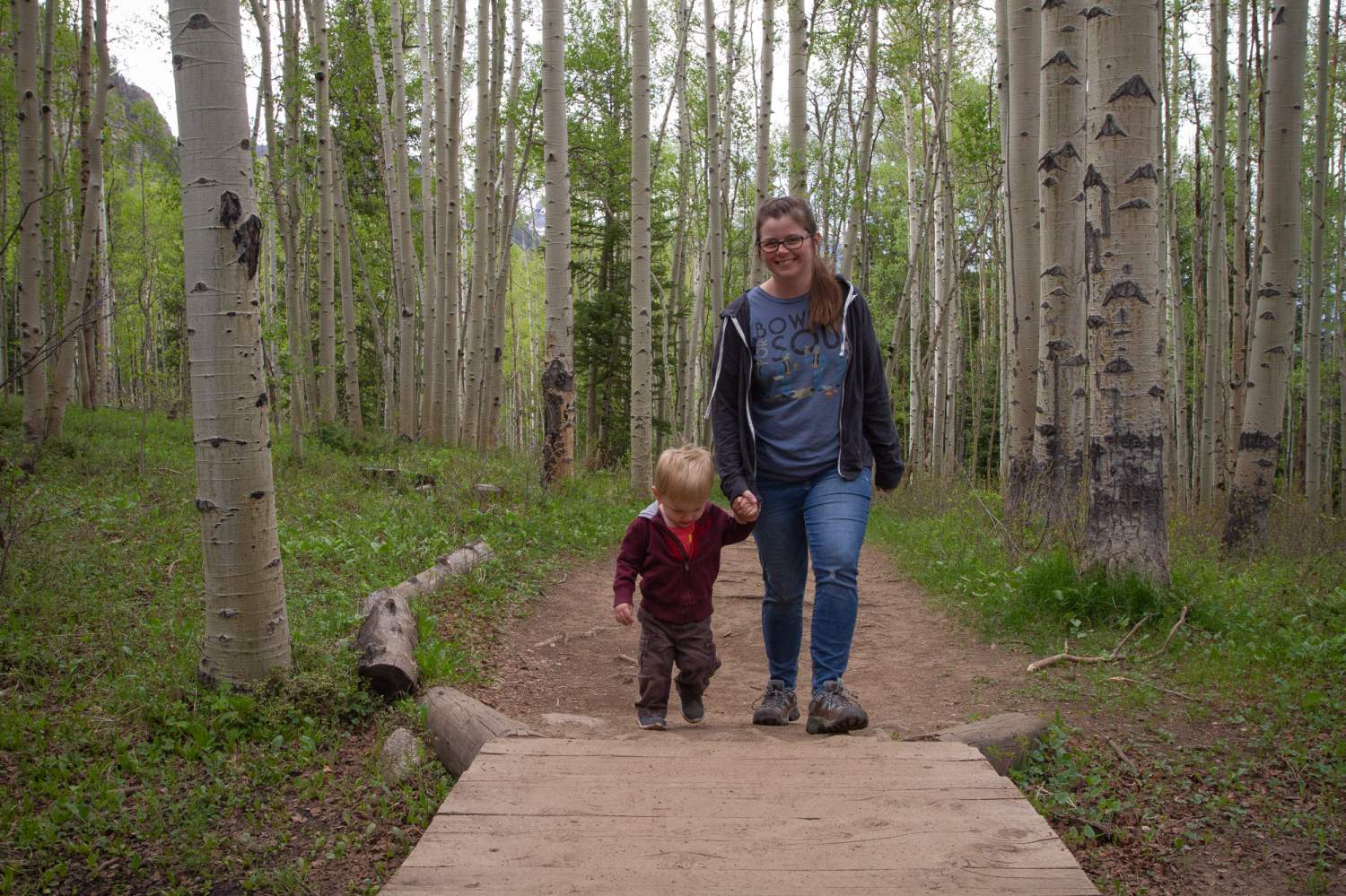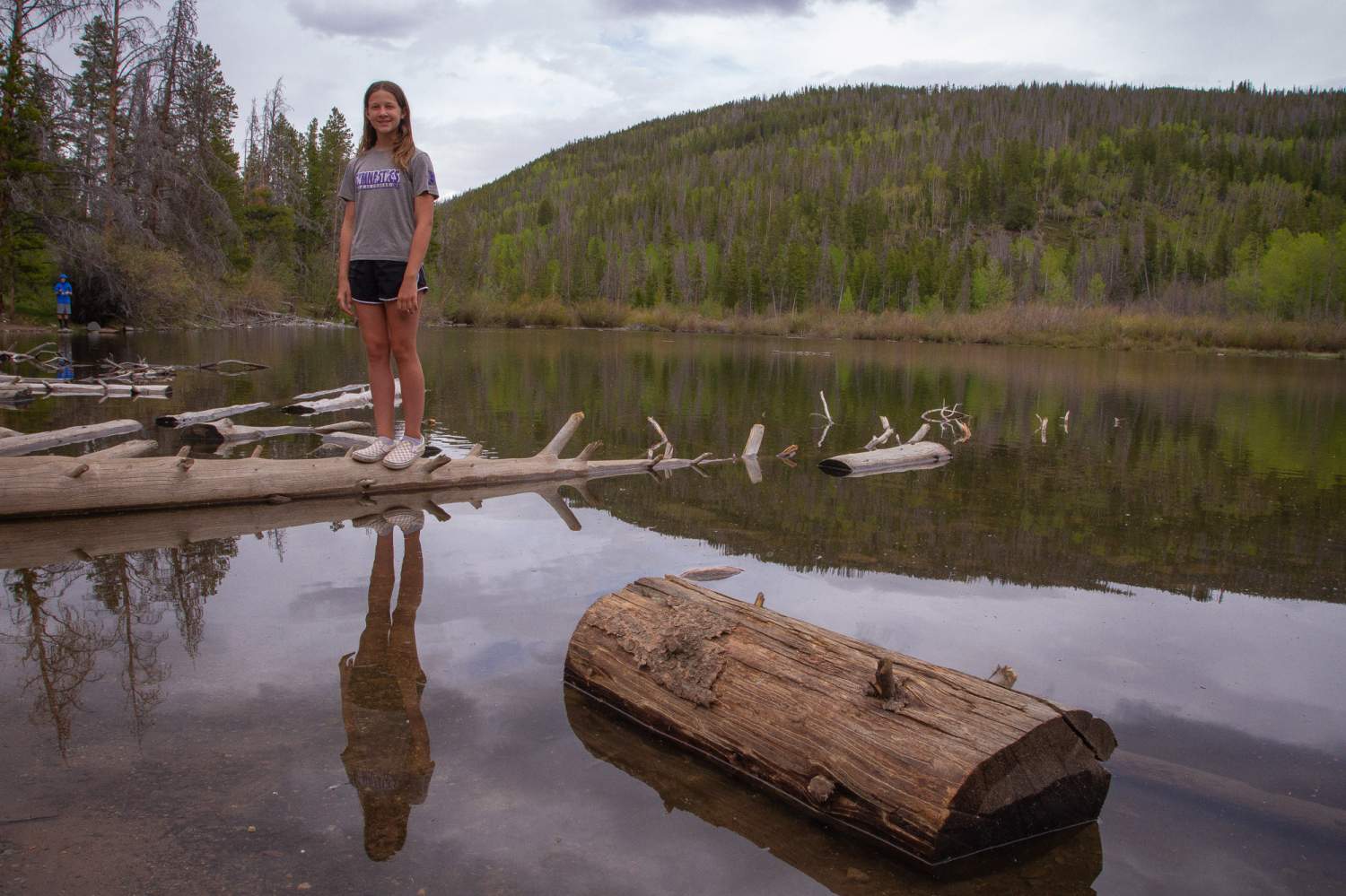 The hike was nice, though it took longer than I remembered. The pace of things slows down a good deal when you have a toddler with you. But we made it to the lake, and nobody fell in. Well, Mia did. But that's expected.
We stopped at a grocery store and headed to an Airbnb that Hannah found. It was just what we needed, and it's a good thing we didn't camp that night. It was freezing.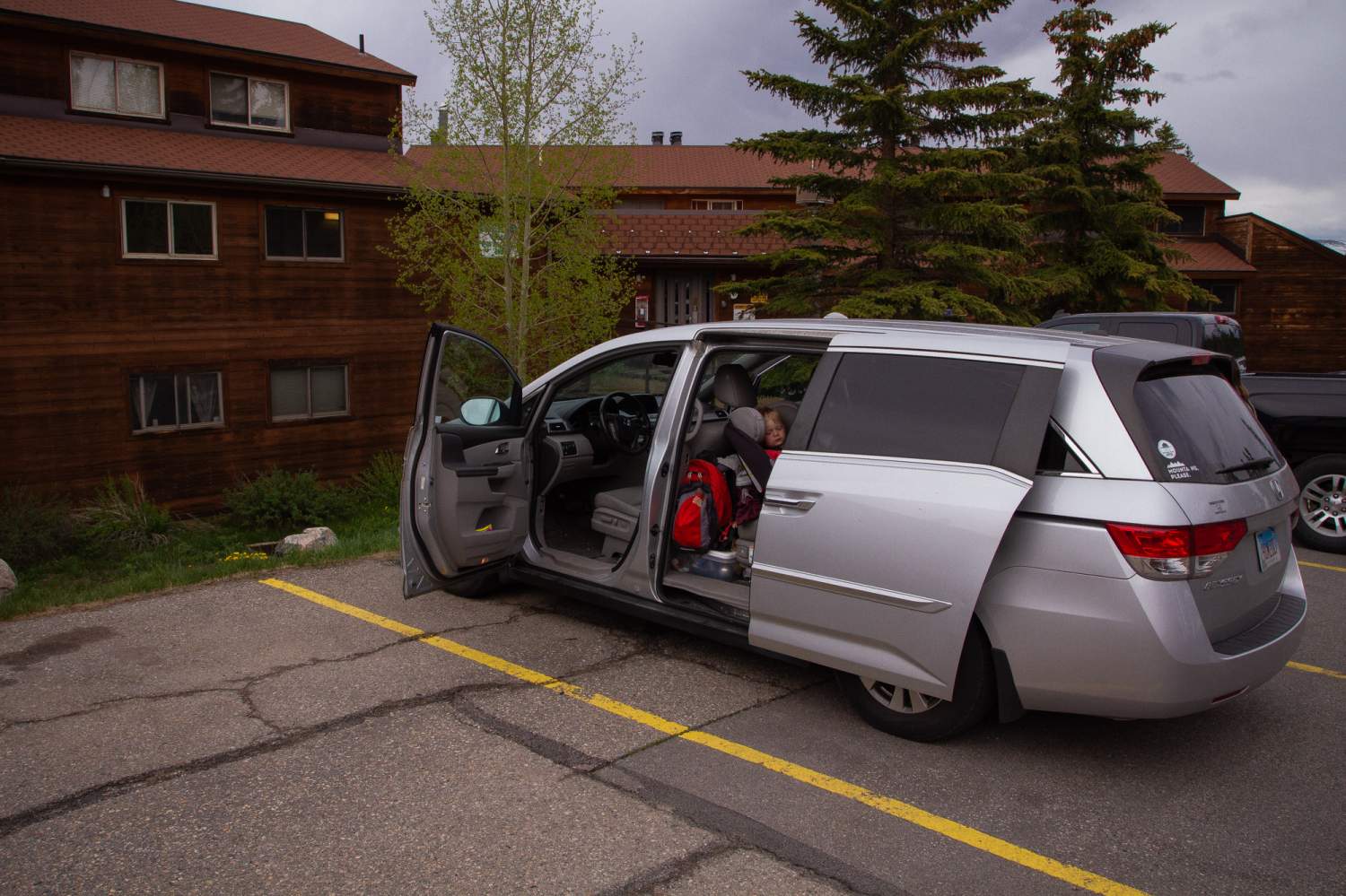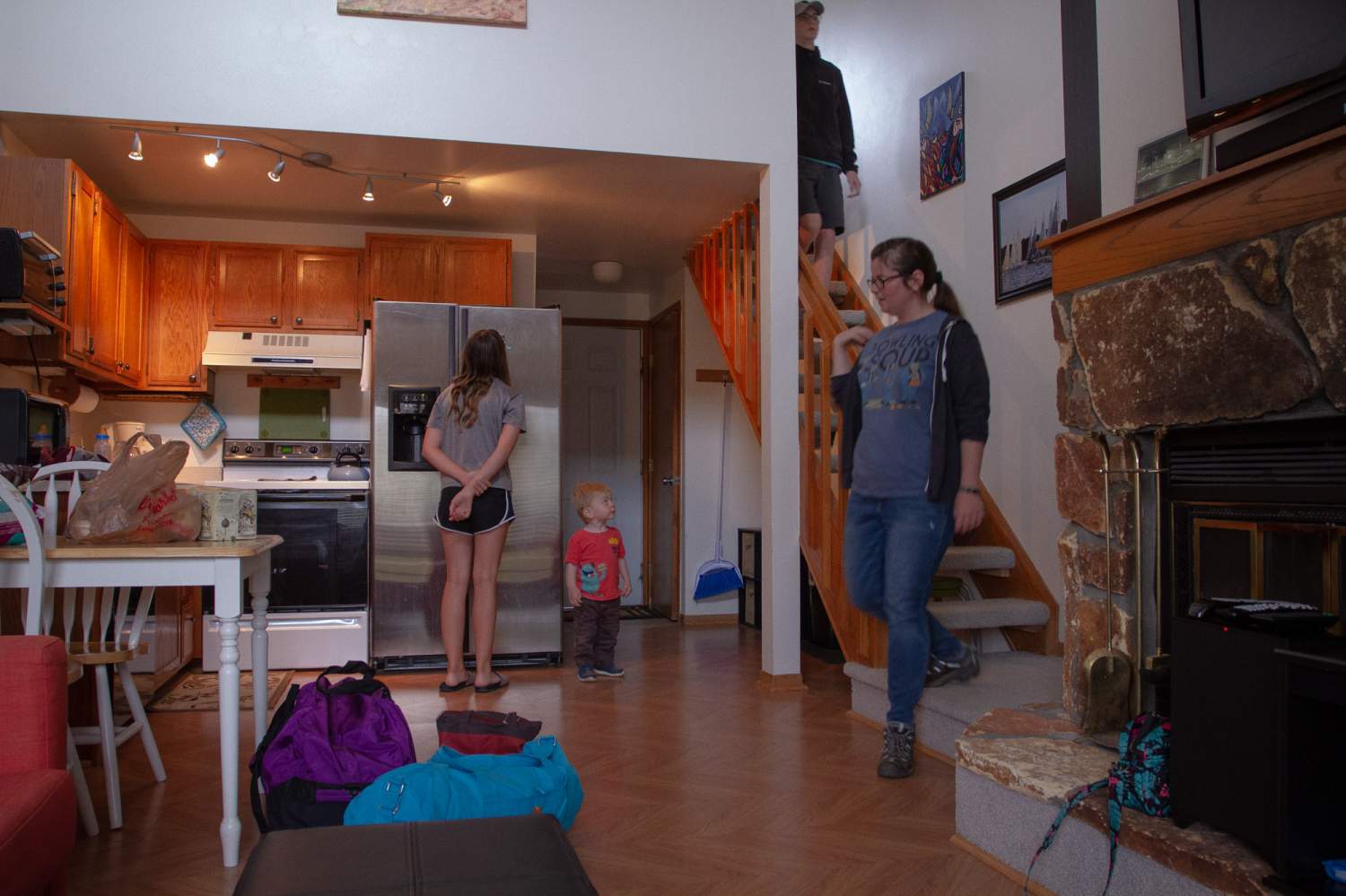 The Airbnb was part of a complex that had a pool and game center. Ethan and Mia and I went there after Martin went to bed, and we had a good time. The pool table was missing several balls. But that didn't stop up from playing.
In the morning, we made breakfast. It was such a luxury having a kitchen. And running water. And a toilet surrounded by four walls.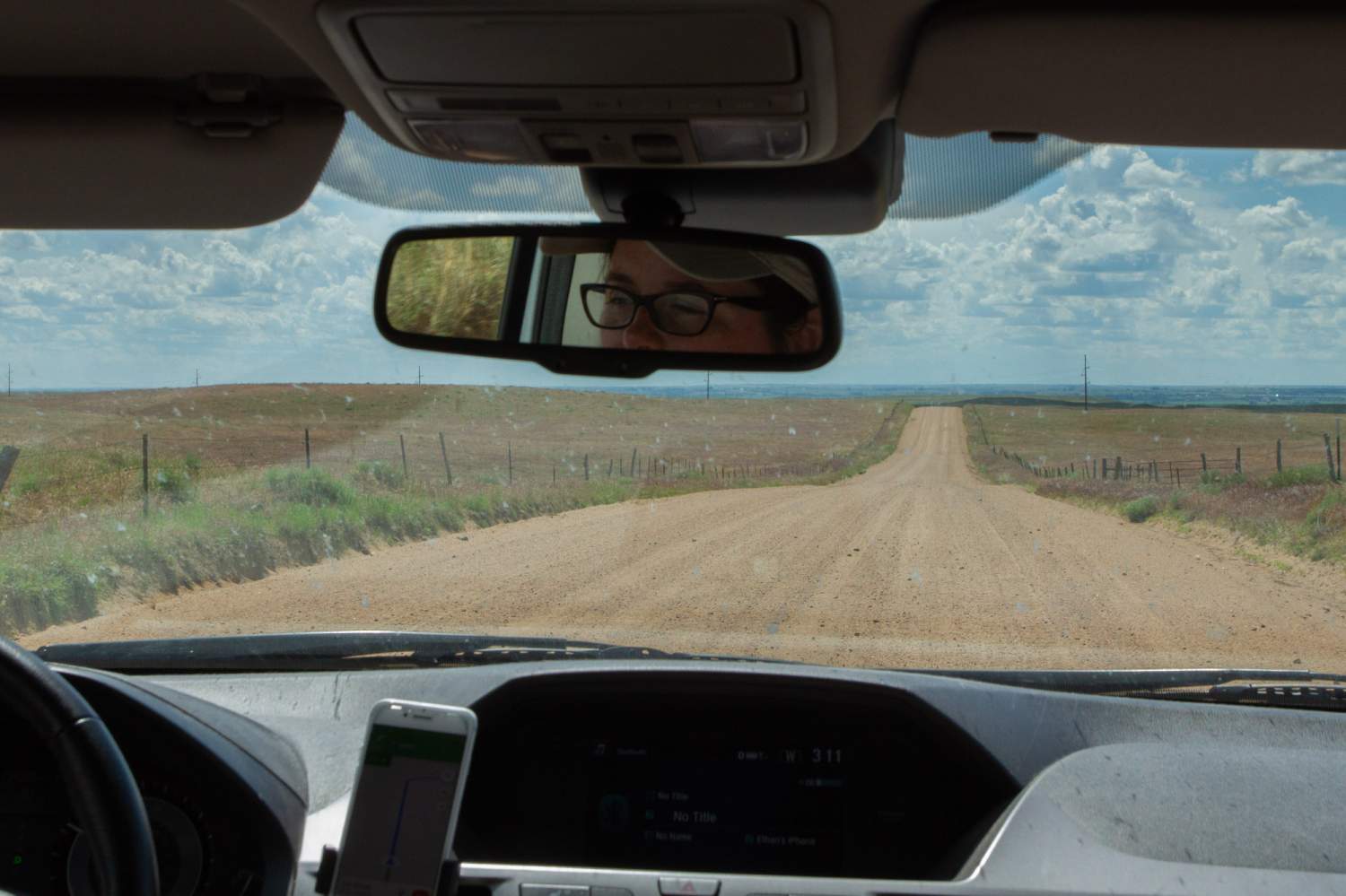 We drove out of the mountains and into Denver, stopping at a couple playgrounds and having lunch. Instead of going home the same way we came, we decided to head through Nebraska. We followed the South Platte River to Ogallala.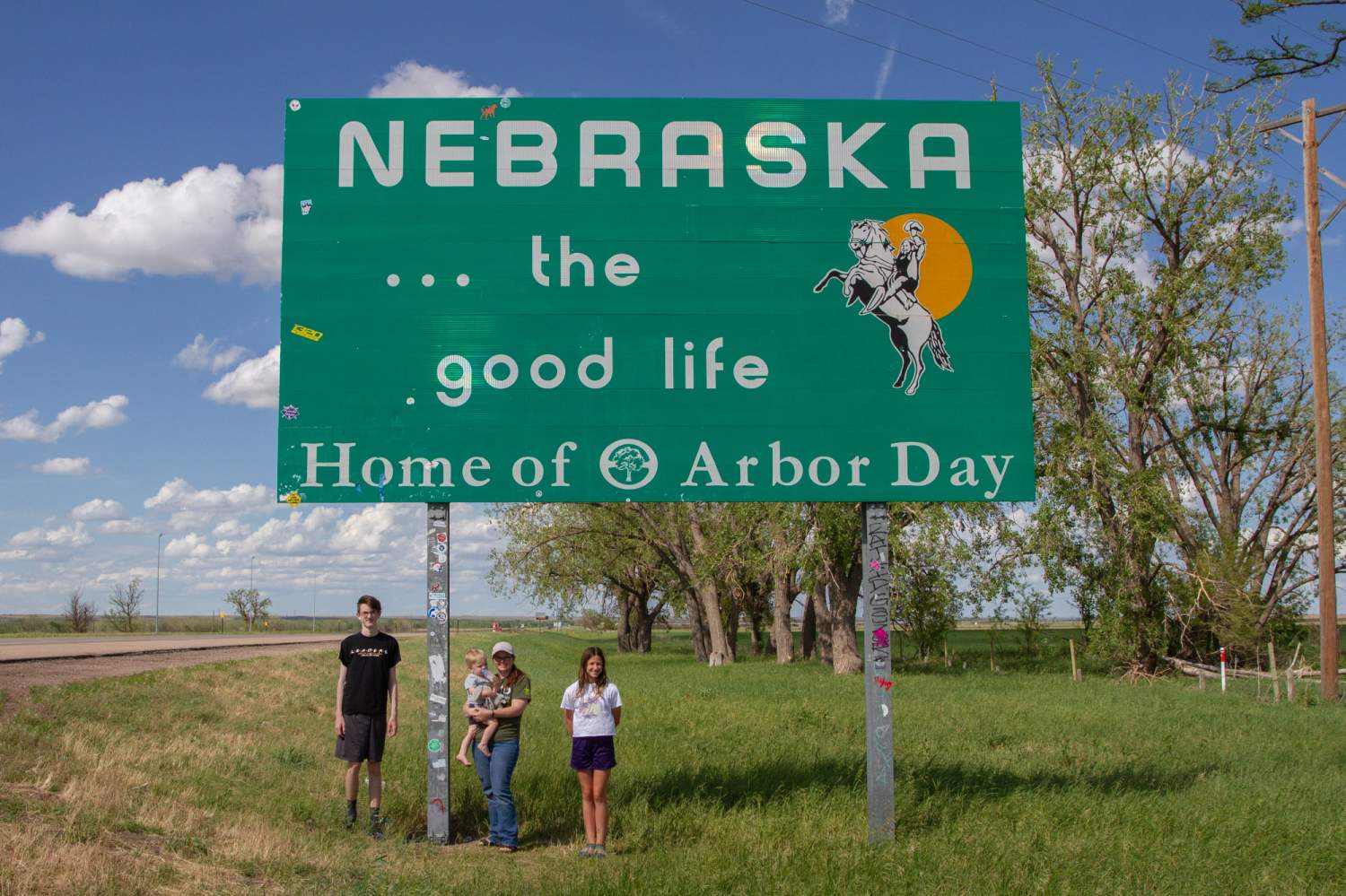 Hannah called ahead and booked a campsite at Vans Lakeview Fishing Camp. The campgrounds were filled with other families, and the kids enjoyed exploring by themselves. We all walked to the lake after dinner, and Martin loved it so much.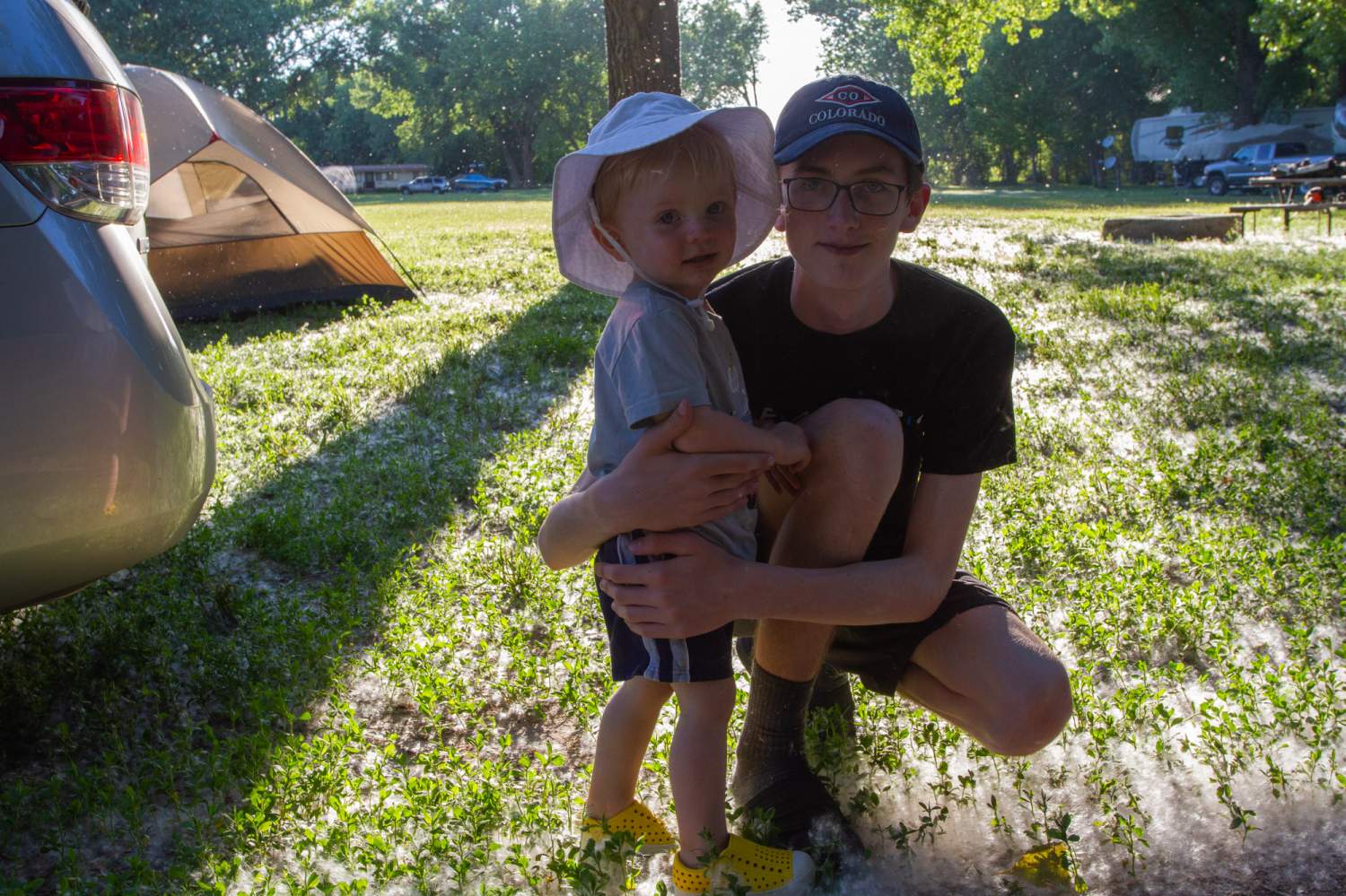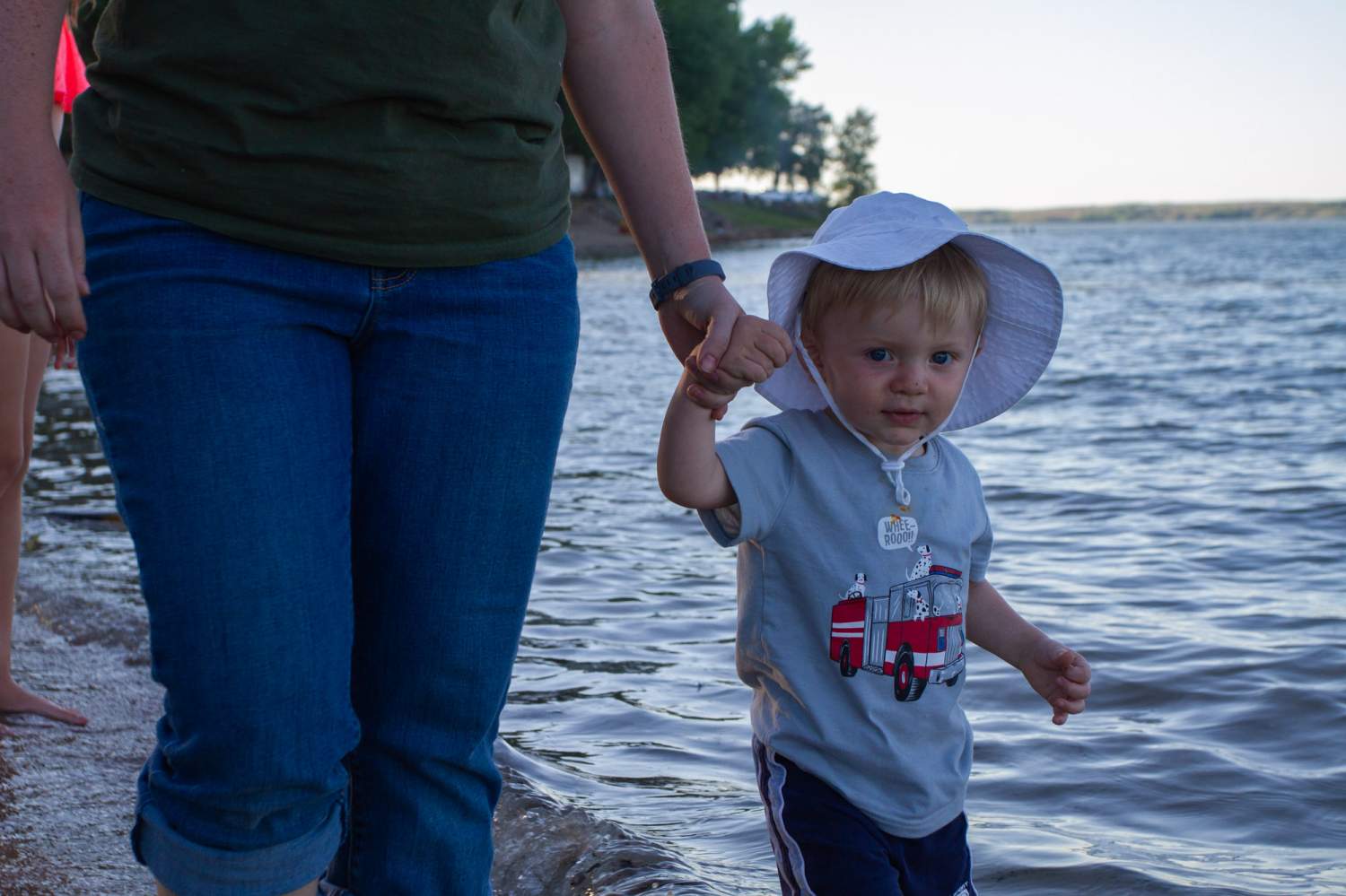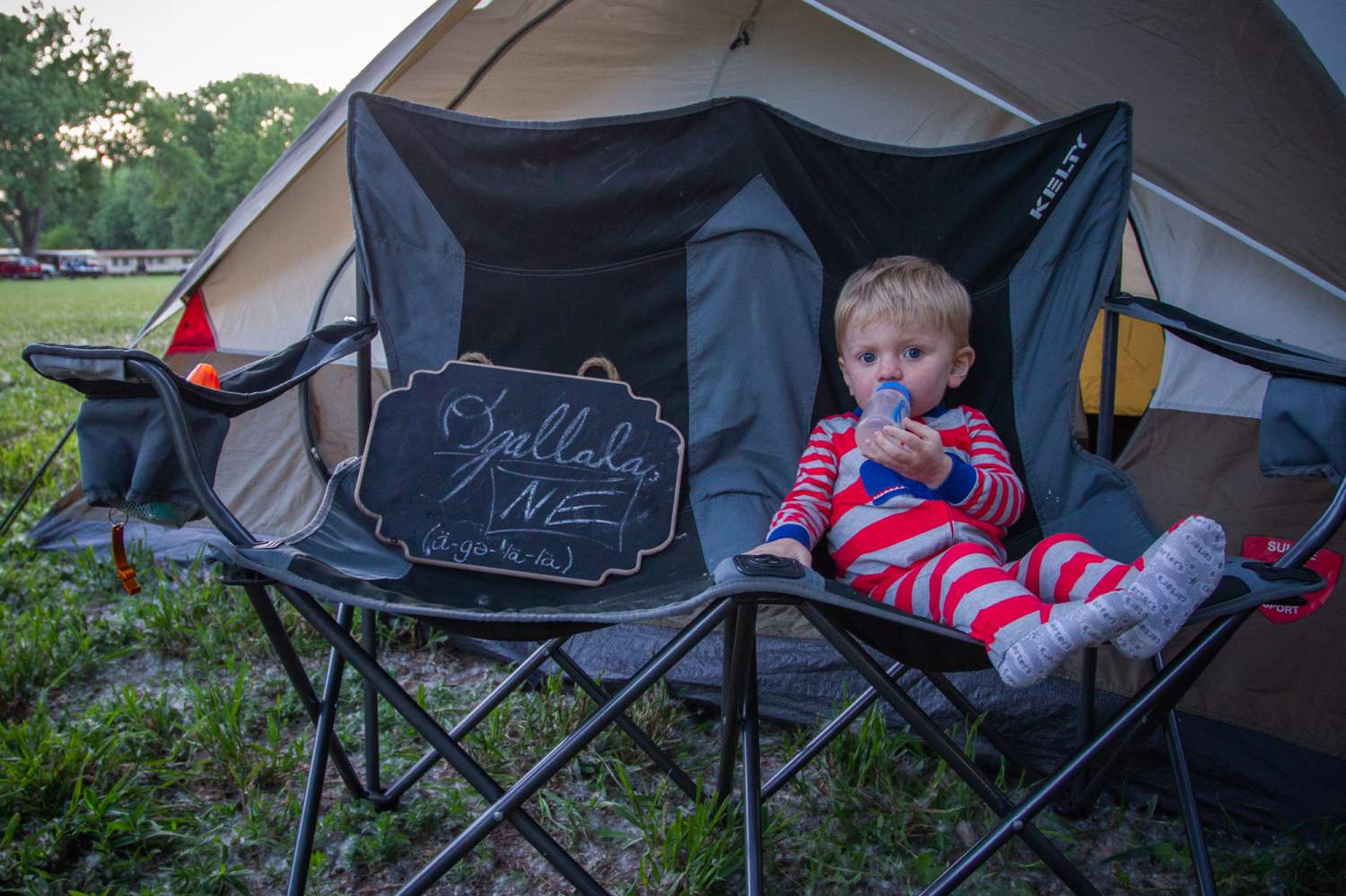 We decided this would be our last night of camping, and we reserved a couple hotel rooms for the next night. We stayed up a bit and Hannah made some Brown Bears in the campfire (they were SO GOOD).
In the morning, we realized it had rained unexpectedly. All of our stuff was soaked. So we hastily packed it all up and shoved it into the back of the van.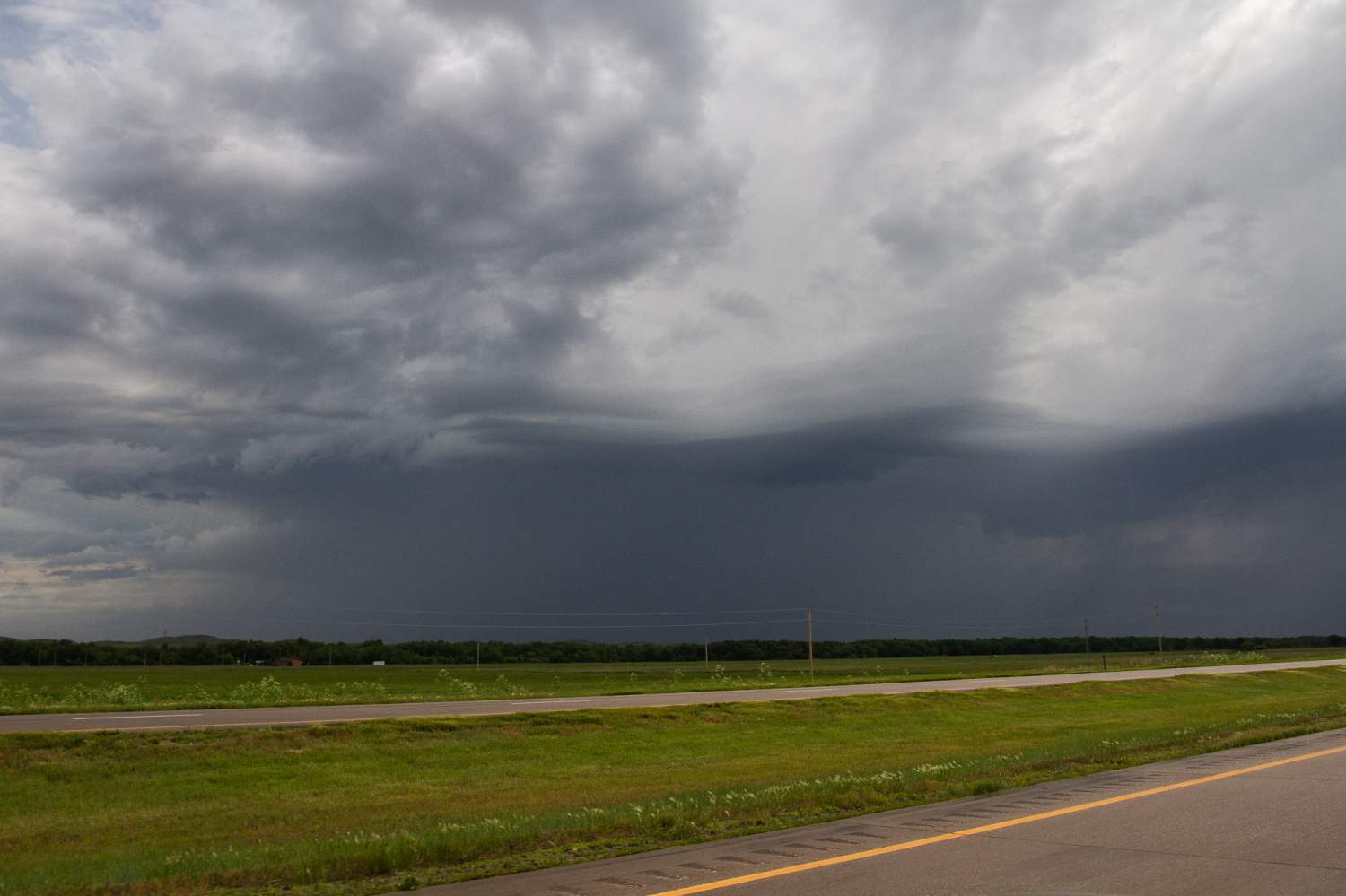 We stopped for coffee at Scooter's Coffee in North Platte, Nebraska. In an effort to get to lunch before Martin's nap time, we made the unfortunate decision to skip seeing the confluence of the North and South Platte Rivers. It's possible that I was the only one interested in this. But we'll never know what adventures awaited. Sad.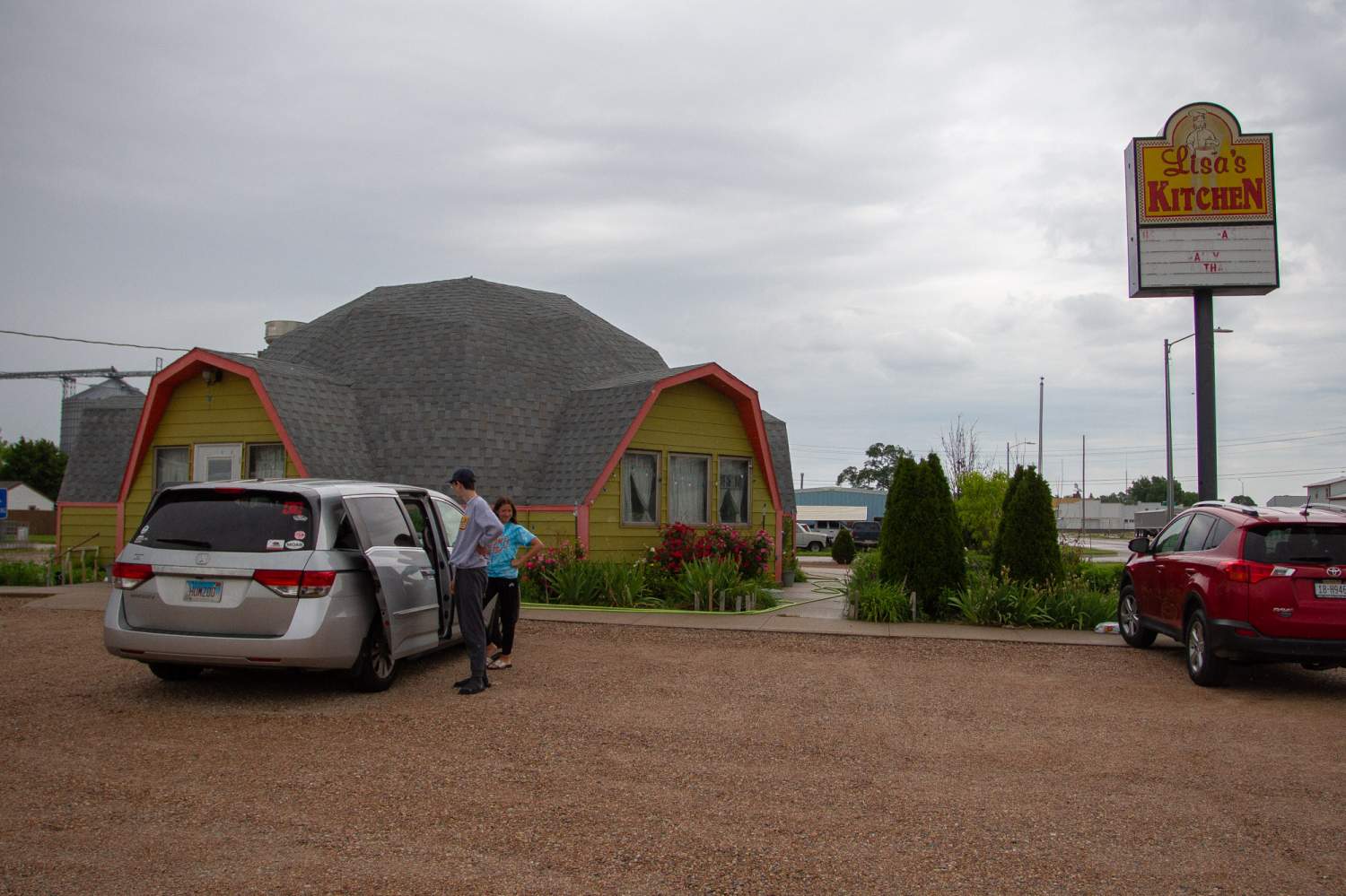 Hannah found a lovely stop for lunch: Lisa's Kitchen in Gothenburg, Nebraska. We were the only ones there (well, except Lisa). It was a cute little round building, and Lisa grew a lot of her own food on site.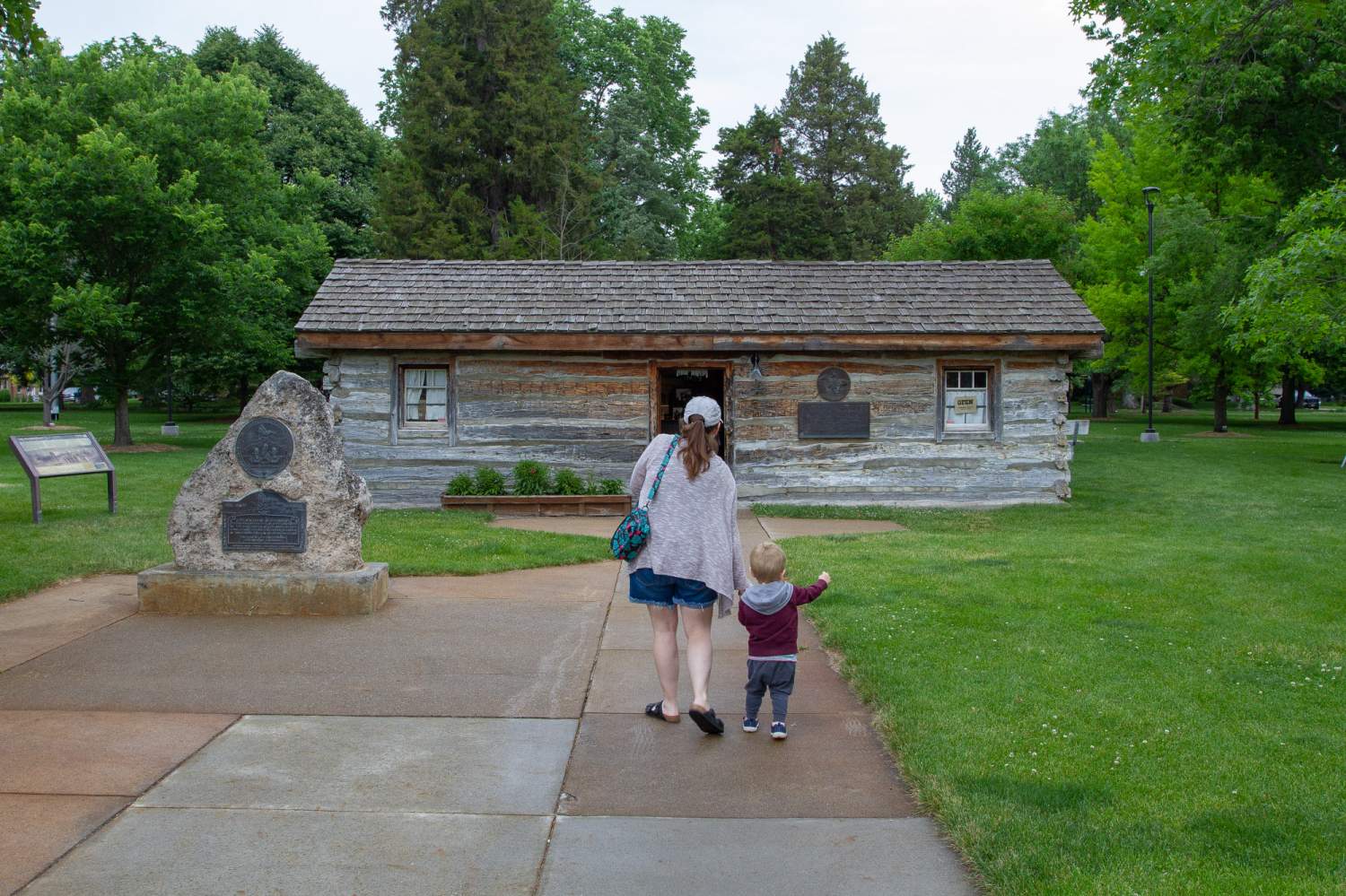 After lunch, we headed to a historic little Pony Express building in a nearby park. It was adorable, and the lady working inside was as friendly as could be. We bought some knick knacks and headed on our merry way.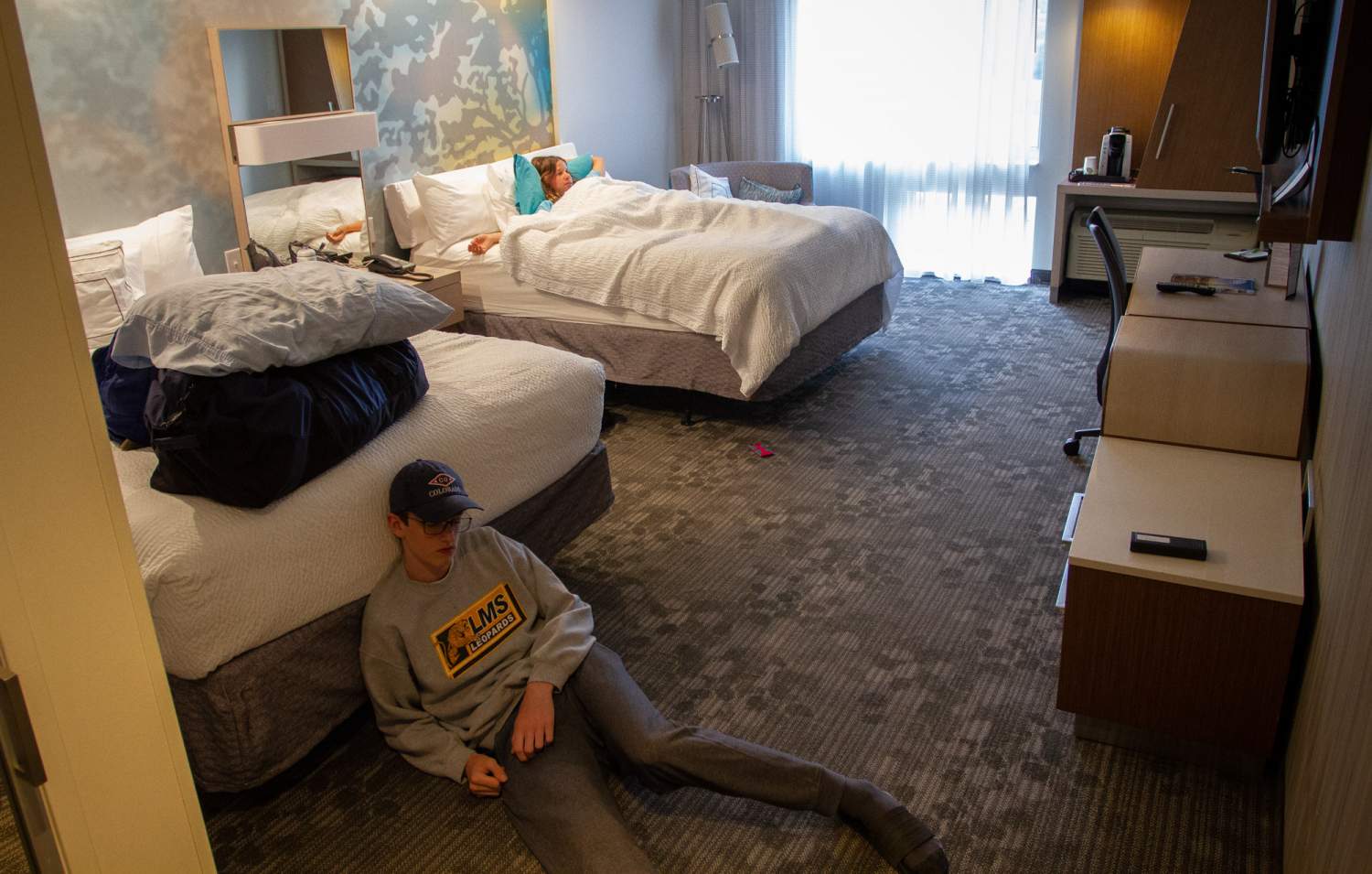 We got to our hotel before dinner, and let me tell you, it was worth every penny. We were Exhausted. The kids were even exhausted. I was still feeling just as sick as when we were in Moab. Hannah had gotten sick after the Airbnb in Colorado. So we were doing Pretty Good.
It was Father's Day, so we headed to a Mexican restaurant nearby. It was lovely.
Back at the hotel, while Hannah and Mia went swimming, Ethan and I hung with Martin. This is when Martin decided to have the largest diaper blowout known to man. It went down both pant legs and also somehow up his back and out his collar. It was legendary. Ethan deserves some sort of medal, because he could have easily sat it out. He was not obligated to help in any way. But he did. He hung with me the whole time and was a huge help.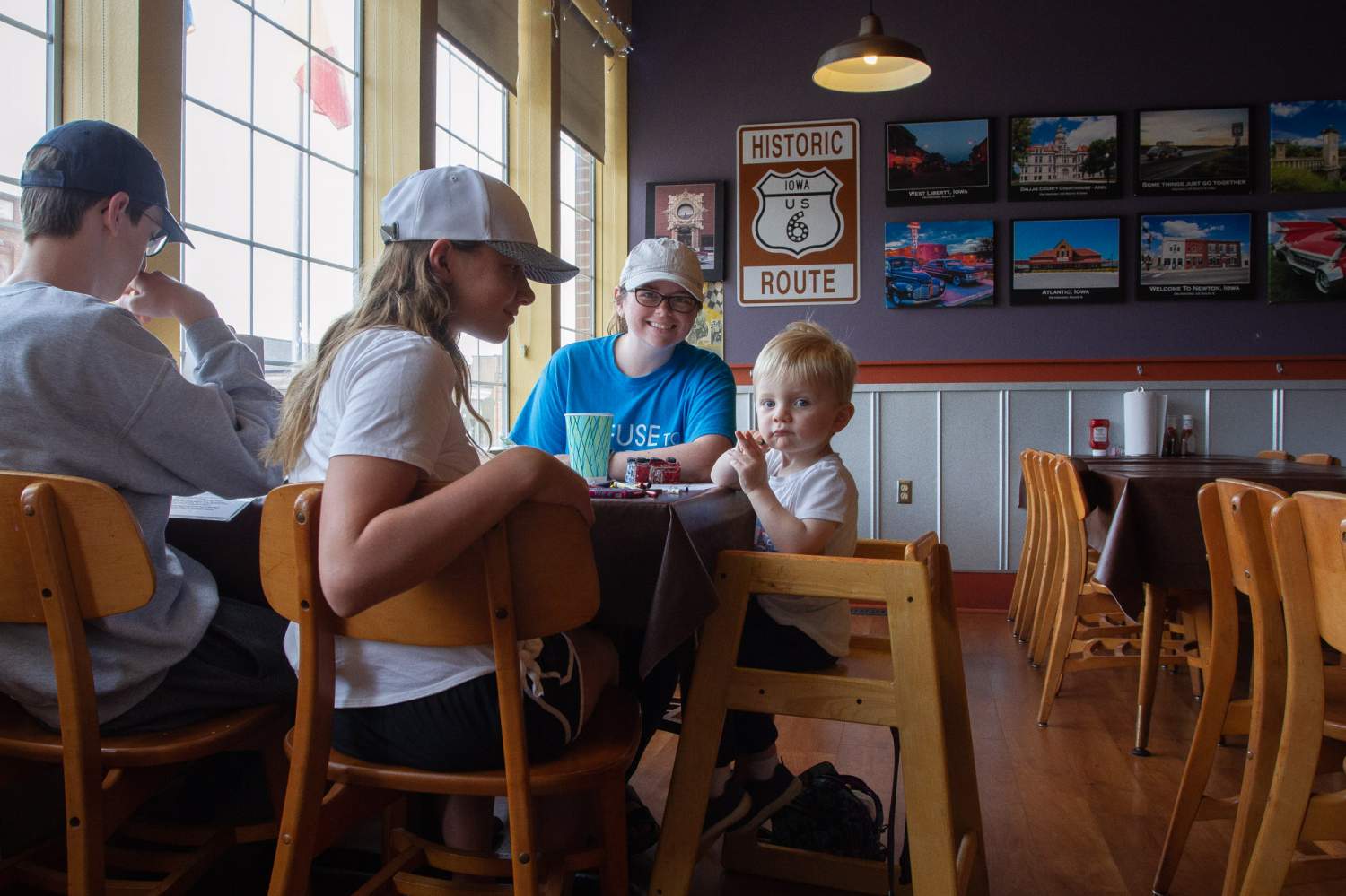 On Day 9, the last day of the trip, we left Omaha and found lunch in Brooklyn, Iowa. This town loves their flags. After a lengthy lunch at The Classic Deli, we stopped at a nice little playground in Brooklyn City Park.
There wasn't much left to the trip. We headed across Iowa into Illinois, then down toward Peoria. One of the last stops was in Galesburg, at, you guessed it, another playground. This one had a skatepark too, though Martin wasn't too impressed.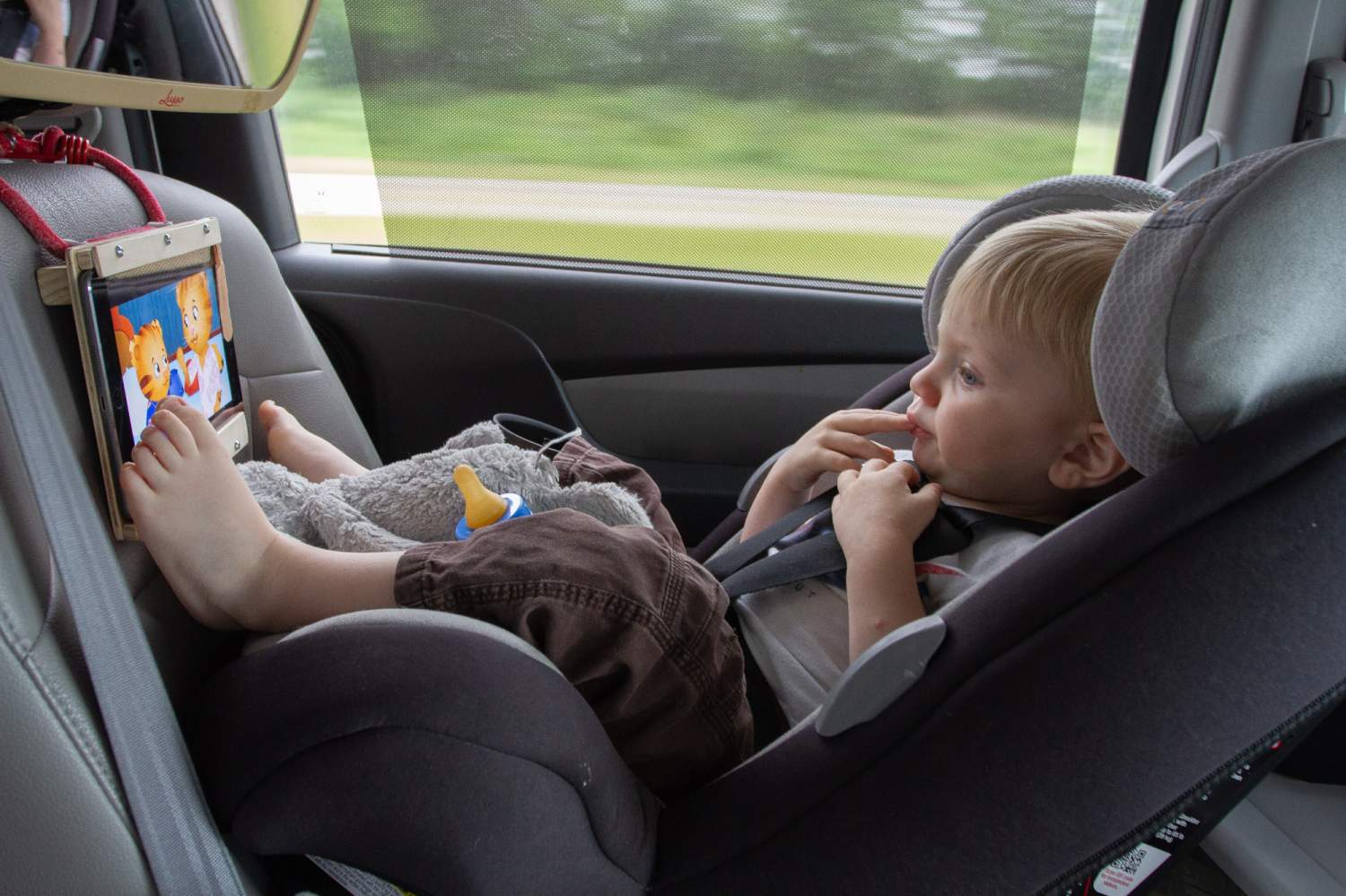 We loaded up and did the last stretch of the trip back to Springfield, getting back around dinnertime.
We had somehow survived the Great American Summer Road Trip. Despite having to dramatically change course halfway through, despite illness, despite a relatively low budget, we managed to show the kids some new things and make a lot of new memories.
I guess that's the big takeaway for me — it's about spending time together as a family way more than it is about the places you see. We tried to pack too much into this trip, and it almost prevented us from enjoying anything. I'm glad we were able to adjust and change the pace and build in time for fun and exploration. Can't wait to do this again someday.