Show & Tell
Today I launched a web series experiment, Show & Tell with Ethan & Mia. It will be a series of videos where Ethan and Mia show you what they're interested in and tell you about all kinds of stuff.

I call it an 'experiment' because this is my first attempt at trying to figure out what sticks on YouTube. I've made hundreds of videos, and it frustrates me to no end that I can never predict which ones will grow legs.
It also frustrates me that my old YouTube channel started growing popular after I abandoned it and made a new one, using my real name. The old account was created using an alias when YouTube was new, and you can't change your channel address.
But seeing how I can't turn back time, I figure instead of being frustrated with these things, I'll see if I can figure them out. One thing I am going to do is remove my old account. That's going to be hard, because that's my history. That's over a quarter million views and thousands of comments, each of which I've read.
The harder problem to solve is how to get views. I want to build an audience and create momentum and see where it goes. I used to blog every day, and for awhile there, I had a good following. I'd love to say visitor stats don't matter to me, but they totally do. If there's no audience, why produce? And why produce if there's no... chicken?
The one thing I know for absolute certain, without a doubt, is that if I want people to watch my videos, I need videos. So that's a good first step. Make some videos. And not just one every three weeks. A couple a week. Sometimes more. That would be awesome. When I was making my video podcast, I could manage one video a week, but that was hard. I think I can do better now.
Looking through my popular videos, there's a common thread. They are short and usually feature Ethan showing us something. Tornado sirens. Fire alarms. Some are a little quirky.
Knowing that, and adding in some other variables such as production logistics, sustainability and creative diversity, my brain chugged and turned for several days. Then, out of the blue, and accompanied by a "ding" sound effect (royalty-free, of course), my brain delivered the answer: Show & Tell with Ethan & Mia.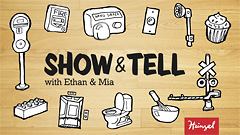 This show will be easy and fun to produce, it stars my kids (ie, I don't have to be in it), the topics seem limitless and the editing should be fairly straightforward. I'm not totally sure who the audience will be. I know my kids watch similar videos on YouTube whenever they get the chance. But I also want this series to work with audiences of any age. Nothing should get too technical, so I should be able to keep the videos fairly well-paced.
Anyway, here goes nothing. I have the next two videos ready to go, and I'll post them over the next week. If you haven't subscribed to my channel on YouTube, you can find me here: youtube.com/user/daveheinzel.